Cooma officer receives best retirement present ever!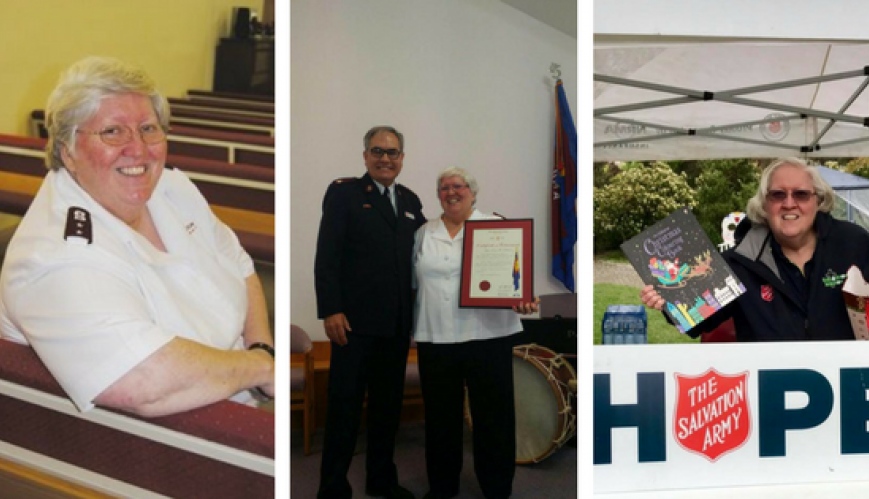 Cooma officer receives best retirement present ever!
8 January 2018
BY LAUREN MARTIN
In her last weeks in the NSW Snowy Mountains town of Cooma, retiring Salvation Army officer, Major Louise Nicholson, received a visit from a man who wanted to tell her something before she left. She was blown away. 
"Mostly women came to our Kingdom Table on Saturdays. But there was this one fellow who really engaged with the group and would occasionally sit down and enjoy a long chat," Major Nicholson said. His conversation and witty banter was full of fun and lifted the community spirit. This community-minded man often spoke about how wonderful it was to see practical Christianity in action. In our conversations he revealed that he had been disillusioned by formal religion.
"But he came especially to see me before I left and said that he thought that I would like to know that he had reconnected with his faith. He said that, 'he's back!'" 
James Sullivan, the man Major Nicholson was talking about, had been a Christian agnostic for some time. But he admired Major Nicholson, Major Linda Willing, and two locals, an Anglican minister and a St Vincent de Paul volunteer, for their work in the community. "I was inspired by their community chaplaincy," he said. "[Major] Louise [Nicholson] realised I'd been through a bit of muck and she said, 'When are you going to come up [to church]?' and I said, 'I'm not,' having become an agnostic because of my experiences."
A dedicated community volunteer since leaving school, James is a Rural Fire Service volunteer and is also involved with the Red Cross and Legacy. He often bumped into and worked alongside Major Nicholson and Major Willing in the community. His friendship with Major Nicholson grew as they discussed their shared Scottish heritage and enjoyed "a few jokes". During this time, James began to rethink his position with God.
"I could ring Louise up and just talk," he said. "She didn't push it, she just acted out her Christianity. She let me do it at my pace, and I think that's marvellous."
Major Nicholson had served as Corps Officer in Cooma for seven years before her retirement. She was instrumental in launching the annual Salvation Army "Mission to the Snow", which takes place at Jindabyne every July. She was well known in Cooma for her community work, partnering with local schools, emergency services and other organisations. While Cooma Salvation Army is a small corps, the outward-thinking members of the congregation make a big impact on the town and its surrounding regional property-owners, of which James Sullivan is one.
"I nearly jumped out of my chair when he came and told me," Major Nicholson said of James' visit to the Kingdom Table at a local cafe to publicly declare his reconnection with God. "As an officer, very often we plant the seed but we don't always see the harvest. For a man to come to tell me, and in public, it was great. Remember that the mighty oak was once a nut like me!
"Best retirement present ever!"
Major Louise Nicholson has now retired to the south coast of NSW. Major Willing has been continuing to minister to the Kingdom Table group she started and is transferring to Batemans Bay Corps.
The Salvation Army is planning to appoint a ministry worker to Cooma in early 2018.