Rural chaplains making a difference in hard-hit areas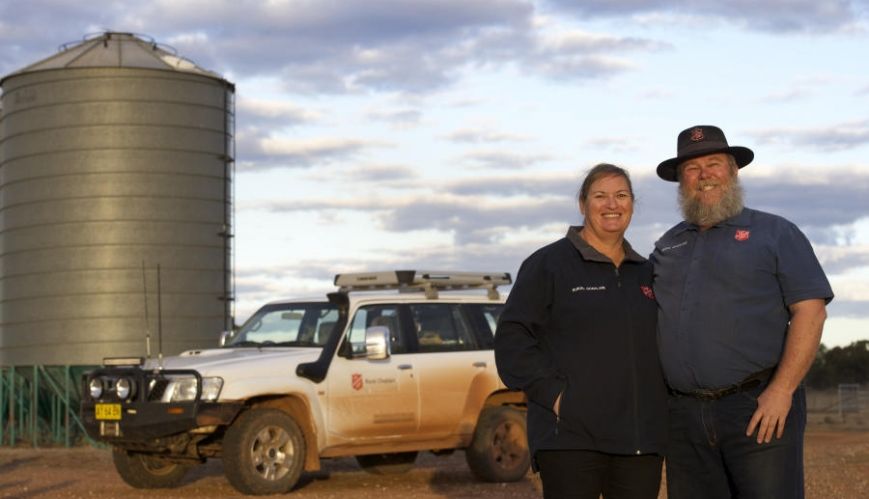 Rural chaplains making a difference in hard-hit areas
18 January 2018
While good rainfall at the end of 2017 bolstered many farmers in Victoria, southern New South Wales, South Australia and the west coast of Western Australia, parts of western NSW and Queensland are still painfully dry.

Rural chaplains Rusty and Di Lawson say some areas of north-west NSW and around the Queensland border have had next to no rain for up to 12 months. "A lot of farmers have been feeding stock for four or five months at quite a phenomenal cost. It is costing up to $10,000 a week to feed stock."

"Dunedoo got hit quite hard by the fires last year and they're still doing it really tough. They have had the second driest winter on record. It is so sad to see. Many wheat crops came to nothing this year; the farmers have planted the seed and it's come to nothing. It's been a waste of money for them. Really sad stuff," says Di. 

One farmer, Alisha*, says she doesn't know where she'd be without the support of The Salvation Army's rural chaplains. "It would have been a hell of a lot tougher, financially and emotionally, but probably more-so emotionally, without them dropping in and having a cuppa and a yarn.

"We tend not to go anywhere because we can't afford to. Generally, you would go to the pub and have a yarn to everyone but we can't waste that money. We don't see many people and we don't go anywhere."

Recently, a donation to The Salvation Army to be used specifically for water infrastructure allowed Alisha and her family to re-gutter a farm building and install a rainwater tank and pressure pump. This will allow her to plant a small vegetable garden and a few fruit trees and take the pressure off their grocery bills.

"Water is such a critical thing out here. You wake up thinking about it. And it's not really about saving water, it's hoping that the wind will blow because lots of our water is on windmills, so if the wind doesn't blow then there's no water. It can get really ugly, really quickly."

Hundreds of kilometres away lives another family touched by rural chaplaincy. Sarah* says that after a 100-year flood nearly wiped them out a year ago, her husband took their machinery up north in search of harvest work and she could barely afford groceries.

"I made a very hesitant decision to call and ask for help," she says. "The rural chaplains were so generous with their offer of money and vouchers to help us, and it did so very much, but it was so much more than that.

"That day they offered me an ear to listen and a shoulder to cry on that was totally anonymous. They listened and responded and prayed for me and I knew no one else had to know how dire it had become."

It was the start of an ongoing relationship, with the rural chaplains in her area now regularly visiting.

"We can't wait for our visits to catch up and have a meal together," she says. "And nothing sounds sweeter than a four-year-old telling Grandma that he can't wait to see the 'caravan people who helped mummy'."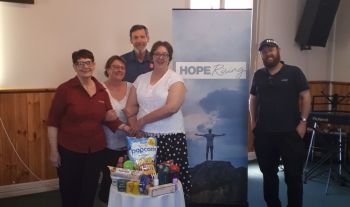 Late last year, corps folk from Young in southern NSW (pictured with rural chaplain Major Max Smith at the back) made care-packs for the local rural chaplains to deliver during their visits to people in rural and remote areas. They are a small blessing, but a reminder of a something much bigger: that farmers aren't alone. There are people who care about them.

"People in rural areas need this support to function," says one property owner who wants to remain anonymous. "[The rural chaplains] are not just two people in a caravan; they are bringing joy and hope to rural people who may see that there is no hope.

"The role of the rural chaplain in my view is critical to folks who can't access a church or a crisis centre."

* Names have been changed to protect farmers' privacy.