Staying connected to the global Salvation Army
Staying connected to the global Salvation Army
22 January 2018
Compiled by Anne Halliday and Simone Worthing
Wondering what is happening in The Salvation Army around the world? These days, most of the news is at our fingertips with digital magazines, online news portals and blogs bringing news from all corners of the globe. Here's some of Others favourites. 
Digitally-accessible magazines
Every day, The Salvation Army is at work in 128 countries. It is hard to imagine the scope of that work done by hundreds of thousands of Salvationists in countries not just in distance to us in proximity, but in diverse cultures and conditions. All the World, published four times a year by International Headquarters, opens a window onto the work and message of Jesus being proclaimed in far-flung places.The digital version appears a couple months after the magazine is printed.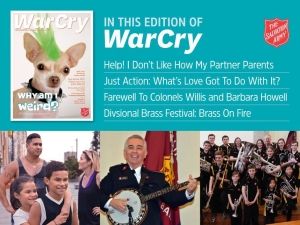 The team at the New Zealand War Cry consistently produce engaging, thought-provoking coverage of the work of The Salvation Army in the New Zealand, Fiji and Tonga Territory in this fortnightly magazine (pictured right). The digital version normally appears about a month after its publication.
SACONNECTS, NEW FRONTIER CHRONICLE and the CANADIAN SALVATIONIST
The Salvation Army in the USA Eastern Territory, the USA Western Territory and the Canada and Bermuda Territory each produce a monthly magazine that is accessible online. News, testimonies, features, opinion pieces and testimonies bring to life the rich diversity of the work of The Salvation Army in this part of the world.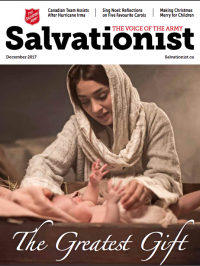 Blogs
While The Whole World Mobilising campaign is officially finished, the momentum continues. Check out the Whole World Mobilising blog, which regularly posts reports from everyday Salvos from around the world who are being the presence of Jesus to their communities. And on Facebook, General André Cox regularly posts reflections, photos from his visits to Salvationists around the world and prayer requests.
The Salvation Army International Social Justice Commission
The ISJC distributes a range of publications including Go and Do Something, Building a Better World (pictured) and Jesus and Justice. The monthly ISJC newsletter, UpForJustice, features news, reflections, action ideas, and prayer points. Translations available in English, Spanish, French and Portuguese. Research papers, on topics including pornography, poverty and food security, are also available.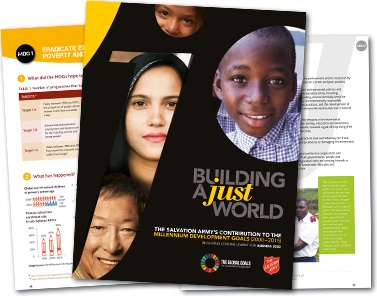 The site also provides links to other resources such as United Nations reports, international positional statements, and presentations from special events. The ISCJ's Facebook page is also another way to keep in touch with the important global work of the Army in the social justice space.
Revive is The Salvation Army's international women's magazine. It's a resource for women in leadership, and also contains articles and testimonies, book reviews and a range of other resources. It is produced at International Headquarters in London, England, and published four times a year. Copies are published online approximately two months after the printed version – a preview of the latest edition is available here. Subscriptions are also available.