Salvationists honoured with Australia Day awards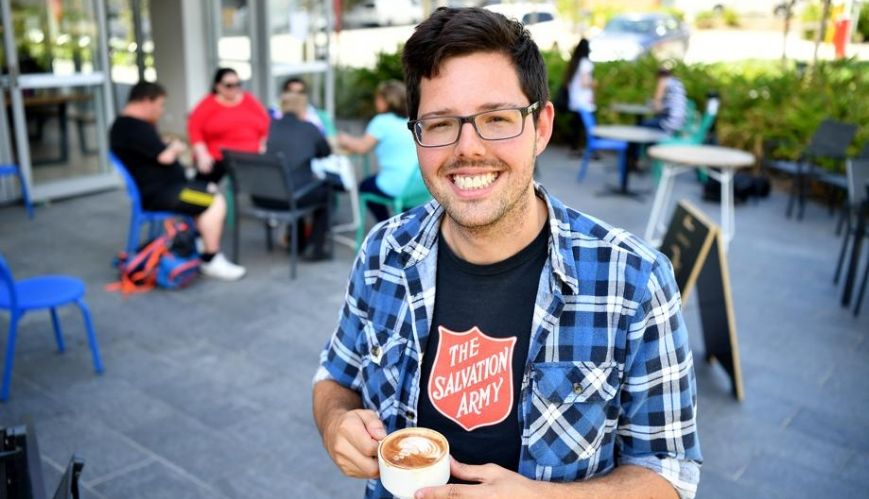 Salvationists honoured with Australia Day awards
29 January 2018
A number of Salvationists have been recognised for their contribution to local communities during Australia Day award ceremonies over the long weekend.
Nathan Moulds, of Ryde Salvos in Sydney, was awarded the City of Ryde's Citizen of the Year for his work as mission leader of The Salvation Army's Number 47 Ivanhoe Estate.

"Nathan's efforts, in which he has gone out of his way to help those most in need, has been of enormous benefit to people in our community," Ryde City Council noted on its Facebook page on 26 January. "The kindness and generosity he has shown is commendable and his dedication to bringing about social change within Ryde has helped the community tremendously."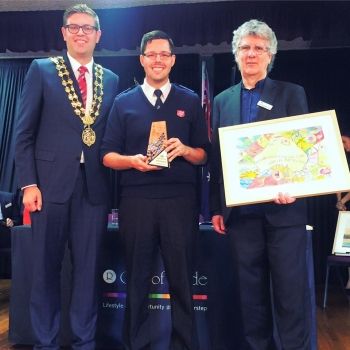 The NSW Government's closure of Ivanhoe Estate has meant Nathan and his family have needed to move on, however, his ministry focus had stayed local, shifting to a weekly community coffee morning at nearby Morling College.

In accepting his award, Nathan (pictured right) thanked his wife, Karen, and children, Justice and Hope. 

"When we moved into the Number 47 community home in the Ivanhoe Estate it was always more than just a 'job' ... it was a deep commitment, a vocation, a lifestyle, a covenant or promise if you will – to do our very best as a family to live within that community and to, in the words of Mother Theresa, 'do small things with great love'.

"At times it was very challenging and sometimes my family bore the brunt of that. But we went together, as a family, and without their love, support, patience, kindness, grace, boundary-setting and protection, then I know that I would not be standing here today. Thank you Karen, Justice and Hope, I love you guys."

Nathan also acknowledged his partnership with community members and volunteers from Ryde Salvation Army and other partner churches, saying that "not a single project, vision, event, activity or idea that I've had in my entire time with The Salvation Army would have been possible without your involvement and support – thank you so much!

"This award speaks as much to your generous hearts as it does to anything that I've ever accomplished."

Nathan will continue to volunteer at Ryde Salvos and be involved with the Wednesday Macquarie Park community café. He is now taking a step back to focus on family, while Karen completes her studies full-time at Morling College.

In the NSW Central West, Major Gaye Day was nominated for two awards for her contribution to the local community of Gunnedah, with the nomination reading: "Major Day is constantly providing options for people to participate in events and services beyond the capacity of her role and does so with her kind and caring nature."
Lieutenants Wes and Debbie Bust, formerly of Ballina Corps in northern New South Wales, were nominated for Ballina Shire Council's 'Local Hero' for their work in the community.
Two members of Victoria's Dandenong Corps, south-east of Melbourne, were recognised for their community work. John Cooper received a Holt Australia Day Award and Margaret Prior was a finalist in the Casey Senior Citizen of the Year Award.
In South Australia, long-time Whyalla Salvation Army soldiers, Frank and Dianne Sampson, received a local community service award.
Whyalla City Council honoured Dianne for her work running the local Salvation Army café, playgroups, craft groups, children's groups and fetes. She also helps every year with the Red Shield Appeal and the packing and distribution of Christmas hampers.
Frank's nomination noted that he had helped "thousands of people in the community" during his near lifetime service with The Salvation Army.

"His dedication and commitment as a foodbank volunteer doesn't stop there. When it needed a manager, Frank took it upon himself to step in, ensuring food relief got to places where it was needed," the nomination reads.
Meantime, Pat Daley, Community and Government Relations Adviser for The Salvation Army, was awarded an Order of Australia Medal (OAM), while Ian Darling, former chairperson of The Salvation Army Education Foundation and former chairman and member of the Oasis Advisory Board, was appointed as an Officer of the Order of Australia (AO).