You are here:
Home › News › 2018 › 02 › 16 › Salvation Army Responds After Cyclone Gita Devastates Pacific Island Nations
Salvation Army responds after Cyclone Gita devastates Pacific island nations
Salvation Army responds after Cyclone Gita devastates Pacific island nations
16 February 2018
Salvation Army staff and volunteers are on the ground in Fiji, Tonga and Samoa, providing assistance to those affected by the impact of Cyclone Gita, which devastated the region earlier this week.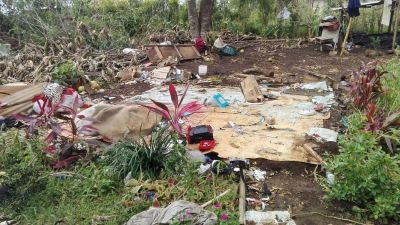 The cyclone, described as the worst storm to hit Tonga in 60 years, swept into towns and villages on 13 February. Winds reached up to 278km/h, devastating buildings, cutting power to large areas of the country and leaving 33 people injured. Approximately 70 per cent of the population has been affected by the cyclone.
Later that day, Cyclone Gita hit the southern islands of Fiji. The storm had already passed through Samoa leaving thousands without power and water. A state of emergency has been declared there.
The Salvation Army's six corps in Tonga opened their doors to families forced from their homes during and after the storm, and have been hard at work helping with the clean-up, providing shelter, safe food and water and helping repair homes.
Around 3000 people have been sheltering in evacuation centres and the Army is also working with the Tongan government to assess the best response for both urgent needs and the long-term rebuilding process.
"The Army's commitment is to support people through the emergency and help the people of Tonga come back stronger and more resilient for the future," said Captain Sila Siufanga, Regional Commander in Tonga.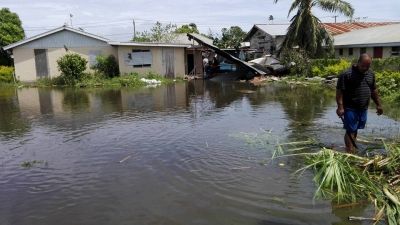 "The storm has come and the clean-up will be hard, but we know in the islands that after the storm the clouds will clear and the sun will come back. We're working to help that happen for all Tongans."
Lieutenants Faleata and Rachel Leha, corps officers at Vaini Corps, have experienced first-hand the devastating impact of the cyclone. "Our corps members' and leaders' houses were completely destroyed," they said. "We have just restored what we can and built a small hut to use until more help comes."
The Salvation Army has launched the Pacific Emergency Fund as an urgent fundraising appeal to assist those people and communities affected by this disaster. For details go to salvationarmy.org.nz/pacificemergencyfund