You are here:
Home › News › 2018 › 02 › 22 › General Cox Sends Open Letter To The Family Of Billy Graham
General Cox sends open letter to the family of Billy Graham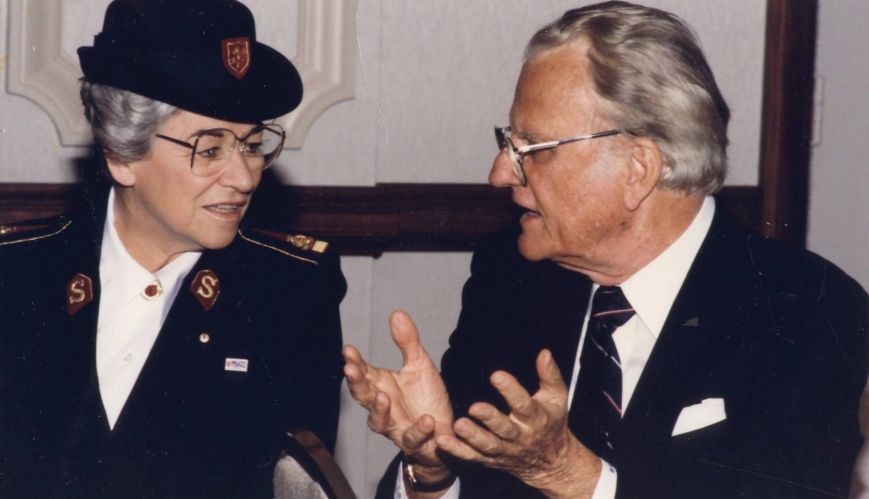 General Cox sends open letter to the family of Billy Graham
22 February 2018
To the family of Reverend (Dr) William Franklin 'Billy' Graham
Dear friends,
I am saddened to learn of your bereavement and wish to assure you of my prayers and those of my wife, Silvia, at this time of mourning.
Rev Dr Graham was an inspirational man of God with an extraordinary ministry and a passion for revival. I am sure that many Salvationists will be personally grateful to him for his involvement in their own conversion experience. Worldwide, millions of Christians will be reflecting on the global rallies that led so many to faith in Jesus Christ. From preacher and pastor to presidential spiritual advisor, his calling was evident.
I also wish to pay tribute to your father's evangelistic writing, radio, film and TV ministries, which have also proven to be potent and effective over many years. His book The Reason for My Hope: Salvation is a cogent reminder of the vitality of God's saving grace.
The Salvation Army has been particularly impacted by Rev Graham's founding of the Lausanne Movement 40 years ago. The Lausanne Covenant stands as an evangelism standard-bearer for evangelical Christianity, and it has been exciting to be participants in a biblically-sound congress that reaches out to young, ethnically diverse and influential church leaders.
Picking up the theme of Rev Graham's 95th birthday sermon (A nation "in great need of a spiritual awakening"), I would like to pledge again The Salvation Army's commitment to sharing the gospel message whenever and wherever possible.
We give thanks to God for the life of Billy Graham and pray that you would find true comfort in the presence of the Saviour whom your father loved so dearly.
God bless you.
André Cox
General