You are here:
Home › News › 2018 › 03 › 13 › Saes Trailer On Duty In Flood Affected North Queensland
SAES trailer on duty in flood-affected North Queensland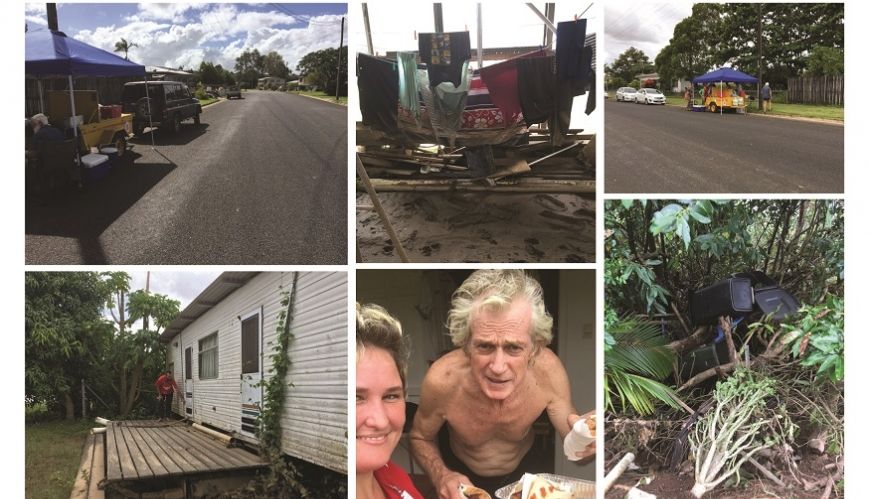 SAES trailer on duty in flood-affected North Queensland
13 March 2018
The Salvation Army in North Queensland is assisting with the clean-up following major flooding in towns and communities across the region.
A tropical low in the Coral Sea over the weekend resulted in up to 200mm of rain falling in some areas around Innisfail in a 48-hour period.
The Salvation Army Emergency Services (SAES) trailer is operating in Innisfail, 90km south of Cairns, with volunteers serving cold drinks and sausage sandwiches to residents and workers involved in the clean-up.
"Many of the people in this area need immediate help with food, as kitchens were flooded and in many cases, fridges just floated away in the floodwaters," said Caroline Lovegrove, SAES senior team leader in Innisfail.
"We're also walking door to door, letting people know we're here to help and that there is further assistance and support available. Some people, especially those who've lost their cars in the floods, will be assessed for home visits for financial assistance."
Ministry worker Gwen Hammerton is working in The Salvation Army's office in town, helping those in immediate need with grocery vouchers until people can access state government disaster-relief assistance grants.
The thrift store is also able to provide clothing and plans are underway to bring in more furniture that will be needed in the coming days and weeks.
"We want to show people that we care, and that we are available for financial assistance and to listen," said Gwen.
Kim Lee, Territorial Disaster Manager for the Australia Eastern Territory, said that additional vouchers and universal gift cards will arrive in the region today, and more can be made available as needed.
"As the Innisfail team continues its coordinated outreach, we will continue to watch and see what kind of needs there are in the community and how we can assist."
Across the rest of the region, all SAES teams north of Townsville are on standby.
"The Department of Communities – Queensland Community Recovery branch – has been activated and The Salvation Army is liaising with them and coordinating how the different agencies, including ourselves, will work in that space," said Kim.
"Tomorrow a recovery hub will open in Ingham, where roads in and out of the town are just reopening, and we are on standby there."
The Salvation Army in Innisfail is an outpost of the Cairns Corps. "We are on standby to see how we can assist as the situation becomes clearer," said Major Ben Johnson, Cairns Corps Officer.