Junior soldiers on the march in Geraldton
Junior soldiers on the march in Geraldton
14 March 2018
In Geraldton, approximately 400km north of Perth, Lieutenants Shannon and Tracy Watson, Geraldton Corps Officers, are building a growing Junior Soldiers program, going from none to more than a dozen in just over 16 months.
"Several of the children who were loosely connected to the corps are of similar age to our two oldest boys, so it was a natural move to invest to in that age group and gather them all up," says Lieut. Shannon.
"We didn't have to search too far. When we started looking closely, they were right there.
"For example, there was one family who were in and out of the corps and the grandma is a soldier. The kids enjoyed having our kids around. The mum is now coming to church and the two girls are now junior soldiers too!
"Another boy, whose family had recently moved to town, was also enrolled as a junior soldier on the same Sunday that his parents became senior soldiers."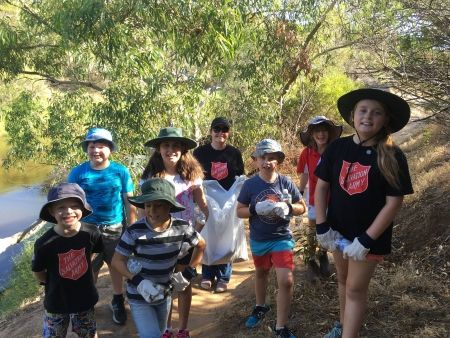 The junior soldiers joined Clean Up Australia 2018.
The Watsons also invited the three children who lived across the road from the corps to come to church. They now attend each week. They have become junior soldiers, and their parents come for special occasions.
"They were playing in our carpark one day and all it took was an invitation," says Lieut. Shannon. Now they're being discipled. The parents are very supportive and were proud as punch on their enrolment day."
The Watsons lead a Kids Church every Sunday, with children leaving for this part-way through the main meeting. Trained and qualified corps members take turns to assist during Kids Church.

A "Nerf Wars" program, begun in school holidays last year, is also attracting up to 40 children each session. Most of these children are from the local community, with no connection to The Salvation Army. Many come from the local Christian school. Many bring friends with them.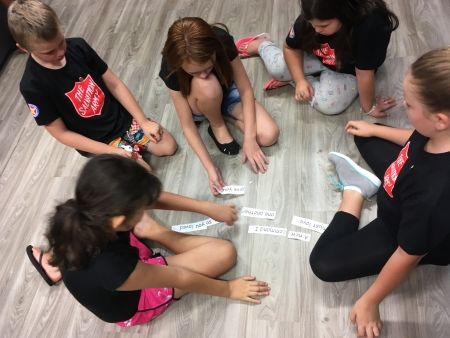 Junior soldiers putting scripture verses together.
"The youngest kids are around 6-7 and then up to 13," says Lieut Shannon. "We set up the whole building with fields and barricades in every room. There are teams and tropies, other fun games, and pizza. Everyone loves it and looks forward to the next one.
A trip to Perth in the corps bus for the upcoming Junior Soldiers Rally, is also being planned.
"There is much excitement among the junior soldiers for the big trip south," says Lieut. Shannon. "We're quite isolated up here, but we're not going to complain about it; we're going to make the effort to interact with other corps."
The number of junior soldiers in Geraldton continues to grow. Two more children will be enrolled on Junior Soldiers Renewal Day – children who are connected to one of the corps' families.
Other children are also starting to come on Sundays.

"We are grateful to God for opening these doors and helping us to see the potential for growth in our own backyard," says Lieut Shannon.