Darwin Corps a haven for cyclone-affected residents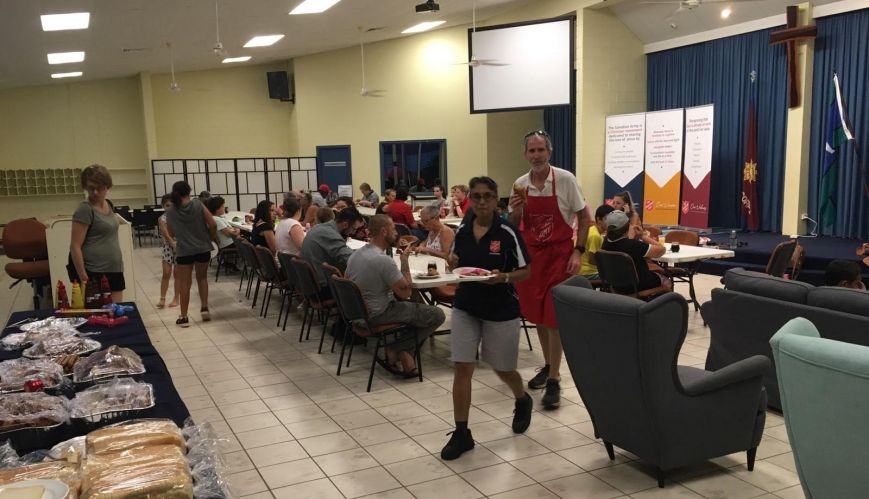 Darwin Corps a haven for cyclone-affected residents
20 March 2018
The Salvation Army in Darwin is continuing to assist local residents who are still without power and resources after Cyclone Marcus hit the Northern Territory capital on Saturday.
As of this morning, the Darwin Corps is operating as one of five welfare recovery centres in the city, where people can get government assessments and referrals for assistance.
Last night, the corps hosted a community meal, with more than 70 residents from the local community, attending.
"We had food, movies and Xbox for the kids, wi-fi, charging stations, and air-conditioning, all of which were very much appreciated," said Captain Kris Halliday, Darwin Corps Officer.
"Woolworths supported us with food and drinks, and Bunnings had provided charging boards for us, so there were lots of devices charging through the evening as people enjoyed their meal and community with each other.
"People sat at the long tables we'd set up, some were sitting with neighbours and others meeting new people. There was a sense of solidarity, that we've all been through the same thing.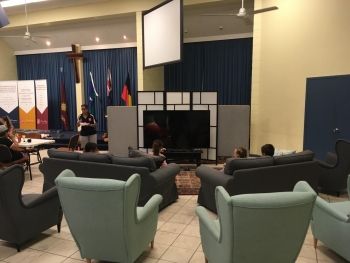 "It was great to see the kids getting back in touch with their friends on their devices, playing Uno with each other, laughing, watching TV and getting to know other kids in the neighbourhood.
"For many, it was their first chance to debrief, either with the support workers we had available here, or with each other."
One lady shared with Captain Halliday that she and her husband had lost all their food when the power went out, and, with electricity still not restored, she didn't realise how stressed she was until she walked in to the corps and was overcome with a sense of relief.
"These people have been in a state of crisis, stress and anxiety for three days," said Captain Halliday.
"Before the cyclone, people were told to prepare resources for 72 hours, but for those on low income, buying food and water for that length of time is not possible.
"It's also been around 33 degrees here every day and over 70 percent humidity which is very hot and sticky. People have been struggling to sleep and there's been so respite since Saturday morning when the power went out."
Many of those who came to the community meal also returned this morning for breakfast at the corps. These breakfasts are run six days per week, for those experiencing homelessness and other life challenges.
"Everyone is always welcome at the breakfasts, either for the food or just general support," said Captain Halliday.
"Some kids came in for breakfast before school, and others whose schools aren't open yet just came with their families for some food in the air-conditioning.
"Some people came in to iron their clothes before work – something we all take for granted!
"People were re-charging both themselves and their devices. Not everyone has power yet – we're just on the right side of the street and are very blessed to be able to operate this service for our community."
The corps will host another community meal this evening as well, as power in most of the local area is not expected to be restored until tomorrow.
"We have Doorways running, our corps is an open house, and we are always here for support," said Captain Halliday.
"Our hours will be extended through this period as required and everyone is always welcome."