Salvos help create one million stars to end violence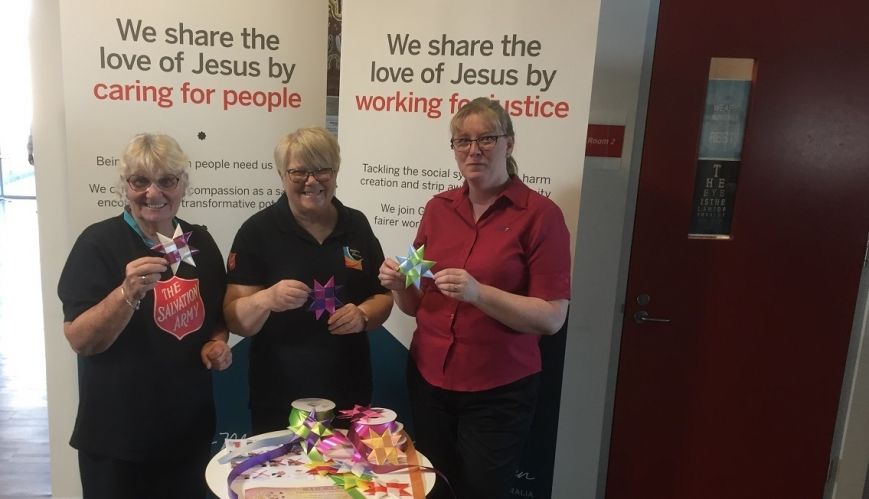 Salvos help create one million stars to end violence
30 March 2018
The Salvation Army has joined with individuals, groups and communities from around the world to partner with the Queensland Government in a unique campaign to help end violence.
The "One Million Stars to End Violence" project has received hand-made stars from people in 15 different nations.
Queensland's Museum of Brisbane created an installation from the stars that can be viewed in the city's King George Square as part of Festival 2018 during the Gold Coast 2018 Commonwealth Games (GC2018) (see photo at right).
The project was launched last night and will be open until 15 April. Members of the Bayside Corps' women's ministries leadership team attended the launch.
The Salvation Army's Catherine Booth House in Darwin, a safe haven for women escaping domestic and family violence; Bayside Community Church in Brisbane; and the Maryborough Corps in Victoria, have all contributed to the project.

"I got the idea at a kids camp last year when they were all making stars for craft," said Captain Annita Allman, Maryborough Corps Officer. "We live in a disadvantaged community with a high level of domestic and general violence, so I thought this would be a good project to do in our corps."
Captain Allman discussed the idea with the corps' women's group GIGGLES (Girls in God: growing, loving, eating and serving) who decided they would participate.
The group made approximately 100 stars, with many working on them at home as well.
"We saw it as a way to raise awareness of violence, something we could do to try to help end violence in our community, and an opportunity to be part of something 'bigger'," said Captain Allman.
The women from the Bayside Community Church gathered to make stars for the project.
At The Salvation Army's Bayside Community Church in Brisbane, the women's ministries team had been planning the year's events at the beginning of last year and, as always, wanted to include a social justice-oriented day.
Karen Busst, one of the leaders, researched the One Million Stars campaign and how the ladies could participate.
"Domestic violence is a huge issue in our community, as well as any others," said Natalie Frame, Cadet-in-Appointment and Church Leader at Bayside. "We know many people affected by it, so it's always in the front of our minds. It fit our criteria of having a purpose and raising awareness, as well as being 'crafty' and fun."
More than 40 corps and community women attended the event last April, some having responded to the advertisement for a "star weaving gathering" in the local newspaper.
Sally-Anne Clark, then Regional Manager of Salvos Accommodation and Housing Services, spoke to the group.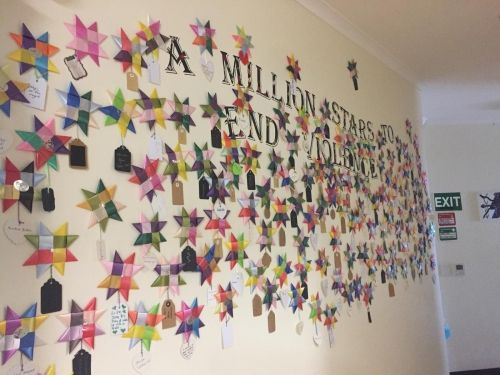 The women at Darwin's Catherine Booth House made stars to contribute the project.
"She gave some insights into domestic violence issues, dispelled some common myths, and revealed heart-wrenching statistics," said Natalie. "She gave us tips on what to say and not to say, what not to assume, how to engage with women fleeing domestic violence, and how to pray for them. She also shared her own personal journey with domestic violence.
"The ladies were encouraged to discuss with each other how to break unfounded stereotypes and explore positive ways to make a difference in their own circle of influence, to help put an end to violence in our communities. It made an impact on us all but also gave us something practical to do to help."
The women then broke into small groups and made the stars. Additional stars were made in the weeks following.
In Darwin's Catherine Booth House, most residents have experienced domestic and general violence firsthand, and wanted to contribute to the project. Many of the residents made stars, using the opportunity to share their experiences, support each other, and also reach out to others through raising awareness of the extent of domestic violence and its impact on victims, their families and communities.
For more information, go to onemillionstars.net
One Million Stars – the project
"One Million Stars to End Violence is a global weaving project that has inspired individuals, groups and communities to weave stars to create light, hope and peace in the world," said Maryann Talia Pau, founder of the project.
Maryann is a Samoan-Australian artist and practising weaver, based in Queensland on Quandamooka Country.

"I started One Million Stars to End Violence in 2012 as my personal response to the rape and murder of a young woman in my community," she said."It was a difficult time for our community and I was moved by people's kindness and compassion and by Dr Martin Luther King Junior's words of being light and love in the world, which I found on a note at the vigil held outside our church.

"Returning hate for hate multiplies hate, adding deeper darkness to a night already devoid of stars. Darkness cannot drive out darkness: only light can do that. Hate cannot drive out hate: only love can do that.

"I sent a message out on Facebook and invited the world to join me in weaving stars with the hope of encouraging people to connect through star weaving and to create an installation by 2018."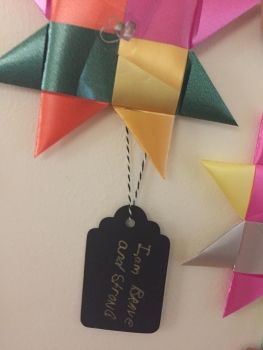 "In February 2016, I partnered with the Queensland Government and together we made the One Million Stars installation dream a reality.
"Star weaving is a mindful, joyful and creative practice which allows us to come together, to chat or be still, to make new friends or just to have some time out and learn something new and create something beautiful," Maryann said.

"My hope is that if we all practise kindness in our personal relationships, our workplaces, neighbourhoods and communities that we can create a more peaceful world and, in turn, end violence.

"I chose the target of one million because it demonstrates how monumental the work of creating peace across the world is. It reminds us that every one of us can do something, however small or big, to ensure that others feel okay, safe and loved.
​
"One person can't work to end all violence in the world. Hundreds, thousands, millions of people are needed to work together and find different ways to care for others and the world we live in. The installation will be a collective statement against violence and for peace."