You are here:
Home › News › 2018 › 04 › 24 › Sereanas Story Inspires Guests At Red Shield Appeal Multicultural Launch
Sereana's story inspires guests at Red Shield Appeal multicultural launch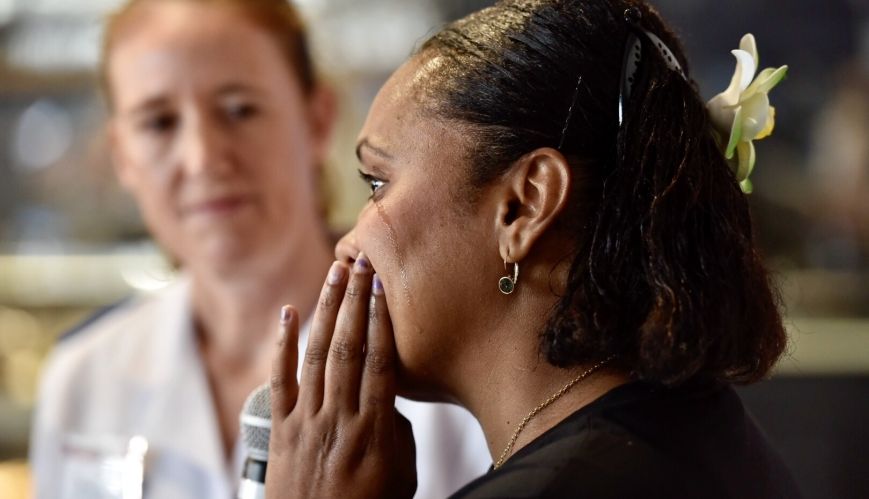 Sereana's story inspires guests at Red Shield Appeal multicultural launch
24 April 2018
Sereana, a Salvationist of the Auburn Corps in Sydney, recently shared her story of faith, hope and miracles at The Salvation Army's Red Shield Appeal Multicultural Launch. 
The launch, which called on multicultural communities to support the Army's annual Red Shield Appeal, was held at Leichhardt on 24 April. It was attended by the Hon Alan Tudge MP, Minister for Citizenship and Multicultural Affairs, as well as Salvation Army dignitaries and guests.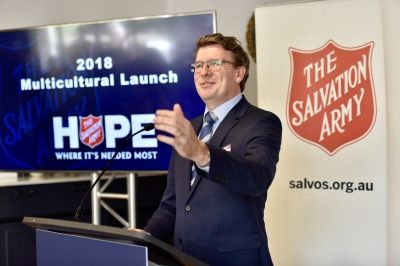 Alan Tudge, Minister for Citizenship and Multicultural Affairs.
"The Salvation Army does tremendous work on an incredible scale," said Mr Tudge. "The key thing about The Salvation Army is that when you look at all it does, it doesn't matter what your ethnicity, political or religious beliefs, The Salvation Army reaches out to everybody.
"To reach The Salvation Army's Red Shield Appeal target of $73 million, it needs everyone working and giving together."
Central to the launch was Sereana's story. Born in Fiji, Sereana grew up in a large, loving family who followed Jesus. "What my parents taught me is respect and [that the] most important thing is love and forgiving," she told others.org.au.
Not long into her marriage, she realised that not all families followed these principles. "When I got married it was the opposite," she said. "Probably because my parents taught me love forgiveness and respect I think that's why I stayed." Seven years into the unhealthy marriage, Sereana knew she needed to leave. Afflicted with a respiratory ailment, her health had also severely deteriorated. 
"I have really gone through a lot. I had three surgeries to dilate my airways. They inserted a tube – in medical terms, they call it a tracheotomy – to help me breathe. A newborn baby's airway is wider than mine."
Sereana fled to Australia to start a new life and fell pregnant a year after arriving, a miracle because she thought she could never have children. However, the pregnancy put her life at risk, putting pressure on her airways. At seven months she had to undergo emergency surgery – another tracheotomy – but the surgery was so dangerous she could not go under anesthetic and had to remain awake.
"This was very traumatic for me, but I had no other choice," she said. Doctors said it was a "miracle" that both she and her baby, Gabriella, survived.

But Sereana's problems didn't end there, and that's when she made contact with The Salvation Army for legal, financial and housing assistance.

"I came to The Salvation Army after my daughter was born," Sereana said.
Gabriella does not have any rights in Australia and is not considered an Australian citizen, so Sereana was referred to Salvos Legal. From there she met a Salvation Army chaplain who prayed with her and put her in touch with Auburn Salvation Army, near where she lived.

Soon afterwards, The Salvation Army offered Sereana and her daughter low-cost housing due to their dire financial situation, and also because of the health risk to Sereana who was living among many residents who smoked.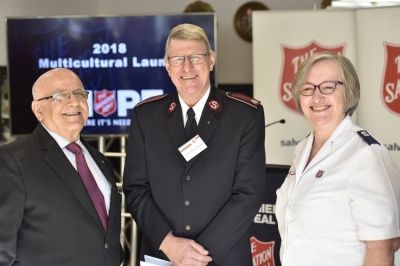 Joseph Assaf AM, Colonel Mark Campbell and Leigh Cleave.
"They helped me move into a new room, I've got my own bathroom and toilet and it's a lot more healthy for me," she said. "If I didn't have the Salvos I think I would be on the street. My budget was so tight buying nappies and things for my daughter. Some days I only drink tea and not eat anything just so my daughter can have what she needs."

Sereana volunteers regularly at The Salvation Army in Auburn and is undertaking a coffee course to become a qualified barista. She worships at Auburn Salvos and is hoping for a permanent future in Australia.

"I am volunteering with the Salvos now. I believe it's all about love – some people are like me, they need help. I believe that love conquers all."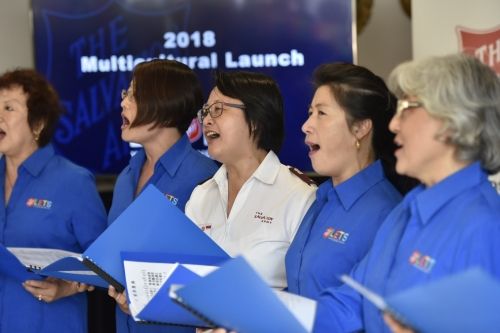 The Bankstown Salvation Army's LETS Choir sang at the multicultural launch.
As well as hearing from Sereana, guests at the multicultural launch were also entertained by Bankstown Salvation Army's LETS Choir. The LETS (Learn English Through Singing) Choir ministry began in 2016, with the initial purpose to teach English to new migrants through singing.
Bankstown Corps Officer, Captain Frank Wang, told others.org.au the first song the choir learned was Silent Night, telling the story of the birth of Jesus.

"Since then they have mainly learned church songs. A typical class involves singing lessons, music theory, easy Bible English, learning and practising traditional and contemporary Christian songs."

The choir performs at various Salvation Army events and visits Aged Care Plus centres to bless residents through song.