Indigenous Salvo leaders support Grasstree Gathering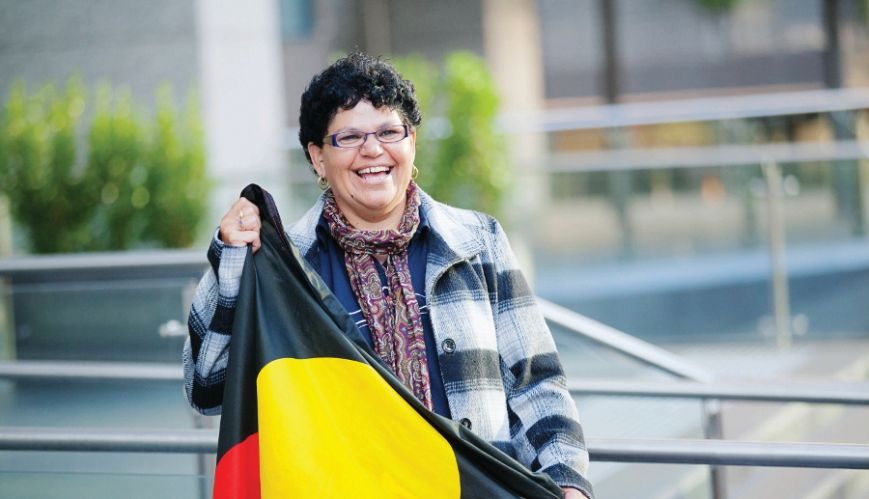 Indigenous Salvo leaders support Grasstree Gathering
1 June 2018
Four Indigenous ministry leaders from The Salvation Army were among 85 emerging and established Australian Aboriginal and Torres Strait Islander Christian leaders who attended the recent Grasstree Gathering 2018 Theological Symposium in Sydney.
The Salvation Army representatives were Shirli Congoo, Eastern Territorial Indigenous Ministry Coordinator; Chris Congoo and Sue Hodges, both Eastern Territorial Aboriginal and Torres Strait Islander Engagement Coordinators; and Terrence Whyte, Aboriginal and Torres Strait Islander Youth and Children's Worker; as well as non-indigenous representatives of the Mission Support and Inclusive Australia teams.
The Gathering, first held in 2012, is the brainchild of ecumenical Aboriginal Christian Leader known across Australia, Aunty Jean Phillips, who was on hand to give a warm welcome.
This year's symposium revolved around three significant projects.
The first is a collection of interdenominational online papers to be hosted by the Australasian Pentecostal Studies journal later this year.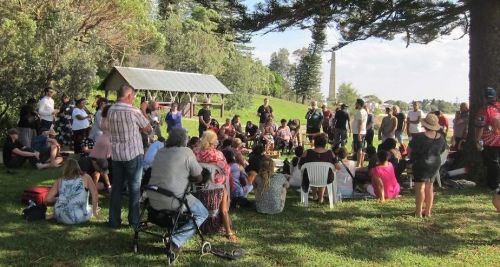 Meeting for prayer at the Grasstree Gathering. Photo courtesy Eric Hatfield.
The second project is the imminent launch of Australia's first Post Graduate Studies in Indigenous Theology. This will be offered in partnership with Whitley Theological College and the University of Divinity in Melbourne.
The third project is the central vision of Grasstree Gathering, to "celebrate, encourage, equip and inspire an emerging generation of Aboriginal and Torres Strait Islander Christian Leaders".
Terrence Whyte, of both Aboriginal and Torres Strait Islander heritage, is one of those emerging leaders. He works with youth and children in Townsville, running the Positive Lifestyle Program, the Sports Leadership Program and the Leadership and Resilience program.
"It's been so valuable to connect Aboriginal and Torres Strait Islander youth and children with their traditional culture in a faith context as they work through the issues of self-respect, motivation and identity," he said. "I value being able to talk about what it means to be a Christian among so many indigenous peers and leaders."
Shirli also commented that it is inspiring and exciting for everyone gathering together, "learning how we fit" and yet still be authentic in who we are as diverse group of Aboriginal and Torres Strait Islander peoples.
"It was great to be able to walk alongside other Aboriginal and Torres Strait Islander Christians, particularly to be in the yarning circles where people feel safe to be honest and creative in how we interact through yarning, dance, song or silence," she said.
Shirli is proud of The Salvation Army's responsiveness so far, particularly the establishment of the community engagement officers and the introduction of the cultural competency training.
"I am feeling positive about the role that Aboriginal and Torres Strait Islander Christians will have in Australia One going forward, because of the willingness of national leadership committing to sit with and listen to the Aboriginal and Torres Strait Islander Advisory Council in shaping a national ministry and cultural framework.
"Practically, this means accepting an understanding of, and respect for, Australia's Aboriginal and Torres Strait Islander culture and tradition as a central part of our identity, not just a side program," she said.
Shirli recommends some key websites that are educative and inspiring – Australians Together and Common Grace.
Sue is already networking to organise a concert with one of the speakers, David Armstrong, a pastor who runs a Dharug language choir.
Self-determination and being heard were key themes of the symposium, particularly as expressed through art, and ways of reading the Scriptures alongside the traditional stories.
As the world's oldest living culture, Aboriginal spirituality is a uniquely Australian perspective on God of which we can all be participants.

Speaker after speaker opened up a vision of how the process of healing, seeking for justice, and just the sheer joy of viewing the Gospel through Aboriginal eyes could hold a hope for a new flourishing in the church as a whole.
Paul Knight is Senior Writer and Resource Development Team Leader, Mission Support Team.