You are here:
Home › News › 2018 › 06 › 08 › Reconciliation Week Events Promote Respect And Positive Relationships
Reconciliation Week events promote respect and positive relationships
Reconciliation Week events promote respect and positive relationships
8 June 2018
The Salvation Army joined the wider Australian community in marking National Reconciliation Week, from 27 May-3 June. The theme of this week for 2018 was "Don't Keep History a Mystery".
Corps and centres around the country promoted and facilitated respect, trust and positive relationships between and Aboriginal and Torres Strait Islander peoples and the wider Australian community in a number of different ways.
A brief snapshot of National Reconciliation Week (NRW) celebrations in Queensland and Northern Territory is presented below.
Stories on events in the New South Wales and Victoria, click here.
Queensland

Brisbane Streetlevel Mission invited Lucy Davis, Indigenous Engagement Coordinator for South East Queensland and Andrew McMahon, Outreach Worker, to give a testimony on NRW, and its 2018 theme, on 28 May. A team-building session followed with community members and volunteers, as Lucy and Andrew shared local stories from the Brisbane area.
Lucy Davis (left) and her team preparing the meal at Streetlevel.
At evening chapel on 31 May, an Aboriginal and Torres Strait Islander meal was on the dinner menu, with food prepared by Lucy and Indigenous members of the Streetlevel community. Uncle/Pastor Lionel Henoway gave a message on "How the history of the past effects how we worship in the present".
Divisional Headquarters hosted a NRW Elders morning tea on 7 June. Several Elders picked a significant part of history and, in a yarning circle, shared why this part of history is important to them and how this part of our shared history affects them today.

In return, Divisional leaders, Lieutenants-Colonel David and Sandra Godkin, and Major Neil Dickson, Divisional Secretary, also shared a part of our shared history and this was discussed as well.
Brisbane Recovery Services Centre (Moonyah) held specific NRW prayer sessions. Bundamba Corps, 35km south west of Brisbane, conducted a church service on Sunday 3 June to acknowledge NRW.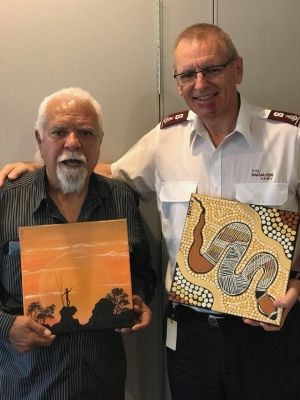 Lieutenant-Colonel David Godkin with Uncle Noel Blair.
Townsville Recovery Services led a "Kup-Murri" (underground cooking) activity with participants and staff on 1 June, as well as a session from the Australians Together series.
"It was a fantastic opportunity to share life, history and the hand of friendship with staff and participants at Townsville Recovery Services," said Shirli Congoo, Territorial Indigenous Ministries Coordinator.
"While the food was cooking, we walked our friends through our history, followed by a panel of our Elders both Aboriginal and Non-Indigenous sharing their experiences of their lives into adulthood.

"There were many stories of life's challenges and how they valued their friendship in the midst of oppression and racism towards Aboriginal people.

"It was a powerful morning of learning, sharing, questions and prayer. We stand together."
Northern Territory
The Palmerston Corps, Darwin, marked Sorry Day on Friday 25 May.

"It was a 'Top End' celebration, together with the Darwin Corps, and clients from our Sunrise Recovery Centre, Red Shield Hostel, Catherine Booth House, and those experiencing homelessness," said Captain Katie Ryan, Palmerston Corps Officer.

"The focus was on reflection and bringing awareness of the day and what it was all about.

"When we use the word 'celebrate', it's not in the sense of 'happy happy', as we're talking about the Stolen Generation and what they have been through. It's about respectfully acknowledging them and what is, for many of them, a real and lived experience.

"It was just a great day of remembering the significance and importance of Sorry Day."

As part of the day, those gathered worked on bush craft, weaving, and learning to build a fire. A staffer from the Sunrise Centre played the didgeridoo.
Beverley, Indigenous Salvation Army worker from Catherine Booth House, spoke about her firsthand experience as a member of the Stolen Generation and explained the significance of Sorry Day.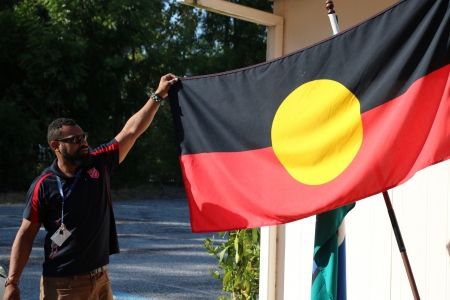 John Rogers, case worker and RAP team member.
"Our dream is that, next year, we can build on this event," said Captain Ryan.
"As a corps in the Northern Territory where most of our community is Indigenous, it's crucial that we, as The Salvation Army, reflect our Vision Statement in our work and stand up to say that it's significant and important to acknowledge what has been done in the past, so that healing can happen. 

"Our Indigenous brothers and sisters need to know that we stand alongside them, that we want to be part of this, and that we take these matters seriously.

"The Northern Territory has the top rate of almost everything – alcohol consumption and abuse, domestic violence, it's all here. We live and breathe the Vision Statement – it's not hard to find someone who needs to be loved."
[National Vision Statement: Wherever there is hardship or injustice Salvos will live, love and fight alongside others to transform Australia one life at a time with the love of Jesus.]