Restoring dignity and hope to Katherine's homeless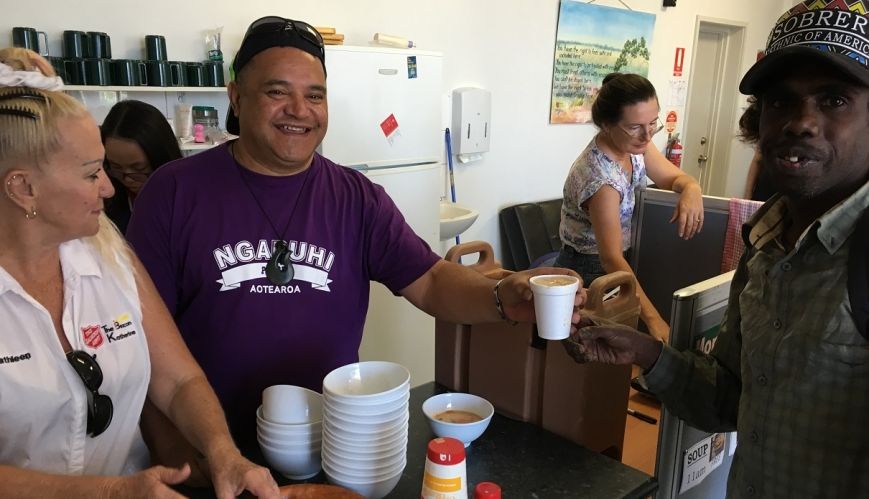 Restoring dignity and hope to Katherine's homeless
19 June 2018
The town of Katherine in the Northern Territory has one of the highest rates of homelessness in Australia. So it is no surprise that a new Salvation Army centre, the Katherine Doorways Hub, has become one of the town's busiest places in the first months of operation. 
The Hub, which opened in October 2017, provides a safe and inclusive space, with access to showers, washing machines, toilets, cold water and food. 
Art is an important focus area of the Hub.
"The Hub is also a one-stop-shop where a person can access a whole range of local Katherine services, including social supports, legal, financial counselling, alcohol and other drug rehabilitation and more," said Mr Harley Dannatt, Katherine Doorways Hub Coordinator.

"After we opened, daily numbers just kept going up. We now see between 70 and 100 people come through each day.

"Some people come every day for breakfast or a shower. We also have new people dropping in all the time, which is great because it means word is spreading that the Hub is a place where you can get help if you are doing it tough.

"There are lots of people in Katherine sleeping in bush camps; we have severe housing shortages and overcrowding in houses. Most people accessing the Hub are doing it rough in some way."

Up until March this year, Hub staff responded to more than 7600 individual presentations. More than 350 Hub participants made use of the laundry facilities, and over 3000 lunches were provided.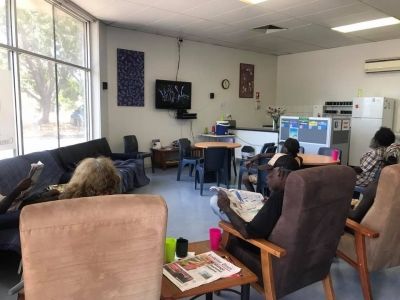 Community members relax and enjoy some time out.
In November 2017 the Hub started serving soup five days a week. The catering department at Katherine District Hospital makes and donates the soup each day. The soup is served with bread donated by Brumby's Bakery and collected by volunteers. 
"The hospital kitchen makes an incredible contribution in cooking soup every day," said Harley. "It's healthy with meat and vegetables and always delicious. We are pretty sure there has never been the same soup twice! It's clearly made with a lot of love and the hospital kitchen deserves some community recognition for this.

"We have been blown away by the community support, not only from agencies and services, but from members of the public donating goods or their time.

"There is a lot of kindness out there in the broader community for the people who drop in to the Hub".

The Hub is a pilot program, funded by the Northern Territory Government Department of Housing and Community Development under the Homelessness Innovation Fund.