Fellows scholarship recipients set to 'expand the Army'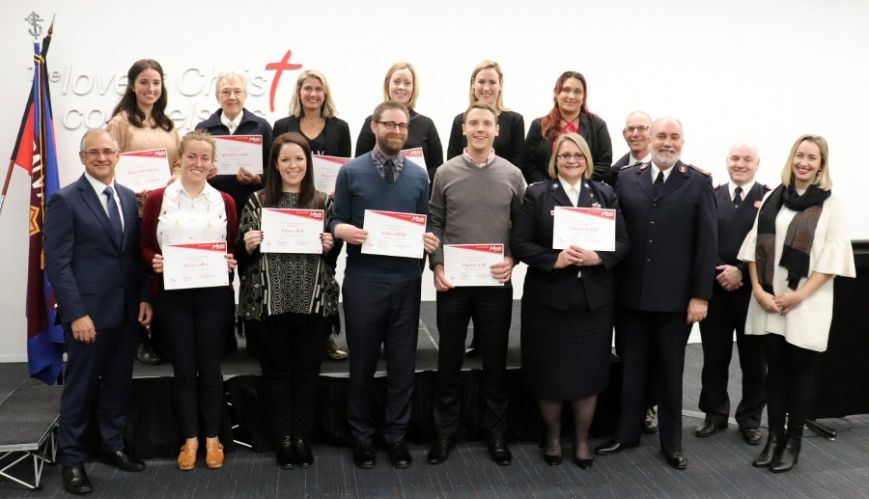 Fellows scholarship recipients set to 'expand the Army'
20 June 2018
By Lauren Martin

A selection of Salvation Army officers, employees and volunteers have been awarded Salvation Army Fellows Program scholarships at a ceremony in Sydney.

Acting CEO of Aged Care Plus, Carel Bothma, told those gathered that over the past eight years Aged Care Plus had invested $414,000 into Fellows Program scholarships across The Salvation Army.

"As The Salvation Army is moving to become a national organisation, we were very excited this year to be able to offer the Fellows Program as a national program for the first time. We received a record number of applications – 75 applications across both territories."

Samantha Jeffrey, a volunteer at the Mandurah Salvation Army south of Perth, travelled to Sydney to receive her award. She has received funding to study a Diploma of Ministry.

"I do youth leadership and the Mainly Music program and a Saturday program, which is basically 'messy church',"she said. As a mother of two young children, she said without the Fellows Program scholarship she would never have been able to set aside the money or the time to develop her ministry skills.

"It's a program that is based on an internship so I can do 15 hours a week in my corps plus 10 hours a week study and still fit in all my volunteering at the corps. I've got the love and the spiritual side, I just need the knowledge."

Eighteen people were awarded scholarships to up-skill, attend conferences or undertake further study both in Australia and abroad.

Captain Kathy Crombie, Area Officer in south NSW/ACT, will attend the Gospel and Our Cities conference in Chicago, USA; Amelia Weidner, Senior Associate at Salvos Legal Humanitarian, will attend the 2018 PILnet Global Forum in Germany, and Melanie Cotton, Communications Coordinator (online channels) in the Australia Eastern Territory Communications and Fundraising Department, will attend the Confab Content Strategy Conference in the USA.

Deborah Bartlett, the Administration Assistant and a soldier at Springwood Corps in the Blue Mountains west of Sydney, said her Fellows Scholarship to undertake a Diploma of Leadership and Management came from God's prompting about a year ago.

"My husband and I were invited to go to Delve [a Salvation Army Exploring Officership event] and I just really felt a deep sense of calling to grow the Army in the mountains.

"I love the Army and I love the mountains, and to expand the Army in the mountains is exciting. We've done a community needs analysis and we've highlighted areas where we can make a difference."

Colonel Wayne Maxwell, National Ambassador for Holiness and Prayer with the Office of the National Commander, said at the ceremony that the Fellows Program was "an investment into the lives of the recipients and as a result of that investment ... they are investing in the lives of others."

"The Salvation Army is committed to professional development and this is one way in which people can make a choice that really aligns with their passion and aligns with the outcomes that we want to see take place in The Salvation Army. The benefits will be immense."

Read the full list of 2018 Fellows HERE.