Discipleship model taking off
Discipleship model taking off
21 June 2018
By Lauren Martin

Author Neil Cole first met Australian Salvation Army officers, Peter and Diane Hobbs, while they were at training college.
Having read Neil's book Organic Church, Growing Faith where Life Happens, the couple had resonated deeply with his teaching and, during a family holiday, had flown to Singapore to attend one of his training seminars.

The meeting was a pivotal moment for both Neil and the Hobbs', who are now captains in The Salvation Army and the Corps Officers at Bellarine Peninsula in Victoria.

The Hobbs'were impacted by the Organic Church concept, which suggests a new approach to evangelism –instead of inviting the world to church and trying to make Sunday relevant, the movement says "let's bring Christ to people where they live". So, essentially, an organic church is a house church –building relationships and discipling people where they are at.

Neil was likewise impressed by the potential of The Salvation Army to adopt his discipleship concept.

"I felt like the Greenhouse [training seminar in Singapore] was a bomb, I really did," Neil remembers. "But what I didn't know is that there were people from other countries there that were eating it up, the seeds were planted."

After graduating and being commissioned as Salvation Army officers, Peter and Diane Hobbs were appointed to the Bellarine Peninsula near Melbourne where they began to put Neil's "discipleship multiplication model"into place. They invited Neil to visit and share his training with a number of the new Christians they were working with.

Neil was impressed by how fast things were moving. "I do a lot of travel and a lot of training all over western Europe and western nations and it doesn't always take off this fast; it is [usually] a slow burn," he said.

Fast-forward five years and Neil has visited Australia numerous times to teach and train Salvation Army officers and ministry leaders on discipleship multiplication.

"God has chosen The Salvation Army in Australia to change things for Australia, that's what my belief is," he said on his recent visit (pictured right).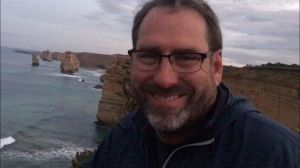 "What the Salvos are doing is multiplication [as opposed to most church growth strategies which rely on adding people to existing congregations, multiplication forms new faith communities which, in turn, grow new faith communities.]

"You [The Salvation Army] are an example already across the world because I tell your story wherever I go; I show pictures of the numbers of people and the generations that are multiplying."

Captain Rowan Castle, Director of Emerging Faith Communities in the Australia Southern Territory, said he and his wife Rachael came into their role to explore how The Salvation Army could have expressions of faith communities that would make sense to a broader age range.

"The Salvation Army is strong in youth and children's ministry and in older demographics," Captain Castle said. "But there's a bit of a lull and there has been a consistent decline in that middle space."

He said Neil's model of discipleship multiplication was chosen because it was usable, simple and had already worked in an Australian context, through the ministry of Captains Peter and Diane Hobbs on the Bellarine Peninsula, where there are now dozens of faith communities operating under The Salvation Army banner.

Another context in which the model is working is in Melbourne, through Intercultural Ministries officers, Captains Monty and Mera Bhardwaj. They operate without a corps building or a Sunday congregation, yet have grown disciples of Jesus that are continuing to multiply, becoming Salvation Army soldiers, passionate about The Salvation Army's mission and message. Each group meets regularly in people's homes and recently a number of families have joined Mera and Monty to start up a Salvation Army micro-enterprise catering business.

There are also Salvation Army missional communities springing up in the Australia Eastern Territory and interested Salvos in New Zealand receiving mentoring through the Emerging Faith Communities group in Australia.

Captain Castle believes the missional community's model of church fits with The Salvation Army's vision statement theme of transforming Australia "one life at a time with the love of Jesus".

"The values section of the new vision statement begins with the phrase, 'Recognising that God is already at work in the world ...'–that we are responding to what God does in the world is at the heart of the organic approach to mission."