You are here:
Home › News › 2018 › 07 › 06 › Salvation Army Emergency Services Teams Cater At Nsw Police Searches
Salvation Army Emergency Services teams cater at NSW police searches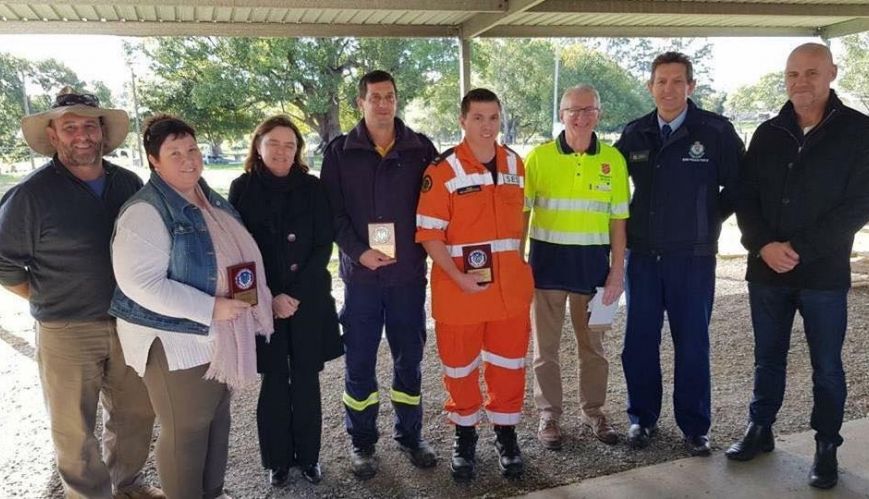 Salvation Army Emergency Services teams cater at NSW police searches
6 July 2018
The Port Macquarie Corps on the Mid North Coast of NSW, responded to a call from NSW Police to provide catering for Special Emergency Services (SES) teams and the NSW Rural Fire Services during their month-long forensic search of bushland related to the case of local missing toddler, William Tyrell.
NSW Police have led the search for the past four weeks, assisted by SES and NSW Rural Fire Services.
William Tyrell vanished from his grandmother's property in nearby Kendall on 12 September 2014. He was aged just three at the time.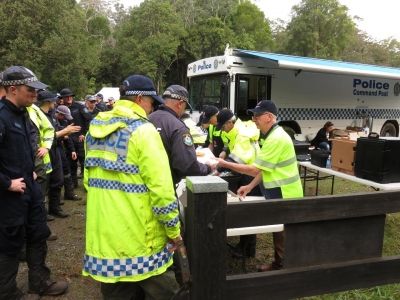 SAES teams serving meals onsite to Police crews.
The call for assistance to The Salvation Army came through Norm Archer, Director of Salvation Army Emergency Services (SAES), who contacted Warren McKeon, Port Macquarie SAES coordinator.
The corps quickly responded to the call.
"For six days per week for the last four weeks, our teams provided a cooked lunch, as well as morning and afternoon tea snack boxes that crews took out with them into the field," explained Warren. "We fed anywhere between 60 and 100 people each day."
Mrs Glenys McKeon, SAES volunteer, worked on a menu to provide different meals over the search time, which included a couple of barbecues each week. "We tried to provide a variety of nutritious meals so they didn't get boring," she said.
Volunteers and SAES teams prepared food in the Port Macquarie Corps' kitchen. The food was then transported in hot boxes to the search site, where more volunteers served the meals to the police, SES and fire services crews.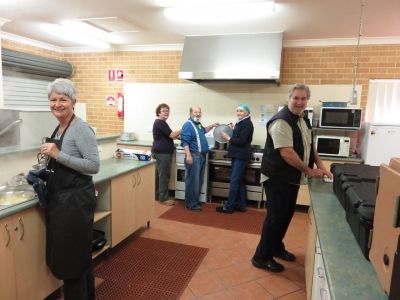 SAES teams prepared meals in the corps kitchen to be transported to the search site.
"The volunteers made a fantastic team," said Warren. "We have around 20 people, so we're spreading the work around with most people doing two days each week.
"These volunteers are part of our SAES and have had previous experience in supporting the Rural Fire Service, as well as in the Queensland floods last year."
Port Macquarie Corps Officers, Majors kevin and Heather Unicomb, said the whole corps had been willing to get involved and help. "The team is amazing and everyone served alongside the police, SES and firies, supporting them and hoping to help find some closure for William's family," said Major Heather. "They served God by serving others, and that is inspiring."
Norm Archer said the Port Macquarie team jumped at the chance to help. "This was a huge task, and they embraced it in its size and attacked it with the spirit that any Salvo could be proud of.
"If we're going to transform Australia one life at a time, it will happen through these sorts of interactions, and I think that's great.
"And, more volunteers are always welcome!"
Majors Brian and Heather also supported the SAES teams in their service.
The corps and SAES teams were thanked for their work.
"They are so busy with their normal workload, but they were always there if we needed an extra pair of hands," said Warren.
"Like all of us, they just want to help and really enjoy doing it. It's being out in the community serving which is what we want to do. We wanted to support the community and support this search. This little boy is at the forefront of all of our minds in this area."
Salvation Army Emergency Services teams have also been active in other areas over the last few weeks. SAES teams in South West Sydney provided emergency catering for police and SES crews searching for the body of missing woman Qi Yu.
In Penrith, Greater Western Sydney, SAES teams provided catering for government officials, Department of Family and Community Services representatives and non-government agencies at an evacuation centre exercise.
"We are grateful for the resources we have to use, and our growing number of volunteers willing to serve," said Norm. "There is always room for more!"