You are here:
Home › News › 2018 › 08 › 08 › Salvation Army Releases Additional 1 Million In Drought Support
Salvation Army releases additional $1 million in drought support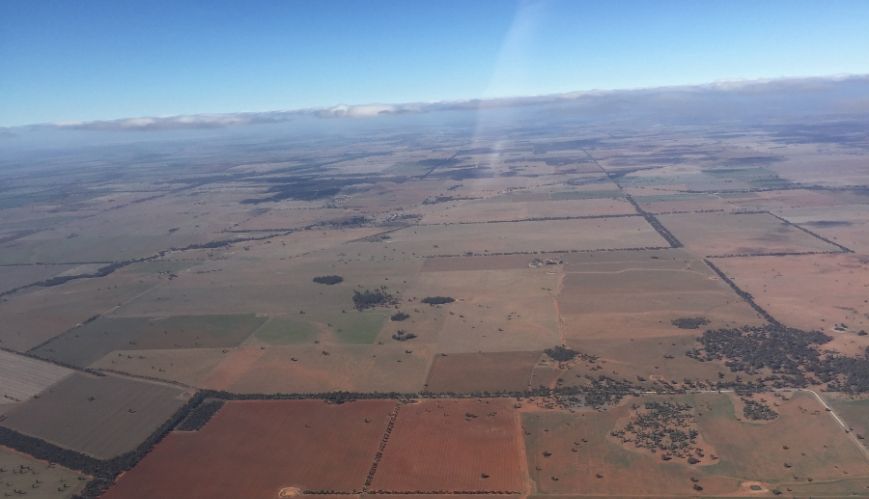 Salvation Army releases additional $1 million in drought support
8 August 2018
Major Mark Bulow from The Salvation Army's south-west Queensland Flying Service captured this image of how the drought is affecting north-west NSW.
By Lauren Martin and Simone Worthing

The Salvation Army is contributing an additional $1 million to boost the support given to farmers and rural and regional Australians battling one of the worst droughts in over 100 years.

The Salvation Army has been supporting farmers across Australia for more than a century, bringing hope through many tough circumstances including droughts, floods and fires.

Today, the Army's rural chaplains, officers and other staff ministering in drought-affected areas are conducting regular visits to farmers and rural communities, distributing food hampers, helping with bill payments and other financial expenses, assisting with farm and household jobs, and providing emotional and practical support.

North-west New South Wales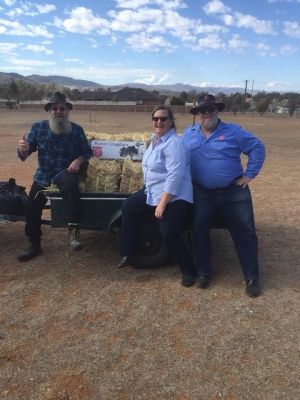 Rusty and Dianne Lawson (pcitured right with local Trevor, who has been assisting farmers in Tamworth), rural chaplains in the north west of NSW, say it's hard to comprehend the horrific circumstances many farmers are dealing with right now. "It's only when you see the tears that you get a real sense of how broken and hopeless the situation has become,"Rusty says.

"We are seeing farmers going without their medication to pay for the needs of their livestock. Many are starting to seriously wonder what the future holds for them."

In a letter to The Salvation Army, one farmer assisted by Rusty and Dianne said: "I didn't like having to ask for assistance, farmers seem to be so proud and want to do it alone. But for the first time in 25 years of farming, I felt like it was time to reach out and allow someone else to help us out. It took a lot for me emotionally to ask for help, but I finally figured I was a farmer, so maybe it is ok to ask. The overwhelming thoughtfulness has been a godsend during this tough time."

Dianne says for farmers to know that people from the city are standing alongside them has given them hope.

In Tamworth, western NSW, The Salvation Army is at the heart of a local drought relief campaign called "R U Aware We Care?"initiated by the local radio station 88.9FM.

Tamworth Corps Officer, Captain Rhonda Clutterbuck, says volunteers and local Salvos have packed 1200 hampers so far for distribution to farmers and people affected by the drought.

"The Salvation Army is acting as the food and assistance distributors for the R U Aware We Care? campaign. All food and in-kind donations come to us to be sorted and packed and all cash donations are going into an account for our rural chaplains Dianne and Rusty Lawson to distribute."

Captain Clutterbuck says the amount of donations has been staggering, with 750 milk-crates full of donations coming from Newy Farmer Aid in Newcastle, 36 pallets of food products from Kellogg's and 250 fruit and vegetable boxes donated, two trailers of dog food, as well as individual and other small-business donations.

"People needing assistance are coming to local forums,"she says. "There was one at Attunga near Tamworth on Monday, another today [Tuesday] at Narrabri and then Moree, Inverell and Glen Innes. All of the government agencies are represented there as well as other organisations and The Salvation Army's Moneycare and rural chaplains.

"That's where Dean [Captain Dean Clutterbuck] is giving out the hampers and he's had a lot of hugs and cries on his shoulder whilst doing so."

Despite the overwhelming support for those affected by the drought, Captain Rhonda says there are still some farmers who won't ask for support.

"They're people who have worked hard all their life and they're just too proud to ask for assistance. But if a farmer can't or won't come in and their neighbour comes in and is worried about them, we give their neighbour the hampers and they deliver to them direct. We don't force things on anybody but we do want to help."

Broken Hill

In the far west, most farmers have de-stocked their properties and are just trying to keep their breeders going in the drought. They are also battling kangaroos and emus who consume any remaining resources, and wild dogs that attack their stock.

They're also trying to work out how to get additional feed, how to pay for it, and how to negotiate with their banks.

"Generations are often impacted, and contractors aren't getting work either; it affects everyone,"said Major Robin Pullen, Rural Chaplain, Broken Hill.

Majors Robin and David Pullen visit people across their vast area to offer financial assistance, encouragement, and hope.

"One of the people we've made contact with –the first person we visited on their property –was telling us that in the last drought, The Salvation Army turned up, just when he was on the brink of losing his property,"said Major Robin.

"He can't remember the officers'names –but they helped him financially which meant he could save his property. He is forever grateful."

Major Robin explained that, although the people in the far west are tough and resilient, they are also feeling isolated, and often feel that the care being shown in other communities is not reaching them.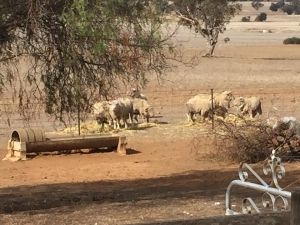 "The Salvation Army is working with other organisations to assist –such as providing a resilience worker, mental health worker, and serving together with the Royal Flying Doctor Service to host some community events to bring people together,"she said.

"We now have a coffee machine and take it to events, just to give that little blessing to people, and help them get to know us and break down barriers that may prevent them contacting us for help."

She said the farmers are strong and don't like to ask for help, but it's getting to the stage where they simply can't do it on their own.

"One lady said it had taken her six weeks to call us because she felt embarrassed to ask for assistance…We were able to give her enough money to pay her electricity bill and keep food on the table for her family.

"Many people are working day and night just to survive. One family, an older couple, have to do water runs to the bore several hours away, more hours of pipe checks, feeding stock –all with the husband unwell. The wife doesn't finish until 1am and they can't afford anyone to help them."

Major Pullen shared the story of a local woman who had posted on a Facebook page that she wondered whether there were any people out there who really did care.

"We saw that and decided to respond,"said Major Pullen. "We put together a care package with some fresh bread, groceries, knitted blankets from the Tuggeranong Corps and other items and took it down to her property.

"The dogs came at us and the radio was on, but we couldn't see anyone. We left the package on the kitchen bench and just left our card.

"She called later, so overwhelmed and thankful to know that people do care. She wondered how we got past the dogs –we just patted them when usually they don't let anyone in. The Lord was on our side.

"It was just a small thing but it meant the world to them."

Queensland

Major Mark Bulow, South West Queensland Flying Service, based in Dalby, says that farmers in his area are struggling and hurting immensely and doing it extremely tough.

"People have definitely lost the 'spark'they had in the past, but they are are not broken,"he said. "They are doing the best they can and doing different things to get through this drought."

"It's still hard for a lot of people to accept help, but we are financially assisting as we can."

Major Bulow has been able to pay grocery bills for those in particularly difficult circumstances and assist with emergency items, but he is also focusing on how to give people something special in these tough times, that they would otherwise not have.

"We find out what sort of things used to bring them happiness, what makes them smile,"he said. "We then purchase the items and take it to them and it gives them hope and encouragement and relieves some stress.

"Even something as simple as getting someone's sewing machine repaired made a huge difference for a particular family."

Major Bulow says that for him, getting alongside people, seeing how they are and continuing to build relationships, is his priority.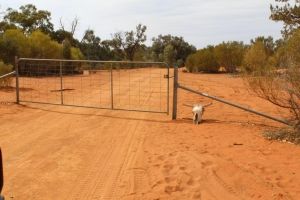 "The relationships I have are critical,"he says. "It means that, in the still of night when people often need it most, they can pick up the phone and call. There is trust already established."

Major Bulow also focuses on finding the people who are quiet and not necessarily asking for help, but really needing it. "I find these people and together we work out a way to help,"he says.

Major Maree strong, NSW and ACT Divisional Rural Liaison Officer, says that it's been encouraging to see how the community has responded to the drought and how they are fighting for the farmers.

"From the young boy in Sydney running a 'fiver for a farmer'campaign to people around the country donating time and money to assist, it has been very positive,"she said.

"Rural people are some of the most resilient people I have ever met and will push themselves to hang on, but it's encouraging to see the support behind them at this very tough time."

To access assistance or to donate, go to salvos.org.au/drought