'The worst drought I've experienced'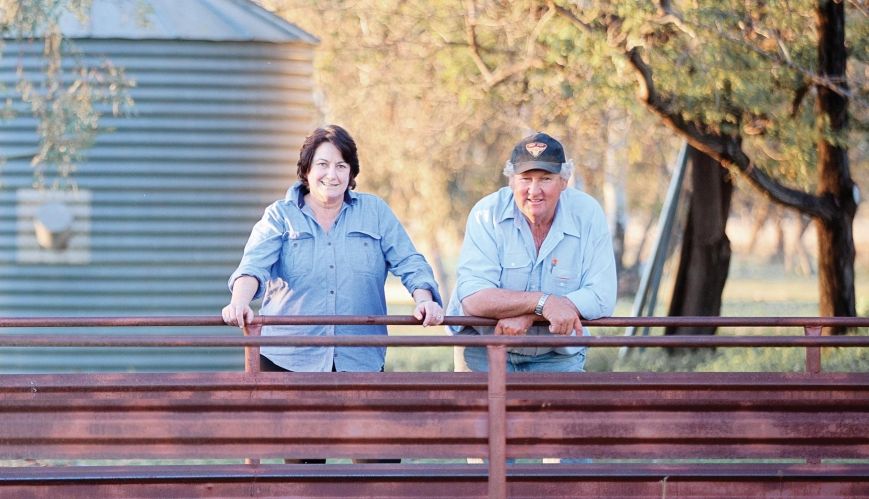 'The worst drought I've experienced'
9 August 2018
Susan and Dougal McLeish on their property in better times. Along with so many others, the McLeishes are now facing the ravages of the worst drought they've ever experienced. Photo Shairon Paterson
By SIMONE WORTHING
"Thurn" is a stunning sheep and cattle property spanning 3237 hectares between the village of Quambone and town of Coonamble in western NSW.
It is home to Dougal and Susan McLeish, the property being passed down to Dougal by his parents. He has lived there all his life.
The McLeishs have a strong connection to The Salvation Army. They have hosted numerous groups of training college cadets, officers, volunteers and supporters at Thurn over the years, as part of mission teams that have come to Quambone to serve the community.
Tragically though, like so many other farms across north-west NSW and south-west Queensland, their property is now a dustbowl, with its sheep and cattle stocks depleted and many trees either dead or dying. The McLeishs, like so many other farming families, are fighting for survival as one of the worst droughts the area has seen, bites long and hard.
Salvation Army rural chaplains have been walking alongside the McLeishes, and many others, for decades. They've shared times of flood, drought and hardships of all descriptions, and good times as well.
They provide a listening ear, practical help, financial assistance, advocacy, and plenty of hope and encouragement.
"These things are good for our souls, and they need attending to, especially in such tough times," says Susan. "We are tired, isolated and struggling, and it's good to know we are supported emotionally, spiritually and in other ways as well.
"They (the chaplains) shoulder our burden and in terms of resolve and emotion, that's fantastic. We need to be together in this and what they are doing is no small thing."
Susan, in an interview with Others magazine, has provided a powerful insight into the scale of devastation that farmers are facing from this latest drought:
It seems insensible really. We went from a terrible drought in 2013, when Salvation Army teams were here, to a flood and now to another drought. It's certainly the worst I've experienced, probably because we're sharing it with so many.
We did have a little meaningful rain last year, but desiccating winds in both winter and summer, and then the summer heat followed it. We're losing trees now, which is unusual. We just can't keep anything alive anymore.
Kangaroos and other native animals are invading us. They are even eating the few shoots in my no-longer-lovely house garden that manage to push themselves through the dry soil. They eat everything, except the oleanders, which are poisonous.
We don't shoot them anymore. They're starving too and are in a bad way, just like us.
So many beautiful wild birds, some of which I've never seen before, are also coming to our property, to the artesian bore that we have, which is a resource for them. They are desperate, looking for anything to forage.
This place though, is no longer an oasis.
I watch the weather, but the past promises of a (rain) system coming through have not materialised. We see rain in other areas, but we are always in the rain shadow. When I see the rain passing it's like taking another wallop.
This drought just crept up on us like a shadow, enveloping everything green and wholesome. It's taken the toughest and best-prepared farmers by surprise, due to its sheer length and severity.
We've all destocked – most of us are down to our breeding females. A friend of mine, a stud breeder, was recently selling pregnant cows. He's never had to go to those lengths before, but he has to now.
Not only can we not afford hay, we can't source it either. It's a scarce resource. We have enough left for two weeks and after that, we don't know where the next load will come from or how we will finance it. And this is just maintenance feed, keeping the animals alive.
Drought funding is available, but due to the huge number of people affected, applications take a long time to be processed. Every time we talk to people, we realise there are people worse off than we are.
And we are grateful to those fabulous people from the city who are giving their time, energy and resources to try to help us. They give us hope.
But this is a national crisis and we need help on a massive scale. It's beyond what any individual can do, and the farmers especially are beyond it.
If the Government brought out the Army, the way The Salvation Army has helped us before, to work with the logistics of delivering and distributing feed, perhaps that would help.
As a country, we have to get some fodder in for the remaining animals or we won't have a national herd, flock, or quora [pigs] because individuals simply can't afford to maintain them anymore – and the resources aren't there anyway. Even if you do find hay it's never enough, and the price is a shifting target and beyond reach.
The Salvation Army and other organisations are providing resources through their hubs that give us all hope. They share this tough journey and it really does help. I want to use the hub model to show the Federal Government what can be done to help the farmers.
People can do things to help. Call your council if there are grass verges and ask them to cut it, dry and bale it, and get it out to farmers. Cane waste can be separated and baled, or sent loose on trucks.
It's all fodder and fibre and that's what these animals are lacking.
To access assistance or to donate, go to salvos.org.au/drought