Perth Fortress takes music and ministry to Geraldton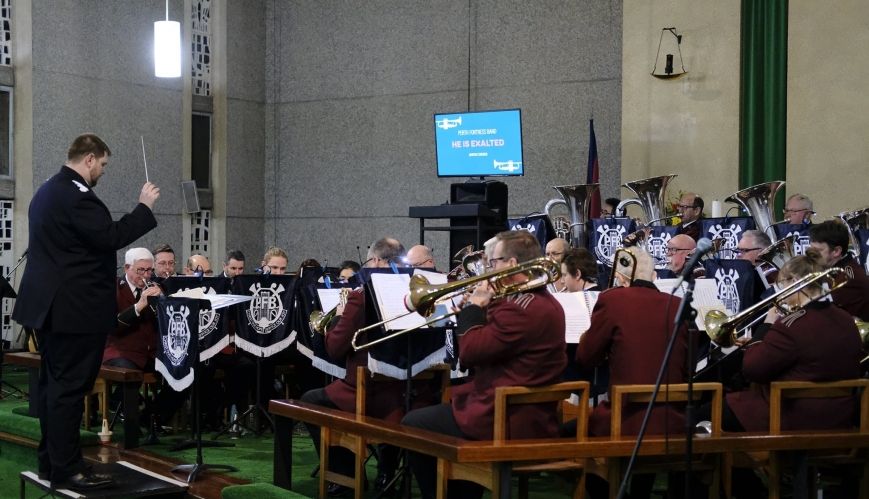 Perth Fortress takes music and ministry to Geraldton
17 August 2018
Perth Fortress Band recently enjoyed a fantastic week of fellowship, music and ministry in Geraldton, WA. Photos: Joel Gibson
By Matthew Barker

The Perth Fortress band and timbrel brigade travelled five hours north for a weekend of music and ministry with the Geraldton Corps and the local community brass band.

The band joined Geraldton City Brass Band in a combined rehearsal on Saturday afternoon before a fellowship dinner and concert that evening. This was an opportunity for the members of both bands to join in music-making and fellowship; many old friends caught up and new friendships were made.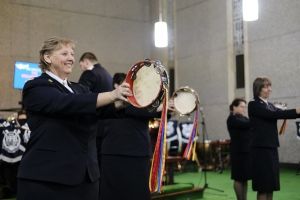 The concert took place at the Geraldton Anglican Cathedral – a lovely venue and a joy to play in. Very Reverend Peter Grice, the Dean of the Cathedral, opened the concert by praying that the Holy Spirit would move in mighty ways. After Perth Fortress band opened with Martin Cordner's Flashpoint, Major Paul Hateley, Perth Fortress Corps Officer, welcomed the audience and spoke of The Salvation Army's inception, the reasons behind its mission and quoted Founder William Booth's "I'll Fight" speech.

The night was full of exciting, meditative and traditional music and featured many soloists from both the Perth Fortress band and the Geraldton City band. The timbrels were also a lively addition to the evening. The night was a great success, with the funds raised going to support the Red Shield Appeal.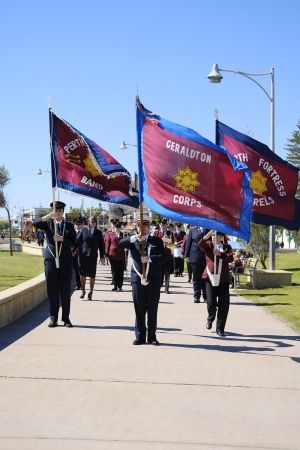 The Perth Fortress band and timbrel brigade led the Sunday morning meeting at Geraldton Corps. Major Wendy Hateley spoke on the "Greatness of God" and the band brought the message Nicaea – Holy Holy Holy, Lord God Almighty. Once again the timbrel brigade was loved by all, playing to Barrie Gott's Collaroy and Norman Audoire's Montreal Citadel.

After the morning meeting the band, timbrels and corps members met on the Geraldton foreshore where they marched from the northern end to the southern end, with many people following. The band and timbrel brigade then put on an afternoon concert while the Geraldton Corps had a free sausage sizzle and pop-up thrift shop. Many locals enjoyed the concert and one large group of youths made connections with some members of the band, asking what we were all about – a wonderful ministry opportunity. 

It was a fantastic weekend of fellowship, music and ministry. It was a blessing to see God at work and know his Spirit was working in the lives of those involved in the weekend. We pray God continues to work in the lives of the people in Geraldton and use the corps there for his glory; to provide the opportunity for the love of Jesus to transform lives, one at a time. We also pray that God continues to bless the ministry of the Perth Fortress band and timbrel brigade.

Matthew Barker is the bandmaster of Perth Fortress Salvation Army Band