Red Shield Defence Services remembers its beginnings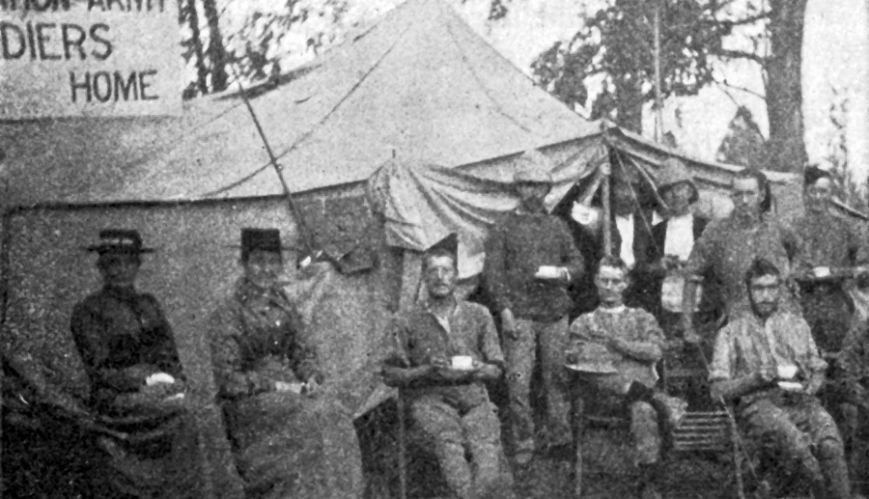 Red Shield Defence Services remembers its beginnings
21 August 2018
Troop work officers Adjutant Mary Murray and Lieutenant Hurley with soldiers outside The Salvation Army's welfare tent (Soldiers Home) during the Boer War.
By Lauren Martin

The history of the "Sallyman" in Australia dates back to the Second Boer War at the turn of the 20th century.
Territorial Archivist for The Salvation Army Australia Southern Territory, Lindsay Cox, wrote in an article for The Salvation Army's Hallelujah magazine that the Boer War caused feelings of deep anguish within General William Booth. The Army's founder wrote in his journal, "I am like a father with a divided household. My children are on both sides. Whoever wins, I lose."

"Booth's belief in Christian brotherhood and the internationalism of The Salvation Army led him to order a relief party be sent to 'minister comfort and practical aid to men of both armies –British and Boer alike'." ,
What is thought to be the first welfare tent in a war zone
In 1899, after the outbreak of the war in South Africa, General Booth sent Adjutant Mary Murray and three other English officers to serve troops on both sides of the conflict. Their arrival at Cape Town in South Africa in November 1899 coincided with that of the first Australian troops. 

"So, from that day on, The Salvation Army has always had a ministry with serving Australians," says current RSDS Chief Commissioner, Brett Gallagher. "120 years later, we're still there serving those who serve. That's something that we're very proud of." 

The Red Shield Defence Services is holding its annual conference in Brisbane and will tonight celebrate the anniversary with a dinner for current and past Sallymen and women that deployed to war zones, areas of conflict or peace-keeping missions.
Adjutant Mary Murray


"We want to once again thank them for their service, and remind our current [Red Shield Defence Service] representatives that we stand in a long line of people that have been serving those that serve our country."

There are Salvation Army Red Shield Defence Services representatives at defence force bases across the country, including the Royal Military College Duntroon, Gallipoli Barracks, Enoggera Barracks, Brisbane; Holsworthy Barracks Sydney; Edinburgh Defence Precinct Adelaide, Lavarack Barracks Townsville; Robertson Barracks Darwin.

The Salvation Army is also involved in staged deployment with Australian troops to the Middle East. Last year, Captain Kenny Dalamore was embedded in the Middle East region and this year, Jason Lilley from Holsworthy Barracks also served in the Middle East.