Campbells visit Gunnedah to support farming community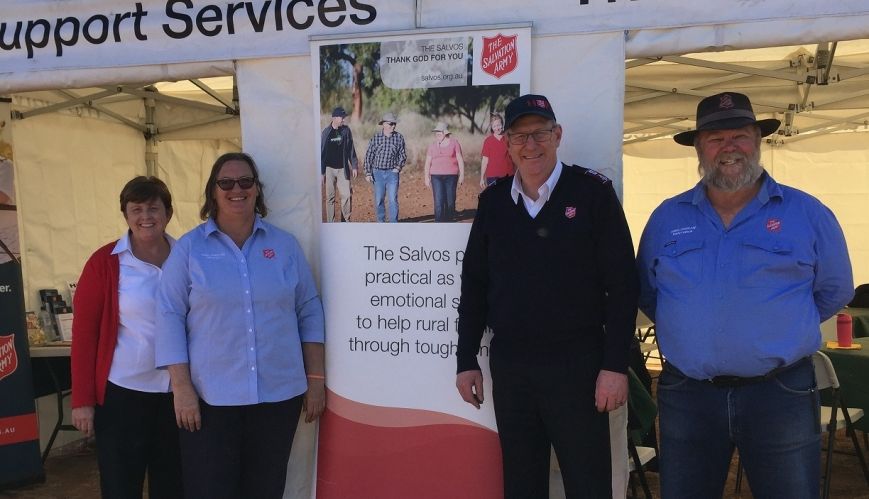 Campbells visit Gunnedah to support farming community
22 August 2018
Colonels Julie (far left) and Mark (second from right) with rural chaplains Di and Rusty Lawson, at The Salvation Army's drop-in tent at AgQuip in Gunnedah.
By SCOTT SIMPSON
Colonels Mark and Julie Campbell, senior leaders of The Salvation Army in Australia, have visited north-west NSW to show their support for drought-stricken communities and to develop a greater understanding of the impact of "the big dry".
Mark, National Chief Secretary, and Julie, National Advocate for Gender Equity, joined Salvation Army teams at AgQuip, an annual three-day event for the farming community held at Gunnedah. The Campbells had been corps officers at Gunnedah in the late 1980s.
Gunnedah Corps, led by Majors Gaye and Richard Day, has for many years joined with other churches to have a presence at AgQuip, which is one of the largest agricultural events in the world, showcasing more than 3000 individual companies and attracting up to 100,000 visitors from across the nation and overseas.
This year, in recognition of the increased challenges farmers are facing as a result of what is being called the worst drought in more than a century, the Gunnedah Corps set up an additional drop-in tent staffed by rural chaplains and financial counsellors.
"Mark and I thought it was important that we make the trip so we could experience first-hand the hardship the drought is creating in farming communities, but also to support the local corps at Gunnedah and our rural chaplains," said Julie. "And being there really does deepen your appreciation of just what these people are having to deal with.
"We were able to chat to a number of farmers and listen to their stories. They are so resilient and determined, but to hear them speak of the heartache of having to make hard decisions with their stock – of what they can and can't do in these drought conditions – was heartbreaking in itself for Mark and I. They put on a brave face, but you can see how tough it is for them when they are forced to shoot stock and deal with other really tough decisions."
The Campbells also gained an insight into how vital the work of The Salvation Army, in partnership with other local groups, is in standing alongside farmers and other impacted business at this time. The Army recently announced it is contributing an additional $1 million to boost the support given to farmers and rural and regional Australians battling the drought.
"This additional funding, and with it the increased opportunities to be generous, is having a significant impact," said Julie. "We can now give farmers vouchers, which enables them to go out and get the things they specifically require.
"The farmers also spoke of how grateful they are for the emotional and practical support they are getting from the rural chaplains. It could be something as simple as helping to fix a fence, sharing a meal, or just being available to have a chat, but all these little gestures of support mean so much to them."
Julie added that it was also important to recognise the toll the drought is also taking on rural chaplains and Salvation Army corps.
"They are working so hard to support farmers and it does become very draining for them, emotionally and physically," said Julie. "They're dealing with the effect of this drought almost every day and it's one of the main reasons that Mark and I made this trip, to encourage the local corps and our rural chaplains.
"It is taking a particular toll on our chaplains. They're tired, they're on the road continually and it does drain them. But they're determined to continue to be there for the farming community. In many cases, chaplains are the only people that farmers feel they can really talk to, to openly and honestly share whether they are coping. It's an incredibly vital role that they play."
To donate go to salvos.org.au/ruralsupport. All donations $2 and over are tax-deductible. To access assistance go to salvos.org.au/drought or phone 02 8757 8088 (number available 24 hours a day, 7 days a week).