Salvos Big50 fundraising walk raises $20,000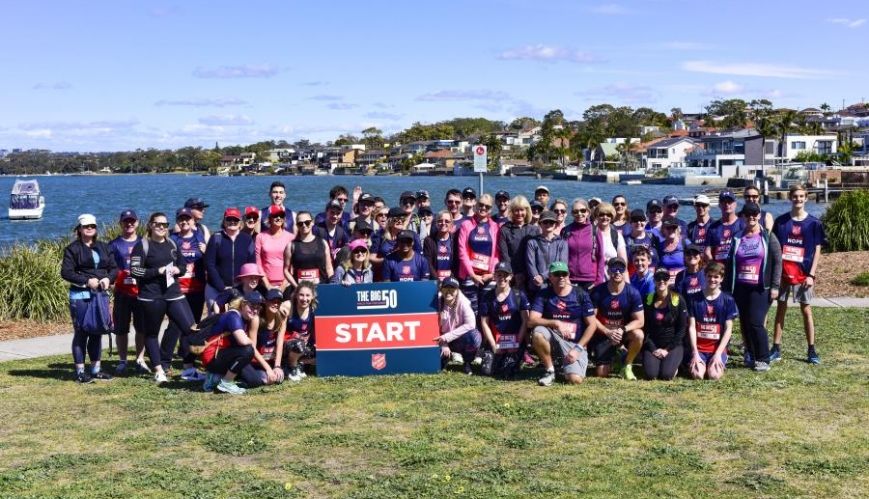 Salvos Big50 fundraising walk raises $20,000
4 September 2018
The start group for the 25km Salvation Army Big50 to raise money for Sutherland Shire domestic violence services. Photo: Phil Heron
By Lauren Martin

More than 100 people stepped out for last weekend's annual Big50 endurance event, which encourages participants to walk either 50km, 25km or 5km around the Sutherland Shire to raise money for local domestic violence services.
Salvation Army Community Fundraising Coordinator, Jess Lucas, said the walk had so far raised $20,730.
Eighteen people completed the 50km route, with 58 people tackling the 25km course, and 30 people doing the 5km walk. There were also about 20 volunteers at various pit stops, running a barbeque, at the registration desk, providing first aid, or driving the bus.
Jess, who is from Menai Salvos, walked 25km and says she underestimated how challenging the distance would be. "But the feeling of accomplishment at the end was amazing!" she admitted.

"The best part was being able to explain to passers-by what we were walking for, and to let them know that the Salvos have domestic violence services in the Sutherland Shire."

Mark Soper, the Menai Corps Leader, says this year a decision was taken to give more than half of the Big50 proceeds to another organisation, Platform Nine, which is a community service of Kingsway Community Church. "They're awesome kingdom people and we are partnering with them a lot." 


Platform Nine provides after-hours crisis accommodation for individuals and families experiencing homelessness, with most of them having also experienced domestic violence. The other portion of money raised will go towards Shire Salvos'Samara House, a medium-term accommodation service for families experiencing homelessness or exiting domestic violence situations. 

Stefanie Allen, the Platform Nine Manager, says the organisation is incredibly grateful for the support. "The miracles seem to expand when different churches work together. It's [the funding] going to make a huge difference to us. This will go towards funding our staff so we can keep the doors open."

Stefanie says domestic violence and homelessness in the Sutherland Shire is a big issue. "It's a lot bigger than what people think. We've been open nearly four years now. We've had more than 400 people through our doors from Sutherland, St George region and Bay City Council. It's huge."

Shire Salvos and Platform Nine partner on a number of levels. Every Christmas, The Salvation Army provides donated gifts to Platform Nine for families who are using the service over the festive season. 

"We are a self-funded service and the Salvos have really made a difference in honouring God in all this and partnering together with another church, so [together] we can really make a difference in our local community," Stefanie says.
It's not too late to donate or to sponsor one of the participants. This can be done online until the end of September at: salvos.org.au/big50