National recognition for Salvation Army research team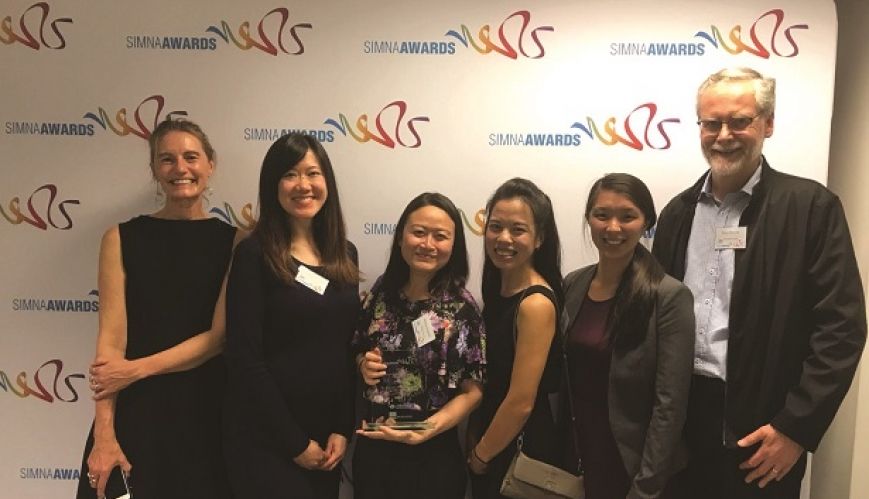 National recognition for Salvation Army research team
26 October 2018
Salvation Army Research and Moneycare team members at the Social Impact Measurement Network Australia awards.
By Lauren Martin
The Salvation Army has won a national award for its work measuring the social impact of its Moneycare financial counselling and capability services.
The Social Impact Measurement Network Australia Awards recognise the best, most innovative and collaborative social outcomes measurement in Australia. The Salvation Army Research Team (NSW, Queensland and the ACT) won in the Changemaker category for its Moneycare Outcomes Measurement Project.

Research Manager, Johana Susanto, says The Salvation Army has only recently shifted towards outcomes measurement, so to win the national award just two years into implementation of the new process is encouraging.
"It's really such a privilege for our team, and for those on the front line as well," says Johana.

"We're not just acting as a consultant to impose a measurement tool, we're actually working together in genuine partnership with the front-line team to really understand why they're doing what they're doing, what the service is like, and learning with them how we should measure and report on the progress of people that are receiving our support."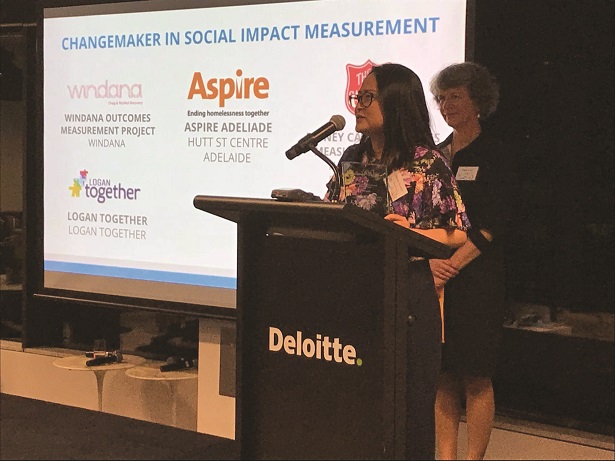 Johana Susanto receives the Social Impact Measurement Network Australia award.
The Moneycare Outcomes Measurement Project journeyed with community members using the service and asked questions about their financial resilience situation in a holistic way, both before they began with Moneycare, and afterwards.
It provided direct feedback that enabled Moneycare caseworkers to understand community members' context better and to work with them to develop an informed case plan that is effective and relevant to the community members' situation.
Johana says the evaluation also helps to provide a systematic and meaningful way for community members to let The Salvation Army know if the service works or not, and provides an opportunity for staff to address this feedback in a timely manner to help them achieve positive outcomes.
"The evaluation at the end of the community members' journey also helped to boost their confidence, showing how far they have come as well as identifying other areas that they might wish to seek further support with," she says.

Chief Executive Officer of Financial Counselling Australia, Fiona Guthrie, says the Moneycare award is a boost to the sector as a whole. "Financial counsellors know that financial counselling works, because we see it at first hand and our clients tell us," says Fiona. "But we've always had a big gap in ongoing and effective outcomes measurement.

"The Salvation Army approach is incredibly important because it is based on such a sound methodology, using client and counsellor assessment that is rigorous and tested. What I particularly like is that it is a continuous measure, not a point in time evaluation."

Johana says The Salvation Army's research team will continue to partner with front-line services and mission expressions to implement outcomes measurement across the entire organisation, "in a way that is accessible to all and will directly benefit the front-line team and the people that they serve".


Project results:
The Moneycare Outcomes Measurement Project revealed the following beneficial outcomes:
14,351 people were supported by Moneycare financial counsellors, with over 70,000 sessions held throughout the year.

79 per cent of community members reported improved financial resilience in areas such as debt management, ability to meet daily expenses, proactive behaviours, knowledge and resourcefulness, and understanding of financial products and services.

67 per cent reported improved mental health.

92 per cent reported positive feedback on their experience with Moneycare workers.

As reported in The Salvation Army Australia Impact Report 2018.