Gladstone Corps focus on challenged youth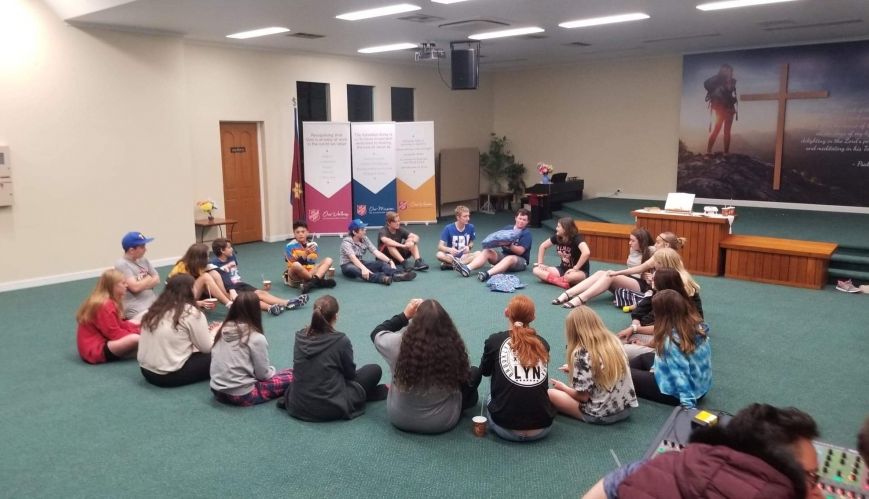 Gladstone Corps focus on challenged youth
6 November 2018
The Gladstone Corps is focused on working with youth through its youth group at the corps and work in local schools.
By Simone Worthing
Youth is a huge missional field for Lieutenants Chris and Kay Ford, Corps Officers at Gladstone in Central Queensland.

"Most of our youth have experienced significant trauma and out of our approximately 30 young people, only four are churched," said Chris. "We know God is leading us to work with these young people and that this work is filling a need in their lives and having an impact in their communities."
Gladstone has had a small youth group for a year or so, but in 2018, it has seen significant growth.
"The goal was just to open up to the kids, talk to them and keep pushing through with them with all their different struggles and circumstances," said Chris.
Chris and Kay were also careful in how they approaching talking about Christianity and sharing devotions.
"The dynamics have really changed," said Chris. "Some of the kids are finding faith now and, what began as a five to 10-minute devotion, is now at least 30 minutes of asking questions and talking through life issues."
Kay said that it didn't take them long to realise that the youth group was "almost a respite centre" for the youth. "They are able to come and just be kids, leaving their troubles behind them for a short while. They know they are in a safe place with us," she shared.
Life groups are also playing a key role in helping traumatised youth feel safe, connected, understood and supported. The Alpha course will soon also be offered to all the young people.
"This year, many of our kids went to Youth Councils for the first time, and just loved it," said Chris. "Their lives are changing as they grow in their faith and they are starting to look outwards."
After youth councils, one boy shared his experiences. "Thank you for investing into me. I was very emotional on the weekend after the talks, as they really spoke to me. I felt that chains were broken and I was released. I now feel safe and secure as I know I am cared for and loved by God."
Kay said that, at youth councils, the youth were invited to write a letter of encouragement to their leaders. "I was brought to tears by a number of the letters I received," she shared. "One of our youth indicated I was like a second mum to her. Clearly, the kids are feeling loved and valued and that's why they keep coming."
Intervention programs
Chris and Kay, Peter Hardy (Youth and Children's Ministry Assistant) and their trained team are also taking the Positive Lifestyle Program (PLP) into some local schools.
"It's a great program, and really only needed a few tweaks to make it suitable to work for young people in schools," said Chris.
Chris began the program at Tannum Sands High School, working with at-risk kids for whom the next step was expulsion from school.
The program, intended to run for eight weeks, took 15 to complete, as the young people just wanted to talk and be assisted through some of the issues around their trauma.
"They called us 'Superheroes from the Salvos'," said Chris. "For us, it's all about following God's lead to work with these kids and getting appropriate referrals."
Peter now leads this program with a new group of boys, with Kaylene working with two groups of girls from a younger and older age group.
"One of the young girls in the program suffers some anxiety and indicated she had missed 30 days of school last term," Kay explained. "When I asked her how that could be, because she had never missed attending program (PLP) on a Wednesday, she indicated that she loved coming to the program, so always comes to school on a Wednesday."
The program was so successful, that principals from Gladstone and Toolooa State High Schools asked the Fords to run the program in their schools and invest in their young people as well.
"Many of these young people are dealing with issues such as significant family violence, chroming, and drug and alcohol addiction, and most are disengaged from school," said Chris.
"We worked with the young people and were able to pass on some of our observations to the school psychologists who have made sure they are getting the professional care they need.
"We also work additionally with some of them through youth group. One boy in particular who had some big chroming issues is now engaged with us, talking about Jesus, and wanting to know more.
"Other kids have started talking and asking questions about the afterlife – questions the school can't answer but we can."
Community engagement
The Gladstone Salvos are partnering with the local Police Citizens and Youth Club, running Thursday Night Events with them every two weeks.
A recent event relaunch of the Summer Series for Thursday Night Events (14-20 October) attracted 2500 people!
"The important thing for us with these events, is that we have our teams out there talking to youth and families and letting them know we are here and what we are doing," said Chris.
"We just need to work out how we can keep doing this and make it sustainable."
The Fords and their team also believe God is leading them to start a Saturday evening meeting, with a specific youth focus and have put plans into place to kick this off.
"We are looking forward to seeing what God is going to do as we follow his lead," said Chris.