Major Stella Green given highest honour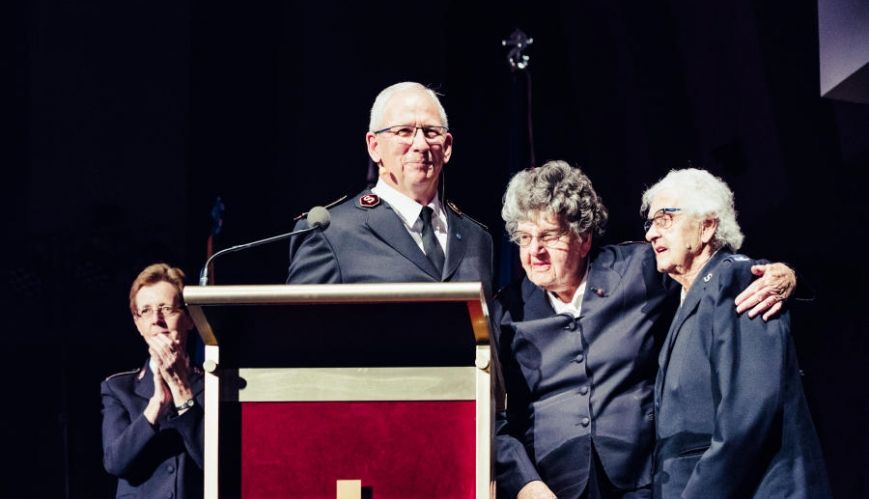 Major Stella Green given highest honour
26 November 2018
Retired Major Stella Green (middle) asked if her sister could stand with her as she received an Order of the Founder award from General Brian Peddle on Saturday. Photos: Carolyn Hide
By Lauren Martin, with Faye Michelson and Sarah Laing
Retired Australian Salvation Army officer, Major Stella Green, received a welcome surprise during a visit by the General to Sydney, being awarded an Order of the Founder during a NSW/ACT Divisional Rally.
General Brian Peddle and Commissioner Rosalie Peddle are in Australia for The Salvation Army's Still Others event in Melbourne later this week, and were special guests at two divisional rallies in Sydney and Brisbane over the weekend. 
During the rally at Sydney Congress Hall in Sydney, the General presented a General's Guard award to Jemimah Perry, from Hurstville Corps, and then announced a surprise presentation, calling retired Major Stella Green to the stage.
Major Stella Green was at the forefront of The Salvation Army's Chinese ministry, both overseas and in Australia, and General Peddle acknowledged this, saying "We are wanting to recognise today that you have given your life, you've been engaged with Chinese people for a long time," and Major Green burst forth with a "Hallelujah!"
The General went on to say that "it's very clear to us here in your homeland of Australia and at International Headquarters that you have given very uniquely to The Salvation Army and to the people in your service."
At this point, to the delight of all present, Major Green interrupted the General, asking, "Can I please bring my sister up?" To which General Peddle responded, 'Yes!" and turned to those gathered, saying, "I no longer have control over anything!"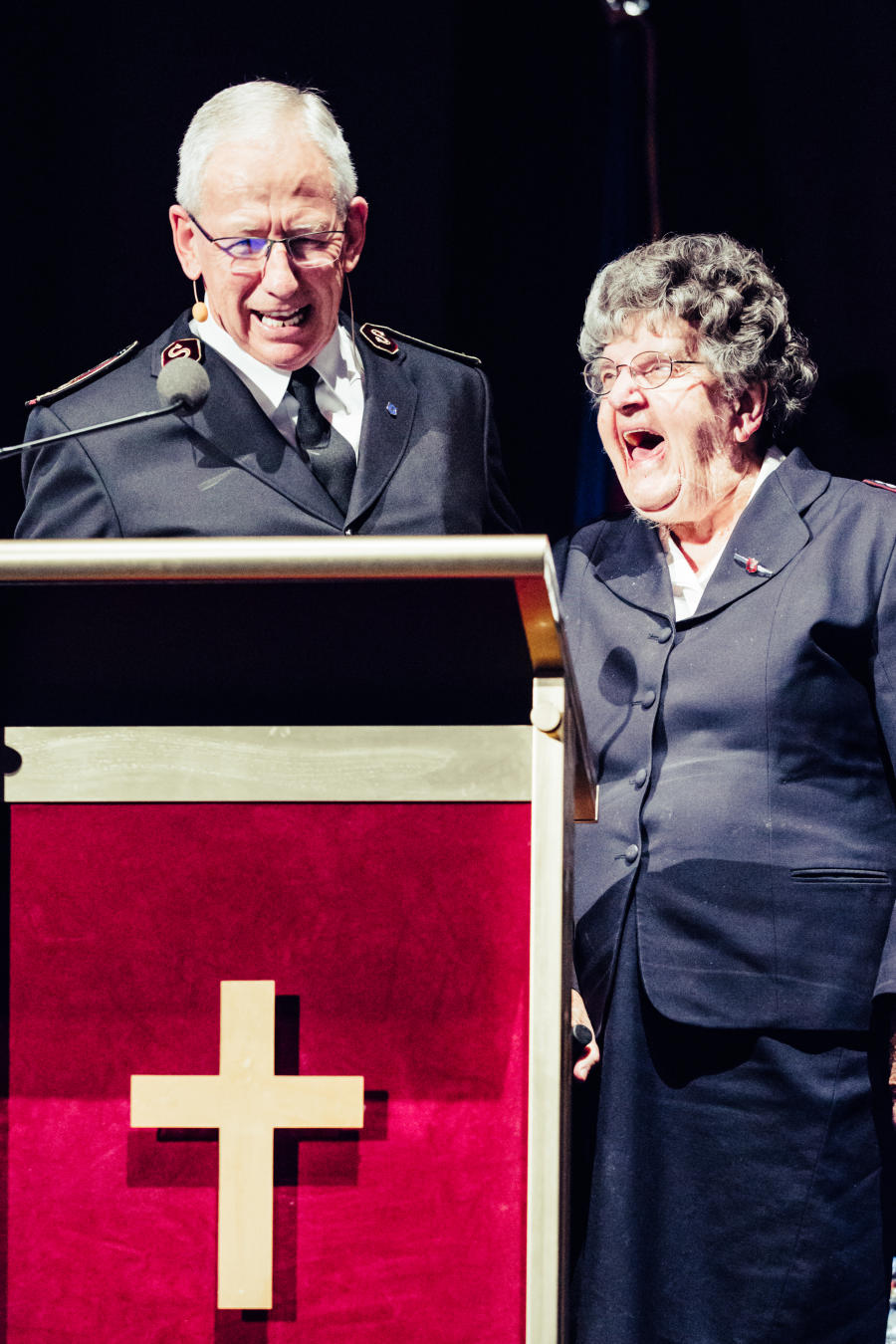 When the laughter subsided, and with Major Green's sister standing beside her, General Peddle presented Major Stella Green with the Order of the Founder, "Awarded for her lifelong commitment and lifelong spirit in reaching Chinese people for Christ." There was a standing ovation.
Major Green spent 21 years of her service in Asia. When she returned home to Australia, she felt alienated. "I was a stranger in my own country," she recounted to Salvation Army journalist Sarah Laing in 2014. "Deep within me was a longing for the Chinese people."
Soon, God's plan for her new ministry among the Chinese in Australia began to unfold. She was standing at the train station in the Sydney suburb of Campsie and overheard a conversation between four Chinese refugees from Vietnam. "They carried the same sense of despair and loneliness as refugees that I had encountered in China. Something stirred within me and I spoke to them in Cantonese and offered them hospitality, love and friendship."
From there, The Salvation Army's Chinese ministry in Sydney developed. Now, there are several Chinese-speaking Salvation Army faith communities, and many more multicultural corps across the city. 
Major Green recently published a book about her life and ministry titled King's Messenger – A life Among Chinese People. It is available from Salvationist Supplies in Sydney (1800 634 209).