You are here:
Home › News › 2018 › 11 › 29 › Salvation Army Responds To Bushfires In Central Queensland
Salvation Army responds to bushfires in Central Queensland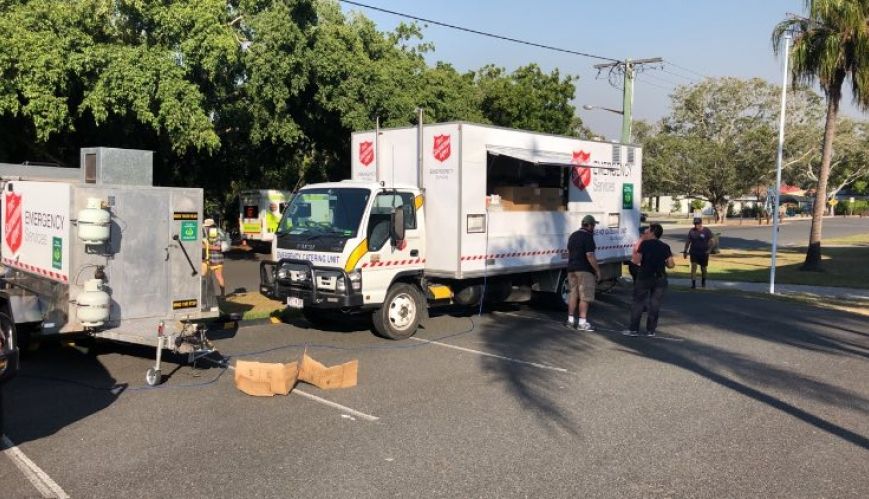 Salvation Army responds to bushfires in Central Queensland
29 November 2018
The SAES volunteer team prepares dinner last night for those taking shelter in the Miriam Vale Evacuation Centre.
By Simone Worthing
As more than 120 fires continue to burn across Queensland, Salvation Army Emergency Services (SAES) and other disaster services teams have been on the ground in Miriam Vale, 70km south-east of Gladstone, and in hard-hit Gracemere, 13km south-west of Rockhampton.

In Miriam Vale, SAES volunteers have been providing meals for about 60 people at the evacuation centre for the past two days.

"Lieutenants Chris and Kaylene Ford, Gladstone Corps Officers, and their teams have been doing a very good job in changing and often confusing circumstances," said Norm Archer, The Salvation Army Director of Emergency Services.

Kim Lee, Territorial Strategic Disaster Manager, added that the Fords were providing additional support in coordination with the Department of Communities from the recovery hub.

"Expectations are that additional recovery hubs may be established," Kim said. "The Salvation Army has also released funds from our Disaster Reserve Fund to give some seed money to begin our disaster response.

"This will allow us to begin distributing local EFTPOS cards to those needing immediate relief."

Around 8000 people were evacuated in the Gracemere area, where SAES volunteers have also been catering to many of those impacted, with more than 240 meals being served last night. Residents have been told to stay informed regarding these fires.

"All SAES teams across Queensland are now on standby," Norm said. "We have also had offers from Sydney for a truck, or teams, or both."

In Bundaberg, SAES volunteers, based at The Salvation Army Tom Quinn Centre, are providing catering to fire crews battling nearby blazes. Meals have been prepared by the Bundaberg Corps.

In other parts of Central Queensland, residents are being told to leave immediately as bushfires flare up in Winfield, Captain Creek and Broken River, west of Mackay.

A "leave now" alert is in place for Deepwater, Baffle Creek, Rules Beach and Oyster Creek.

The SAES teams are watching for further developments in these areas.
People requiring support are being advised to visit the Evacuation Centre, call the Gladstone Regional Council's call centre on 07 4970 0700, the Community Recovery Hotline on 1800 173 349, or attend the Agnes Water community meetings.
People will also be able to access support from a Recovery Hub that will commence operating from 10am on 28th November 41 Blomfield Street, Miriam Vale. The hub will be open from 28thNovember from 10am–5pm and from 9am–5pm thereafter.
If you would like to donate to support those affected by the fires, you can donate here.