Army leaders honour retired officers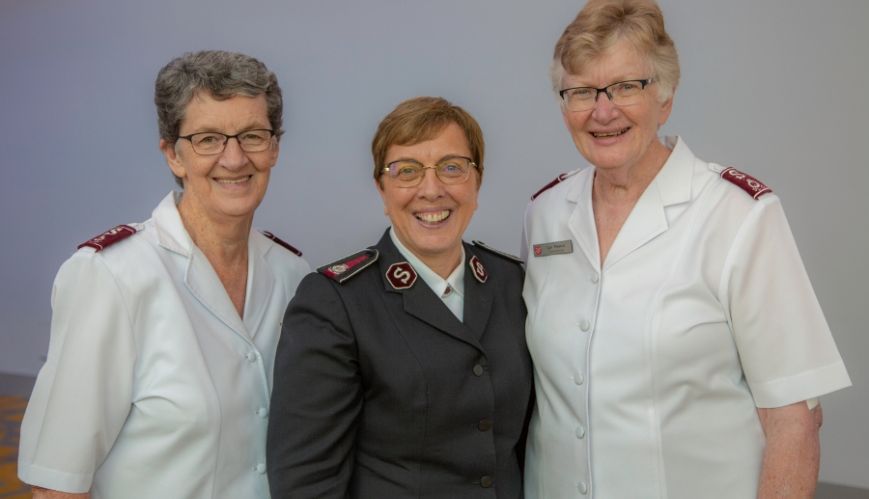 Army leaders honour retired officers
1 December 2018
Commissioner Jan Condon (left) and Commissioner Lyn Pearce spent time with Commissioner Rosalie Peddle during the Retired Officers lunch at Still Others today. Photo: Bruce Redman
By Simone Worthing
"It is a privilege to be in your presence this morning," Commissioner Tracey Tidd, National President of Women's Ministries, told those gathered for the retired officers fellowship lunch with General Brian and Commissioner Rosalie Peddle, earlier today.
"Thank you for who you are, the legacy you have left, the experience you bring, your faithfulness in service and for the ministry that you continue to do in retirement."
More than 150 retired officers gathered for the luncheon, with many tables hosted by officers serving overseas.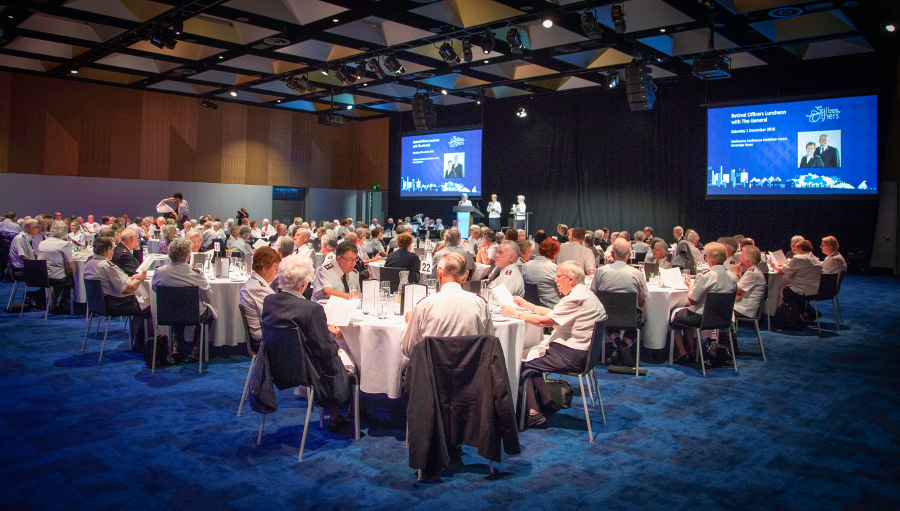 Commissioner Rosalie Peddle shared with those gathered that she was glad that in the busyness of Still Others, there was time for her and the General to meet with the retired officers.
"You are a great group of people, and we are grateful for those who have led the way and we stand on your shoulders," she said.
The commissioner also thanked the officers for their prayers – "the greatest gift anyone can give us".
General Brian Peddle (pictured right) began his message with the question, "How are your shoulders going?"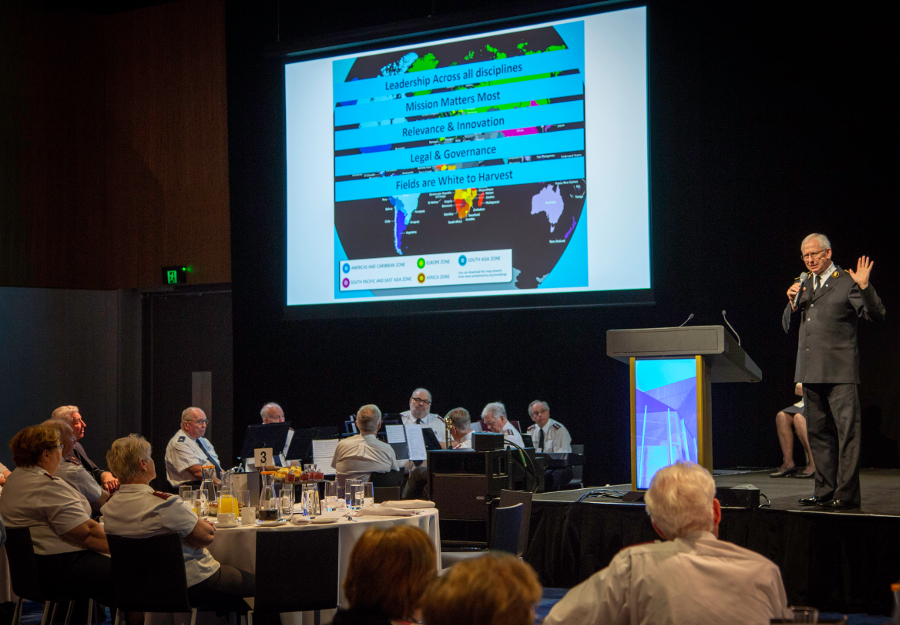 "I ask because we've been standing on them – so we can see further as we stand on the heritage that is ours – a privilege that has come through the gift of your lives of service."
The General shared with the officers that he felt that they would be amply "spiritually fed" during Still Others and so he thought they "might like to hear about what is going on in the international Salvation Army, especially as so many of you have served around the world".
General Peddle spoke about some of the challenges and opportunities around the world, including staffing the Army, training officers, appointing officers according to their gifts, financing the Army, growing the Army, and statistical updates.
"Gains and losses are all opportunities," he said. "The fields are white for harvest and the world needs an army committed to God's mission more than ever before," he said.
"We need to stay relevant and innovative and in step with the world we live in, but I want God to be telling the Army how to be, and not the world."
The retired officers' luncheon concluded with worship and prayer.
"The fellowship and friendship among retired officers is very special because of the common calling and service we share so it's wonderful to be together," said retired Commissioner Lyn Pearce.
"It was great to hear from the General and get an overall perspective on the international Salvation Army. It's easy to get a bit parochial and, while we pray a lot for the areas around us, the General has given us a challenge to pray for the world in a more intelligent way."
The Territorial Retired Officers Brass Ensemble provided musical support for the luncheon, with Major Rodney Ainsworth on piano.