Major Morgan awarded distinguished academic honour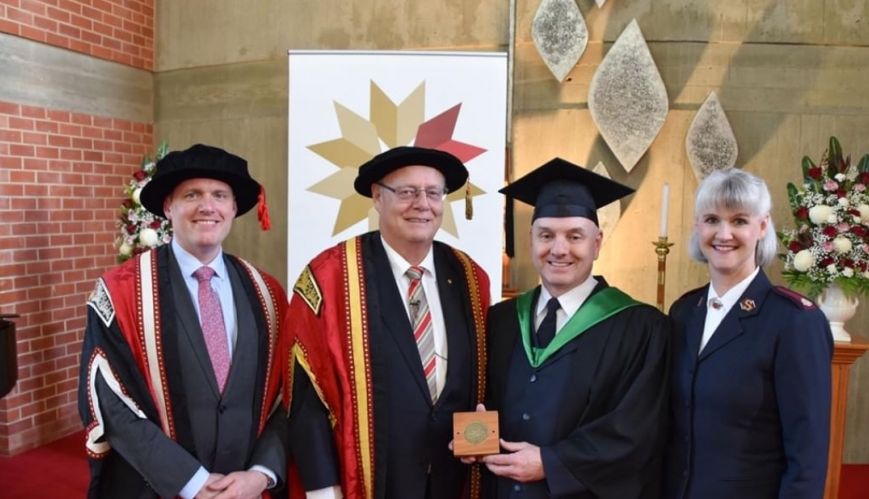 Major Morgan awarded distinguished academic honour
24 December 2018
Major Gregory Morgan (second from right) accompanied by his wife, Major Priya Morgan, is presented with the Distinguished Service Medal by the University of Divinity's Professor Peter Sherlock (left) and Dr. Graeme Blackman.
By Barry Gittins
National Head of The Salvation Army's Eva Burrows College, Major Gregory Morgan, has received the University of Divinity's Distinguished Service Medal for his achievements and contributions as "a leader, missiologist, author and teacher".
The Salvation Army connected with the University of Divinity (formerly the Melbourne College of Divinity) in 2005, entering the field of higher education. In 2017, with the new national college being formed as part of Australia One, the Army conducted a selection process and decided to partner nationally with the University of Divinity for its higher education qualifications.
Major Morgan undertook his Bachelor's Degree in Theology at the University of Divinity, as well as his research Masters of Ministry, focused on the training of officers.
"Eva Burrows College is a hidden gem, helping the organisation mature," says Major Morgan. "There is so much to gain for so many by engaging with the college.
"Our emphasis is on praxis, not just academic achievement; the goal of education for The Salvation Army is to make us more informed and effective activists."
Training officers is a vital activity of Eva Burrows College, but it also runs a full vocational stream offering qualifications from certificates to degrees in sectors as diverse as alcohol and other drugs, financial counselling, business administration, leadership and management and community services.
"EBC is a college for everyone connected with The Salvation Army and has a wide range of educational opportunities for people across vocational, higher education and non-accredited learning and development," says Major Morgan.
Major Morgan has served for 14 years in various roles on college staff, and was appointed the National Head of College in August 2017. He co-authored Partnering with God: Being a Missional Salvationist in 2017 with National Secretary for Mission, Lieut-Colonel Lyn Edge.
Majors Gregory and Priya Morgan leave for Britain next month to take up divisional leadership roles in the Southern Division of the United Kingdom Territory with the Republic of Ireland from 1 February.
Major Deborah Robinson succeeds Major Morgan as Head of College on 16 January. For more information about study opportunities visit ebc.edu.au