Café still connecting community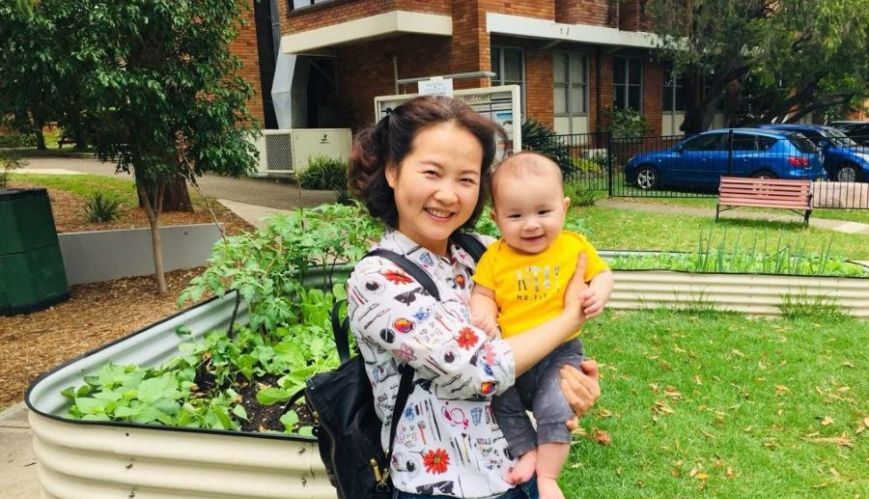 Café still connecting community
10 January 2019
Community Cafe member Jenny holding baby Solomon in front of part of the café's Community Garden.
The past 12 months have been a challenging journey for residents of Sydney's former Ivanhoe Place Estate. Despite having to move to make way for a redevelopment, many of them have remained in contact through The Salvation Army's Community Café, now based at Morling College. But, as Community Café volunteer leader Nathan Moulds explains, things haven't quite stayed the same.
The Community Café was started by Ryde Corps way back in the early 2000s so it's been running for almost 16 years. It had to undergo a rebirth at the end of 2017 when The Salvation Army's mission work in Ivanhoe Estate, where the café had been planted, came to a close due to the State Government relocation and forced redevelopment program. 


We approached the leaders of the Baptist Church at Morling College, which is literally 600 metres from Ivanhoe Place, and said, "We have a community café, it's been running for years, but unfortunately we are going to have to close if we can't relocate. We would love to share your space if you would be willing."They were really welcoming. So, that was a huge answer to prayer and was really encouraging.

The Community Café has now been operating at Morling College for just over a year and in that time has really evolved and grown.

One major event that happened was when we started a community garden with about five of our Chinese neighbours. We also told them about the caféand they said, "We want to come." So, they came and loved it and then invited 40 of their friends! So we've had 40 or 50 new people coming along – mainly migrants from China, India and Korea.

However, this has brought some challenges, but in a good way. Some of our established Australians who have been part of the community café for many years have found it really confronting, mainly because suddenly there was a language barrier and lots of people from a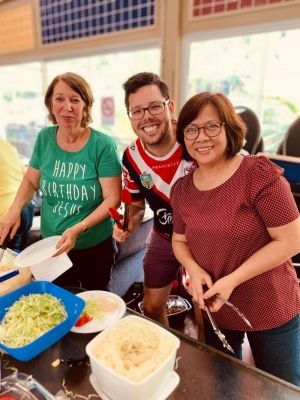 Marie, Nathan and Indra serve morning tea at Community Café.
different culture. But the café team is really committed to a spirit of inclusion, welcome and embrace, as well as trying to build cultural awareness and capacity together.

We are trying to translate things so that everyone can understand what's going on and can fully participate. Some of the heroes in the café are our bilingual volunteers. They are real bridge-builders, so getting them at a table together with our established Australian guests and newly arrived migrant guests and then being able to communicate with each other through translation is really important.

We have been using the "Pass the Salt" conversation cards as well. That's one of the things we do every time –trying to use at least one card at each table and ensure that there is somebody who can translate at the table. That's been really important for us and has helped everyone deepen friendships and relationships.

I think people know that they're not only welcome at Community Café, but they're also loved. They know we are Christians and what we're about, and they just want to be involved.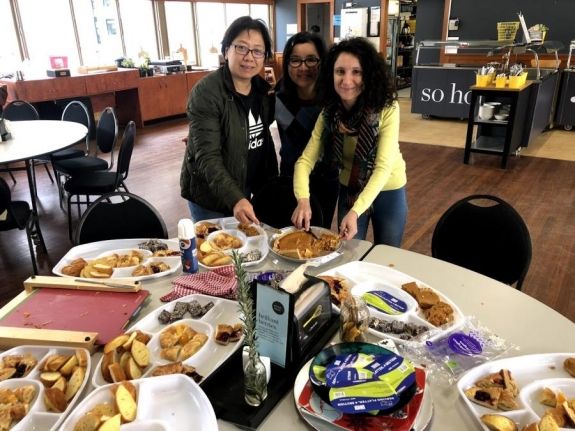 Community Cafe Volunteers Mung, Alice & Rossella preparing morning tea, provided by guests bringing something to share.

One lovely story is about Alice. We had been journeying with Alice, a Chinese lady in her mid 40s who had become pregnant quite late in life after remarrying. We had the pleasure of journeying with her throughout the pregnancy and after her son (Solomon) was born. She brought Solomon to the Community Café and we all had balloons and everyone sang and there was such a spirit of joy – everyone was so happy for her.

That day we asked Alice if we could bless her by praying for her and Solomon, and she happily said yes. It was a very special and intimate moment as a community. Afterwards, one of our other mums from the cafe came up to us and asked, "Can you pray for my son also?" And suddenly we ended up praying for lots of the children! Most of these people would not identify as Christian –many of them were Hindu, Buddhist or agnostic. We are privileged to be on a spiritual journey with many of our guests and friends at Community Café.

People sometimes ask me, "What is the Community Café?" Is it a church? Is it a faith expression? Is it a missional community? Sometimes when you try and name something, I think you risk taking something away from it, and so I'm always cautious to put it in a box. It is certainly about social inclusion, it's definitely about radical welcome, it's absolutely about creating a safe space for people from other cultures, particularly migrant communities, and vulnerable communities, and it's also about exploring spirituality together in the context of a café setting.

We don't have worship songs, but we do pray for people, and these people often ask for prayer every week. But in saying that, we don't have a specific or rostered "prayer time". We don't have a message or sermon as such. For me, the declaration of Christ comes through in our behaviour, our posture and our actions. It's also helped through the use of the "Pass the Salt" conversation cards, which do at times lead to questions about spirituality and how people see God and experience a sense of the divine.

It has been a wonderful journey, which I'm hoping to see continue in 2019.

As told to Lauren Martin

* Nathan Moulds will hand over leadership of the café to another member of Sydney's Ryde Corps at the end of January to take up a new full-time position in another faith-based non-government organisation.