You are here:
Home › News › 2019 › 01 › 24 › Just Brass Program Receives Thousands Of Donated Instruments
Just Brass program receives thousands of donated instruments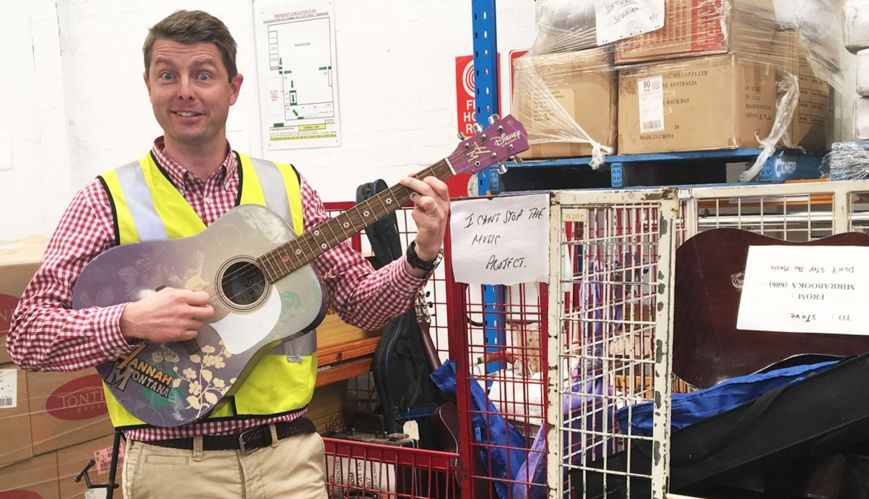 Just Brass program receives thousands of donated instruments
24 January 2019
Matt Davis, National Director Salvos Stores tries out one of the thousands of donated instruments that will go to the Just Brass and Musica Aviva programs.
By Simone Worthing
The Salvation Army Just Brass program is focused on making music education and experience more accessible in communities and schools around the country through an instrument donation campaign run through Salvos Stores.
This instrument donation campaign follows the recent ABC TV documentary series, in which Just Brass is featured, showing how a vibrant culture of music can impact a school community and change children's lives. 
Challis Community Primary School in Armadale, Western Australia, was the Just Brass program highlighted in the documentary series.
"We are asking people to donate any musical instruments they might have lying around and are not using, to their local Salvos Store," said Aife O'Loughlin, Customer Experience Manager – Salvos Stores.
"These are not limited to brass instruments. We're also accepting guitars, violins, cellos, oboes, flutes and clarinets."
The non-brass instruments will be donated The Salvation Army's partner in this campaign – non-profit organisation Musica Viva – which will use them in its music programs for schools in low socio-economic areas around Australia.
Musica Viva in Schools provides life-changing musical experiences and education to more than 900 schools and 280,000 Australian students per year, regardless of the type of school, location or economic situation.
Romanian-born violinist Richard Goldner founded Musica Viva Australia in 1945, with the aim of bringing chamber music to Australia. German-born musicologist Walter Dullo was the co-founder.
"The brass instruments will be used to establish new Just Brass programs," said Aife. "We have many corps keen to be involved and engaged with this program, and we will work with them.
"Music education is widely under-resourced in Australia and many children are not exposed to musical instruments, singing and bands, often due to the cost, and well as accessibility.
"Music education provides so many benefits and is also a great way to raise self-confidence and leadership skills. This campaign is designed to make this more possible for more children and communities."
Cordelia Dullo donated her mother's violin to the program.
To date, 4200 instruments have been received through Salvos Stores, including 300 new guitars donated by Fender. The instruments are being assessed in warehouses before being distributed.
"We are accepting instruments at Salvos Stores until the end of January," said Aife. "The instruments will be put to very good use in Just Brass programs and bringing the magic of music to children who may not otherwise have this opportunity.
"It's also front-line mission, and working together with different areas of The Salvation Army for a positive impact in the community and the lives of children and their families, and often connecting them with the corps."
Music was always an integral part of life for the Dullo family in Germany. Eleanor Dullo (whose brother Walter was a founder of Musica Viva) escaped from Germany just prior to the outbreak of World War Two, and made sure she brought her violin with her.
Eleanor's daughter, Cordelia, donated the instrument to Musica Viva when her mother passed away (see photo). "I'm pleased that it's going to a young person and hope they will get as much pleasure from music as many generations of our family have done," she wrote.