Salvationists honoured with Australia Day awards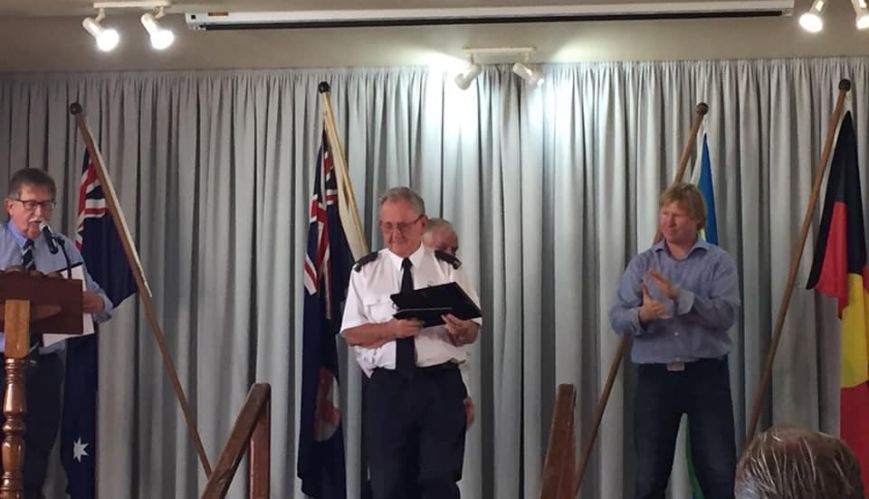 Salvationists honoured with Australia Day awards
28 January 2019
Kiama Council announced Graeme Packer, from Shellharbour Corps in NSW, as its Australia Day Citizen of the Year for 2019. Graeme is pictured accepting his award.
By Lauren Martin and Simone Worthing
A number of Salvationists have been recognised for their contribution to local communities during Australia Day award ceremonies over the long weekend.

In the Illawarra region south of Sydney, Kiama Council named Graeme Packer as its Australia Day Citizen of the Year for 2019.

Graeme (pictured right with Karen Walker, Community Fundraising & Public Relations Co-ordinator and Deanne Howard, Salvation Army Illawarra Advisory Board Member), is a lifelong Salvationist of 70-plus years. He was recognised for his tireless work as a fundraiser for The Salvation Army in Kiama – in particular the Red Shield Appeal, ensuring 95 per cent coverage of his area for the annual doorknock.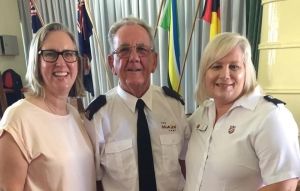 Graeme and his wife Noreen moved to Kiama more than 20 years ago after a full life of business, family and Salvation Army service at Hurstville Corps, in Sydney's south-west.

In Kiama, Graeme is "Mr Salvation Army", even though there is no corps in the town. The nearest Salvation Army corps is 15km to the north at Shellharbour where Graeme and Noreen attend.

Twenty-one years ago they were asked by the Shellharbour Corps officer if they would take responsibility for Kiama's Red Shield Appeal collection. Graeme and his team collected $7571 in the first year, and this total has risen every year since.

Bill Dowson, Residential Red Shield Appeal Chairman and Illawarra Advisory Board Member, nominated Graeme for his award. Bill described Graeme as "motivated, hard-working, inspiring, diligent, tenacious, committed and proud of the Red Shield Appeal".

Graeme regularly reminds himself and his team of The Salvation Army's international missional focus to "Save Souls, Grow Saints and Serve Suffering Humanity".

"Not all of us can physically carry out the third part of this statement, however, our part can be raising funds to enable suffering humanity to be served (or helped)," Graeme said.

"We are The Salvation Army. We are here to help the needy. Isn't this God's calling? So, what can we do? Well, the more money we raise, the more we can help suffering humanity."

Other Australia Day awards:

Albert "Nobby" Campbell (pictured below with Federal Member for Jagajaga, Jenny Macklin, and Greensborough Corps Officer, Major Mark Kop), a soldier at Greensborough Corps in Victoria, was honoured with an award for his contribution to the community. 
Major Mark Kop, Greensborough Corps Officer, said the award was for more than 20 years of service to the corps jumble sale. "He has a team of 12 people he manages and they have raised over half a million dollars in that time. Nobby is a well-known and highly-regarded member of our corps and community." 


Retired Salvation Army officer Captain Ray Lotty received the Emergency Services Medal (ESM). The Australia Day 2019 honours list stated: "Mr Lotty has been involved with the NSW Volunteer Rescue Association since 1993. He is on call 24 hours, seven days per week. Mr Lotty is a professional trauma counsellor and has spent many a time at the scene of accidents, talking not only to those involved, but also to the rescue men and women who absorb much stress in their roles as rescue operators."

In Queensland, five members of Fassifern Corps were recognised with nominations in their local Australia Day awards. Allan Stibbe, Les Stibbe, Neil Pennell, Corey Brock and Captain Wes Bust (Corps Officer) were all nominated in the Community Leader category. Leonie Presbury, from Casino Corps in northern NSW, was also nominated for an Australia Day award for services to the community. Gunnedah Salvation Army in New South Wales celebrated members Bob and Val Hodges who were both nominated for the Citizen of the Year Award (40+ category) for their lifetime of service.
Alex Gottshall, a long-serving member of The Salvation Army Media Advisory Committee, was awarded the Medal of the Order of Australia (OAM) for his service to the media and communications sector and the community, which included his 40-year commitment to serving The Salvation Army.
In the ACT, Tuggeranong Salvation Army's Jan Maxwell received an acknowledgment from the Canberra Show Committee, recognising her hard work and support. The Salvation Army has an annual exhibit at the Canberra Show, which is held every February.



EDITOR'S NOTE: Every effort has been made by the Others team to list Salvationists who have received awards. If you know of any other Salvationists recognised in Australia Day awards, please let us know by commenting below or emailing: othersonline@aus.salvationarmy.org