Salvation Army responds to Townsville floods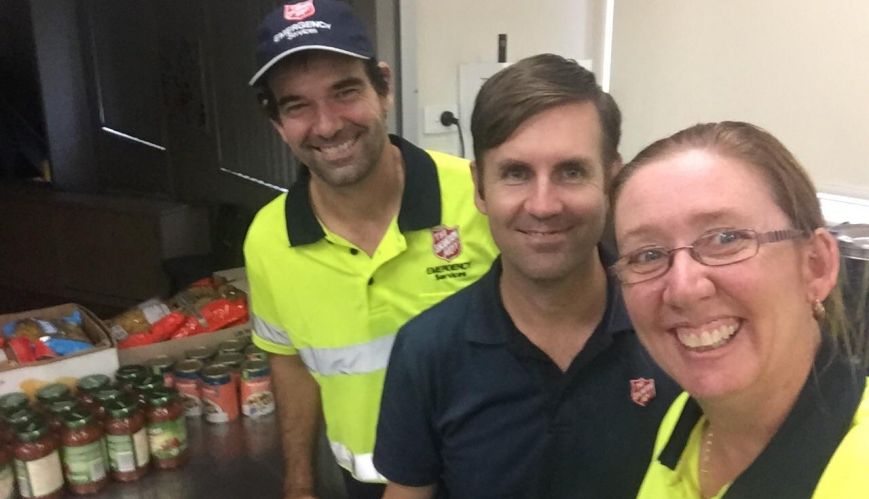 Salvation Army responds to Townsville floods
2 February 2019
Lieutenant Perry Lithgow, Captain Brad Whittle and Lieutenant Bronwyn Lithgow arrive at the evacuation centre ready to serve with the SAES team.
By Simone Worthing
Salvation Army Emergency Services (SAES) teams in Townsville have been activated to support catering operations in an evacuation centre at Heatley High School due to significant monsoonal flooding affecting the area.
The teams are anticipating additional centres to open requiring catering and support, and all SAES teams from Mackay north remain on standby.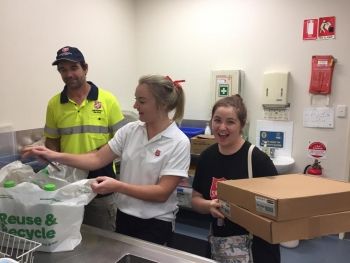 Preparing food at the evacuation centre.
The monsoonal rainfalls are impacting the North Queensland region from Cairns to Bowen. To date, Bluewater and Giru, small towns north and south of Townsville, have been the most heavily affected. Townsville, however, is now a major concern as heavy rains continue and water is released from an overflowing dam.
The situation is expected to worsen over the weekend and into next week as the monsoonal trough starts moving north. Very heavy falls with possible flash flooding are likely about parts of the coast and adjacent inland between Innisfail and Bowen.
Disaster declarations are in place for several council areas in and around Townsville. The extent of the impact is yet to be determined.
"Meals are being prepared at Townsville Faithworks Corps and taken to the evacuation centre," said Adam Cole, the Army's Strategic Emergency and Disaster Coordinator Queensland. Townsville Recovery Centre is also assisting.
"It's still too early at this stage to know what recovery response will be required, but as we respond now we are also looking at the areas being impacted, and where there is potential for impact, so we can forward plan."
Captain Brad Whittle, manager of Townsville Recovery Services Centre, said it had been challenging just getting enough food to prepare for the evacuation centre, with food trucks facing complications getting to Townsville, and many people panic buying.
"We now have a trailer down on the site so we can do some low-level catering," he said.
Serving first responders at the evacuation centre.
"We are setting up a roster for volunteers and having rolling teams, so everyone gets a break. It's a bit flexible at the moment. We are doing all we can to create a positive environment for those who come here."
The Red Cross is managing the evacuation centre.
"What The Salvation Army does in emergency situations is not just about the SAES teams, but a whole range of Salvation Army services and expressions that support each other to help the local community," said Major Topher Holland, General Manager Strategic Emergency and Disaster Management.
"These include local corps who play the key role, divisional support, Doorways, media, fundraising and communications, all Salvation Army expressions together serving local community."
"Our focus is on giving help and hope where it's needed most and meeting people at their point of need."
The Salvation Army is also working with other agencies to make sure people's needs are met as quickly and efficiently as possible.
Woolworths is The Salvation Army's official national disaster, mobilising their local stores to support Salvation Army teams at the front line.
S.T.A.N.D. (Support through Australian National Disasters) also raises much-needed funds to help communities with disaster preparedness, response, recovery and resilience.