Queensland farmers face devastating flood damage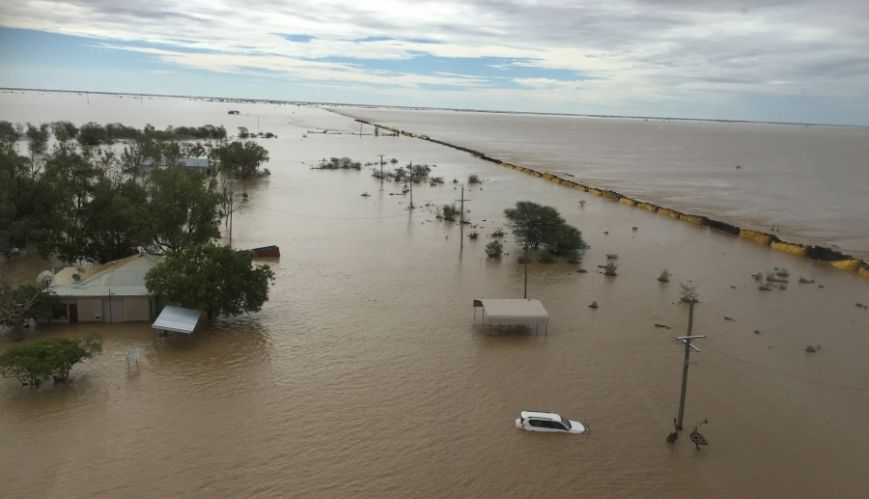 Queensland farmers face devastating flood damage
8 February 2019
The view from the Salvation Army's Outback Flying Service helicopter in far north west Queensland where flooding has decimated properties, killing thousands of cattle.
"I've never seen so many dead cattle… I'm just flying over the main railway line from Mt Isa to Townsville and it's just destroyed…"– Salvation Army Outback Flying Chaplain, Lieutenant Simon Steele
By Simone Worthing and Lauren Martin
As the people of Townsville start the massive clean-up from devastating floods, farmers in north-west Queensland are just starting to assess the damage from significant flooding which has killed thousands of cattle.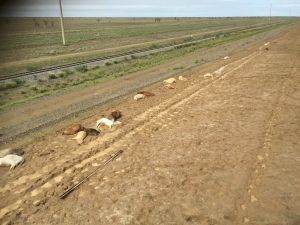 With the rain now easing, The Salvation Army's Outback Flying Service Chaplains, Lieutenants Simon and Natalie Steele have only today been able to assess the damage from the air. Simon said he had spoken to a number of farmers who have suffered flooding inundation, stock losses and being unable to even leave their homes.  
"I was talking to one property owner this morning and they showed me a picture of their property that was completely inundated with water, halfway up their homes. He said there's not even a place for a helicopter to even land." 
Many farmers have spoken of having a shortage of fuel for their helicopters and can't drive on the property due to floodwaters and mud, causing them to be cut off. Lieutenant Simon said he is expecting to be called on to help drop supplies onto properties and food to stranded cattle in the days ahead.
He's asked Salvationists to pray for farmers as they come to terms with huge financial losses and the death of so many livestock. "That's what makes a difference, it really does, they just want to know that people are thinking of them and that they care."
Townsville needs more help
Meanwhile, in the flooded North Queensland city of Townsville, The Salvation Army got stuck into recovery efforts today. The Salvation Army has called for more volunteers from across Australia to volunteer during the recovery phase.
Interested personnel have been invited to consider spending one to two weeks in Townsville, and will be trained on site providing medium and long-term assistance that is tailored to each individual and community need. 
Salvation Army Emergency Services volunteers distributed donated fresh bread, fruit and vegetables to people hard hit by the floods and who were busy cleaning out destroyed furniture and goods and hosing out mud and debris.
Personnel serving at Townsville's recovery centres have seen hundreds of people, giving out gift cards, listening to people's stories and referring people to The Salvation Army's Moneycare free financial counselling services and other forms of assistance.
Workers, volunteers and people still utilising the Heatley Evacuation Centre got a welcome surprise this morning when players from the North Queensland Cowboys NRL team arrived to encourage and show their support.
Western Australia SAES at the fire-front
In Western Australia, Salvation Army Emergency Services (SAES) crews have hardly had a break this summer, with a multitude of bushfires keeping them on the front line, providing meals and refreshments to firefighters and other emergency services personnel. Currently, crews are on the front line at Forrestdale, south of Perth. 
Tasmania winds down emergency response to bushfires
In Tasmania, Salvation Army Emergency Services volunteers are enjoying a well-earned rest, after serving firefighters and manning evacuation centres for weeks as massive fires ripped through parts of the state. 
"We have now closed the evacuation centres," said Tasmania Salvation Army's Divisional Public Relations Secretary, Major Brad Watson. "We have ongoing assistance being provided for people's recovery through our Doorways program and also through Kingsborough and Huon corps."