SAES teams respond to Victorian fires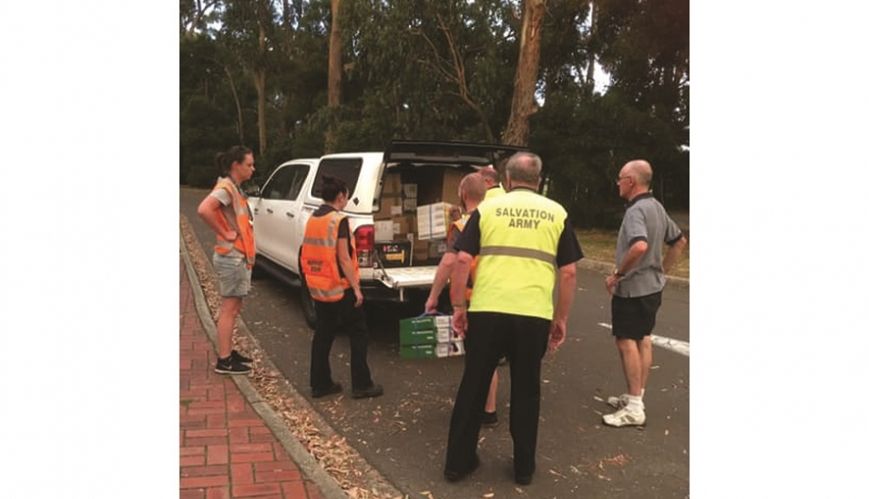 SAES teams respond to Victorian fires
4 March 2019
Salvation Army corps volunteers spent much of yesterday loading supplies of bedding and other essentials for people staying in the evacuation centres, as well as water for local firies.
By Simone Worthing
As bushfires continue to rage and threaten numerous communities in Victoria's south-east – with nine structures, including homes, already confirmed as destroyed – The Salvation Army Emergency Services (SAES) is providing emergency relief to affected communities.
Volunteers at Pakenham Corps sorting donations.
Salvation Army teams around the area – including Pakenham, Cranbourne, Berwick, Warragul, and Leongatha – are contributing to the work of five evacuation centres, providing food, water and other essentials.
The latest centre to open, today, is at Koo Wee Rup, about 60 kilometres east of Melbourne, where an additional 50 beds are being provided to locals displaced by the fires. This takes the total number of beds provided to 370 across the five centres.
Yesterday, volunteers delivered bedding and blankets for 320 people, along with toiletries, shoes and clothing, to people at evacuation centres in Drouin, Pakenham, Morwell and Sale.
Captain Angela Locke, Warragul Corps Officer, and her team are coordinating the supplies coming in for residents evacuated from the Bunyip State Forest fire.
Food and water was also taken to Drouin and Koo Wee Rup for the firefighters battling the blazes there.
Donations are pouring in for evacuees.
The Pakenham Corps has been set up as a centre for donations to assist evacuees taking shelter at the local town hall. The Pakenham Corps Officers, Captains Dale and Belinda Saunders, are coordinating this effort, with the assistance of corps from the area and concerned locals.
"The Cardinia Shire Council initially asked us for bedding, which we sourced and supplied," said Captain Dale.
"We are accepting, processing and distributing high-quality donations of clothes, toys, shoes and other items, as well as feeding volunteers and providing slabs of water to some of the firies."
Major Gary Grant, Area Officer, Victoria South East, arrived in Pakenham this morning.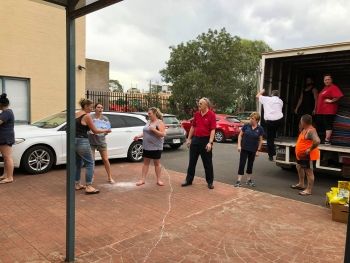 Volunteers loading slabs of water for firies on the frontline.
"We are working with the local Cardinia Council who have asked us to assist, and we will try to do whatever is required," he said.
"The Salvos teams and volunteers here on the ground are superstars and doing an amazing job helping those in need.
"Out of tragic circumstances, it's quite wonderful to see the good – the community rallying and working together to help each other. This is such a reflection of the Aussie spirit."
As The Salvation Army provides support to communities impacted by Victoria's bushfires, Salvos are maintaining their role in the recovery effort after the Townsville floods and Queensland's north west, where torrential rain turned drought into floods.
You can support The Salvation Army's emergency relief efforts across Australia by donating here.