Serving the Salvos over a million square kilometres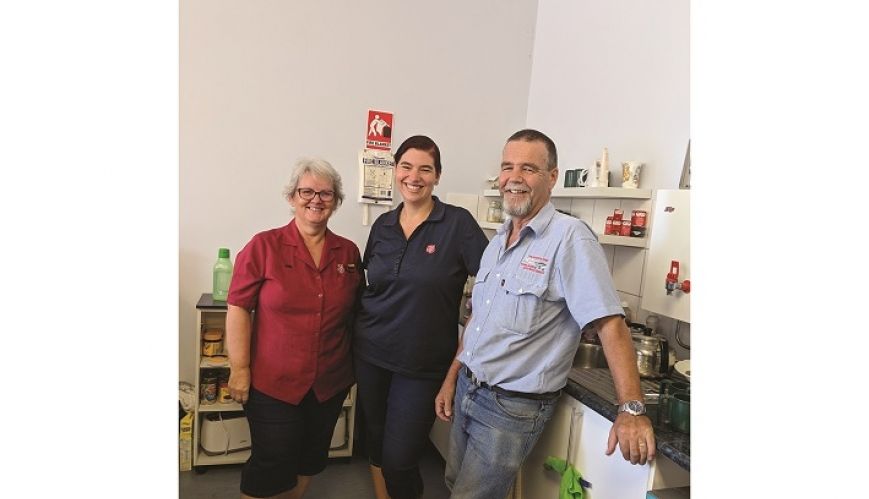 Serving the Salvos over a million square kilometres
15 March 2019
Captain Erica Jones (centre) in Katherine with Flying Padre Captain Greg Howard and Katherine Corps Officer Captain Julie Howard during a recent visit to the town.
By Simone Worthing
As Area Officer for the Northern Territory, Captain Erica Jones has 1.4 million square kilometres to cover. It's one of the largest Salvation Army 'parishes' in the world.
The Northern Territory is part of the South Australia/Northern Territory Division.
Captain Jones, who also serves as Emergency Services Coordinator for Northern Territory, is based in Darwin and travels regularly by car to Katherine, 300km to the south. She also flies every month to Alice Springs, 1500km from Darwin.
"My role is to support the officers and leaders of our corps and centres as they support the community and what God is doing there," she said.
"I encourage them to work with other agencies as well and build on what is already happening.
"I have the amazing privilege of journeying with people, caring for them pastorally and talking mission with them to help put their plans into action."
Youth is a major focus area in the Northern Territory, particularly in Darwin and Alice Springs.
"For example, we have around 50 children whose families are part of our Towards Independence housing program, and we are working on programs to link them back to the Darwin Corps," Captain Jones explained.
Captain Erica with, Priscilla (left) and Shirley, enjoying art at the Katherine Doorways Hub.
"My daughter Michellie and her fiancée Sam are starting a youth group at the Darwin Corps where my husband (Captain Peter) is the Corps Officer. It will be different than the usual youth group, to fit in with the culture in our community.
"Captains Stuart and Nari McGifford (Alice Springs Corps Officers) are also running an expanding youth and children's program, with more than 20 at a recent event."
Indigenous outreach is also an integral part of ministry in the Northern Territory, with extensive work being done in Darwin, Palmerston, Katherine and Alice Springs, including ministry in camps outside the major towns.
Other ministries developing in "the Territory" include new programs to assist those experiencing addictions and homelessness, a pilot program for young mothers experiencing family violence, a Sunday night meeting at the Palmerston Corps (Darwin), and ongoing growth of the Katherine Doorways Hub.
In May, Captain Erica, with Captain Stuart McGifford, will travel to the town of Tennant Creek, 500km north of Alice Springs, as part of the corps Mission Action plan to explore ministry opportunities there.
"I think I have the most awesome job in the NT," Captain Jones said.