Biggest evacuation since Cyclone Tracy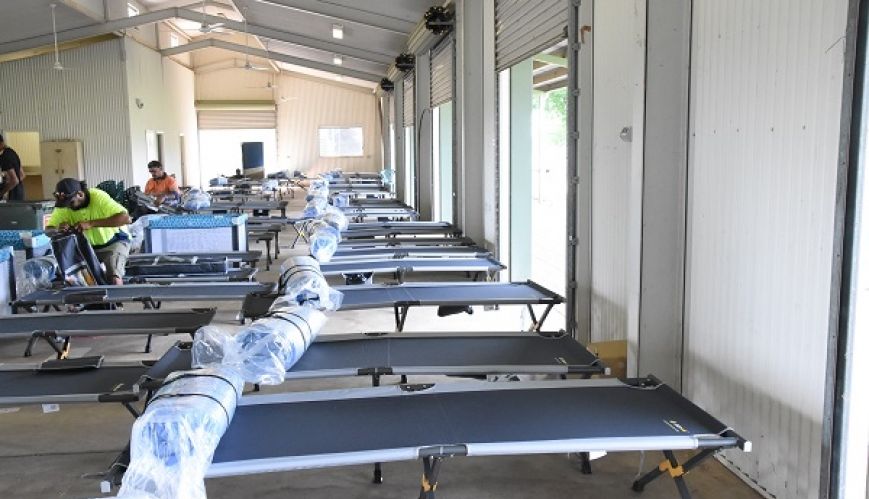 Biggest evacuation since Cyclone Tracy
21 March 2019
The Salvation Army in Katherine, 300km south of Darwin, will be assisting with clothing distribution in this evacuation centre at the showgrounds. Photo: Roxanne Fitzgerald, courtesy Katherine Times.
By Simone Worthing and Lauren Martin
The Salvation Army in the Northern Territory is on alert as thousands of people begin fleeing Cyclone Trevor in what is becoming the biggest evacuation since Cyclone Tracy in 1974.
A state of emergency has been declared in Australia's north with authorities, including the Australian Defence Force, evacuating communities in the cyclone's path – from Groote Eylandt to Borroloola on the Gulf of Carpentaria – into Darwin.
More than 100 people are arriving by plane every hour, with others coming in by bus.
With wind gusts of more than 130km/hr expected to develop between Weipa and Aurukun [on Queensland's Cape York Peninsula] today, Darwin's Marrara Indoor Stadium has been opened as an evacuation centre.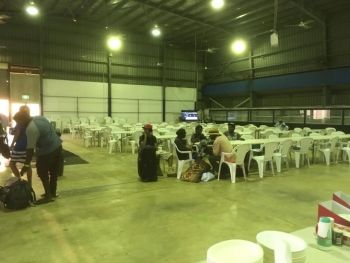 The SAES will serve meals at the Darwin evacuation centre.
More than 300 people are expected there tonight.
The military is also setting up a 'tent city' at the Darwin Showgrounds.
"We are already feeding around 500 people for lunch today," said Captain Erica Jones, Northern Territory Area Officer and Emergency Services Coordinator for The Salvation Army.
"We will also cater for breakfasts. Correctional Services will supply the food for lunch and dinner, but our Salvation Army Emergency Services (SAES) teams will serve it.
"Tomorrow we could see more than 2500 people."
Emergency clothing will also be supplied. Evacuee registration, chaplaincy and a range of other services may also be part of The Salvation Army response.
In Katherine, 300km south of Darwin, the showgrounds are being prepared to serve as an evacuation centre and point of registration and transit for up to 300 people fleeing the expected impact of Cyclone Trevor.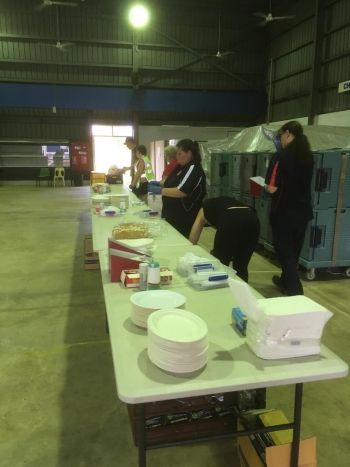 Local SAES teams are preparing to serve hundreds of evacuees.
The Salvation Army there will be distributing clothing for those who need it.
"We are sending a team to Darwin," said Major Topher Holland, General Manager Strategic Emergency and Disaster Management. "Specialist leader, Norm Archer [Strategic Emergency and Disaster Response NSW/ACT] and his team of four, will arrive tomorrow to relieve and support local teams."
The Salvation Army in Alice Springs, 1500km south of Darwin, has also been asked to send a team to Tennant Creek, 500km to the north.
"The SAES trailer and a team of six has been deployed to Tennant Creek as a pre-emptive move in case of flooding from this event and the setting up of an evacuation centre," explained Rob Champion, Strategic Disaster and Emergency Management Specialist, Australia.
"An SAES truck from South Australia is heading to Alice Springs. It's a 'wait and see', but we want to be ahead of the game as there could potentially be hundreds coming in from the communities around Alice, as well as the town itself."
Correctional Services in Alice Springs also provides the meals, which SAES teams will serve. They also clean up after the meals.
SAES teams from South Australia, Queensland and NSW are on standby.
"The Queensland teams are last on our list, as the state may also get some impact from this event," said Rob. "The effects may also reach as far as NSW."
Meanwhile, severe Tropical Cyclone Veronica is brewing off the northern coast of Western Australia, and is expected to develop into a category five cyclone tomorrow.
It is not clear yet when it will cross the Pilbara Coast.
In remote Karratha, 1500km north of Perth, in the Pilbara Region, The Salvation Army is joining with the town's residents and making preparations to be safe if the cyclone hits.
Captain Lynn Boughton, Karratha Corps Officer, says The Salvation Army is not required to open an evacuation centre or provide meals, but will be ready to respond to whatever needs arise.