You are here:
Home › News › 2019 › 03 › 22 › Salvation Army Steps Up Response As Communities Flee Cyclone Trevor
Salvation Army steps up response as communities flee Cyclone Trevor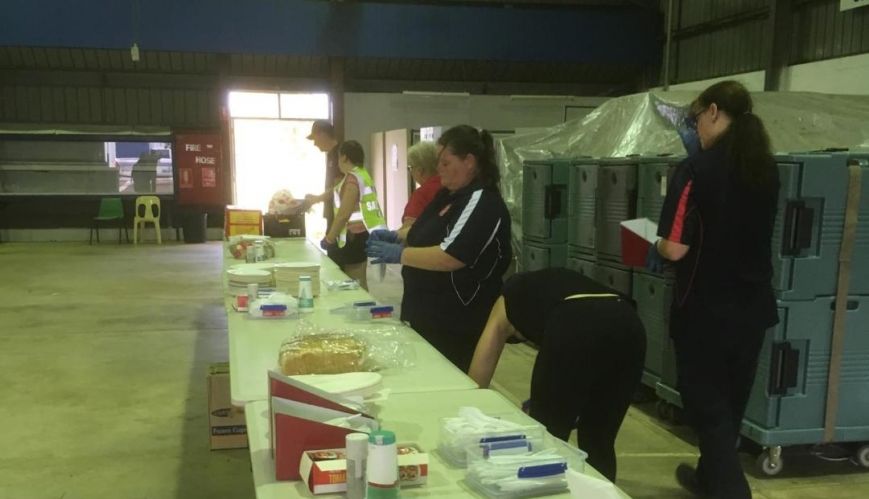 Salvation Army steps up response as communities flee Cyclone Trevor
22 March 2019
Salvation Army volunteers in Darwin preparing to feed hundreds of people in preparation for the landfall of Cyclone Trevor and its expected aftermath.
By Simone Worthing
Salvation Army Emergency Services (SAES) is deploying personnel and resources to Darwin, Katherine and Alice Springs to help cope with the unprecedented number of people being evacuated from remote communities and townships.
With Cyclone Trevor forecast to cross the coast in the Gulf of Carpentaria tomorrow, these numbers are expected to swell in the next 24 hours. Salvation Army teams on the ground are continuing their emergency response, and liaising with other agencies to provide shelter and assistance
In Darwin, two sites for evacuees have been established. 
"The Salvation Army has been providing food services in the evacuation centres, with teams made up of officers, managers and staff, residents and volunteers from the corps as well as Red Shield Hostel, Catherine Booth House, Sunrise Centre and Salvos Stores," said Captain Erica Jones, Northern Territory Area Officer and Emergency Services Coordinator for The Salvation Army.
"The teams are serving meals, making tea and coffee, providing snacks, and sourcing and distributing blankets, towels, clothing, bed linen and other needs.
"In the midst of the busyness and pressure it's been great to see personnel from all these centres coming together to form a cohesive team in response to this emergency. It's Area Leadership Team and Local Mission Delivery at its best!"
In Katherine, where about 300 people were expected at the evacuation centre, more than 900 people have arrived seeking food and shelter. An SAES team has been supplying clothing, and has now been asked to prepare meals for those who are at the showgrounds site.
"The corps and community members are working together to do what they can," said Captain Jones. The military is also on its way to the area with tents for evacuees.
An SAES team from NSW, led by Norm Archer, arrived in Darwin today to assist, along with a team from Queensland
"Norm and some volunteers will pack a truck and head straight to Katherine with supplies as the Katherine team don't have the resources for what they've now been asked to do," said Rob Champion, Strategic Disaster and Emergency Management Specialist with The Salvation Army.
In Alice Springs, The Salvation Army is also on standby to support evacuees from communities as far afield as Tennant Creek, around 500km away.
Salvos in the Northern Territory are being supported by specialist responders from Salvation Army Disaster Services, including a South Australia-based food truck being deployed to Alice Springs.
To donate to The Salvation Army go HERE.