Haworths forging a new equity culture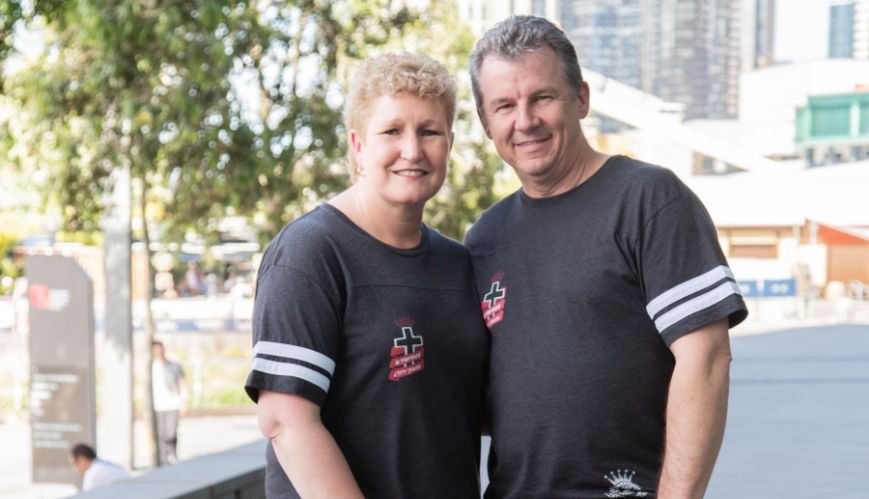 Haworths forging a new equity culture
25 March 2019
Captains Kim and Steve Haworth, divisional leaders in Tasmania, are big supporters of gender equity. Photo: Bruce Redman
By Simone Worthing
Captains Kim and Steve Haworth are The Salvation Army divisional leaders in Tasmania. Kim is the Divisional Commander, and Steve is Area Officer for Tasmania South and the Tasmanian Officer Recruitment Secretary.
Their new appointments are part of a deliberate campaign to forge a culture of gender equity within the Army in Australia.
Standard practice in The Salvation Army has long been that when an officer couple is appointed as divisional leaders, the husband is the divisional commander and the wife becomes divisional director of women's ministries.
Some women more recently, though, have been appointed to other roles such as in personnel, education and business.
Kim is not the only married female divisional commander in the Australia Territory. She joins Lieut-Colonel Chris Reid, who is the Divisional Commander for Western Australia.
Also, Lieutenant-Colonel Miriam Gluyas, a single officer, is the Divisional Commander for NSW/ACT.
"For me, this appointment is about working in the area of where our gifts and skills are," says Kim.
"Yes, I am a feminist and I do believe strongly in gender equity. I also believe that people should be in roles according to their gifts and skills, not because of traditional expectations.
"I have only been an officer for 10 years, but I am excited that the Army recognises my passion and heart for mission and my gifts and skills. This is a big responsibility and I want to honour my God and my leaders."
The conversation around the Haworths stepping into divisional leadership began in July last year, when they were asked to meet with national leaders, Commissioners Floyd and Tracey Tidd, to discuss potential appointments in Tasmania.
At the time, the Haworths were the Corps Officers at Wyndham City in Victoria. "Because we didn't grow up in the Church there was no expectation from us that the male would automatically be the leader," says Steve.
"Kim is the natural leader, which the Tidds of course saw as well. I'm more hands on, more practical, love one-on-one conversations and doing what needs to be done."
Kim admits to being surprised by her new appointment, conceding that she has never aspired to be a divisional leader.
"I always thought that I would be a corps officer and I was so happy with that. It was my dream to do it forever," she says.
"My heart is for the front line and I just want to serve God. "The Salvation Army has given us a real freedom as a couple to work within our area of giftedness. We slip naturally into these giftings and together form a great partnership. We are champions for each other and our journeys within The Salvation Army, and Steve is always very supportive.
"Although I have no divisional experience and have a lot to learn, I am passionate about mission, passionate about resourcing the front line and passionate about seeing people come to know Jesus. It's an honour to be asked to be a divisional commander and my heart will continue to beat for and serve front-line mission. Ultimately, though, for the Haworths, it's about honouring God with their talents he has given them.
"It's not about gender for us," says Steve. "I certainly don't feel I need to prove myself to myself or anyone else by being the DC. It's not a competition, it's about being authentic and serving according to your gifts. It's that simple."