Linking Lent has a sacrificial appeal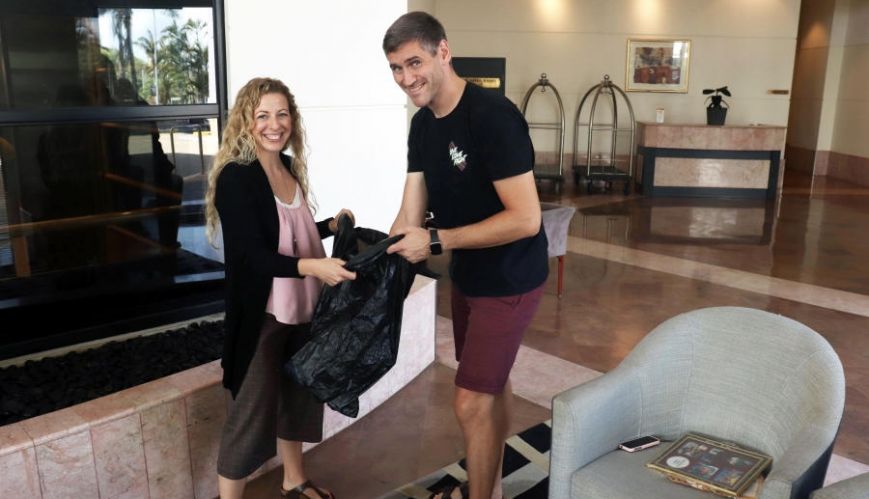 Linking Lent has a sacrificial appeal
26 March 2019
At Carindale Salvation Army, Captains Krista and Tim Andrews are encouraging corps members to donate saleable goods as part of a Lent challenge. Photo Kian Worthing.
By Lauren Martin and Simone Worthing
Salvationists across Australia are observing the six-week period of Lent in a number of different ways, from sacrificially 'giving up' to sacrificially 'giving out', by using art or taking time out to refocus on the sacrifice of Christ.
Lieutenant-Colonel Simone Robertson, head of Salvation Army International Development (SAID), says her appointment and its correlation with the Self Denial Appeal has added to her focus on Jesus in the lead-up to Easter.
"Personally, Lent means a time of specific focus on the incredible, outrageous and illogical gift of God – his expression of extravagant love in action. 
"My appointment and involvement in being part of the video team when filming for the Self Denial Appeal hasn't changed my view of Lent; it has, however, deepened my understanding of the depth and meaning of sacrifice."
While the Self Denial Appeal isn't specifically linked to Lent, the two events often coincide and have much in common, starting in 1886 when Salvation Army founder William Booth called for Salvationists to give sacrificially, to deny themselves so that they could offer God's love to a hurting world.
This year, a number of Lent challenges are being taken up by Salvationists across Australia.
Doonside's 'restaurant challenge' will support the Army's work in Greece.
Captain Sandra Pawar, Multicultural Plant Officer at Doonside in Western Sydney, is urging people to take up a Lenten 'restaurant challenge'.
"People are going to eat out anyway, so why not make it count for something," she says. "The idea of the restaurant challenge sprang from a conversation she was having with a colleague about the thesis she is writing on unaccompanied minor refugees in Athens, Greece.
"I have been to Athens three times now," says Captain Pawar, "and have been blown away by the work The Salvation Army is doing there with refugees. This is no longer a big part of the news anymore and funding is drying up, but their needs are the same and The Salvation Army is meeting those needs on a limited budget."
The restaurant challenge encourages people when eating at a restaurant to pick an extra meal and set aside the amount of money that meal costs to help others. Sandra is choosing to help the refugee work of The Salvation Army in Greece.
Major Roscoe Holland, Corps Officer at Gosford on the NSW Central Coast, says Lent for him has always been a time of personal reflection.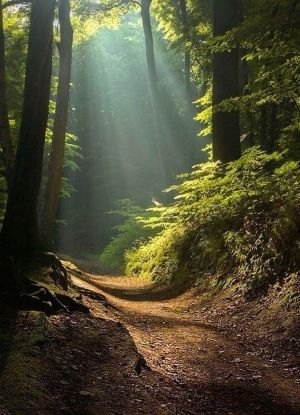 Roscoe's yearly photo challenge brings focus to his reflection.
"I was brought up with the practice that Lent is a period of reflection and a focus on the Biblical stories from those 40 days leading up to Jesus' death. I ask now, whether we are spending enough time focusing on those stories, and focusing on the people in those stories?
Four years ago, Major Holland took up a photography challenge during the period of Lent. Each of the 40 days is allocated a one-word theme that participants illustrate with a photo. Being a very visual person and having a love for photography, Major Holland found the challenge a refreshing way to refocus on the Lenten stories. He's done it every year since, and this year invited friends and family to join him through Facebook. 
"For me, taking on a different way to look at Lent gives me another way to focus on the sacrifice of Christ and his gift of salvation."
He says it has also sparked some great conversations, as people he knows see his photography posts on Facebook and ask him about them.
While the Lenten photography challenge is about refocusing on the period leading up to Easter using visual imagery, other Salvos have put into practice the act of sacrifice through the donation of goods during Lent.
At Carindale Corps in Queensland, Corps Officers Captains Krista and Tim Andrews challenged adults at the corps to each fill a garbage bag with 40 things over 40 days that will be donated and sold at a special family store sale, with all proceeds going to the Self Denial Appeal.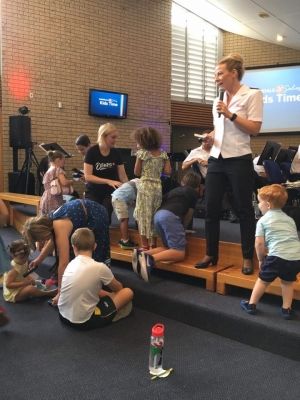 Carindale Corps young people are part of its 40-day project.
The children at the corps are also participating, with each child bringing in one item every week to also go into a bag to be sold.
"The idea is for people to lovingly and meaningfully sacrifice things in their life for a greater cause," said Captain Tim. "It's about decluttering their lives physically and spiritually, to think about what they're giving up and giving away, and to do that throughout the 40-day season ... it's not just throwing anything in the bag."
Captain Krista, who is giving up coffee for Lent, says that the 40-day project is about giving something up, but with 'a twist'. "We often practise giving up something for Lent such as chocolate, TV, social media, and this is about connecting Lent with the Self Denial Appeal. 
"Our rhythm as a family is to give up something for Lent and to use that time or money to enhance our understanding of God. The focus is on giving something up and focusing on God in its place."
In Victoria, Preston Corps Youth Bible Study members are also giving up personal items for Lent. "It's really a process of them thinking about others," says Melissa Grigsbey, Children's Ministry Coordinator at the corps. "It's not necessarily giving up all the things that are easy to part with ... it might be things that they could still hold on to, but they make the conscious decision that it could benefit somebody else."
The donated items will be presented at a Sunday meeting after the period of Lent and donated to people in need.