Breaking drought heartache through music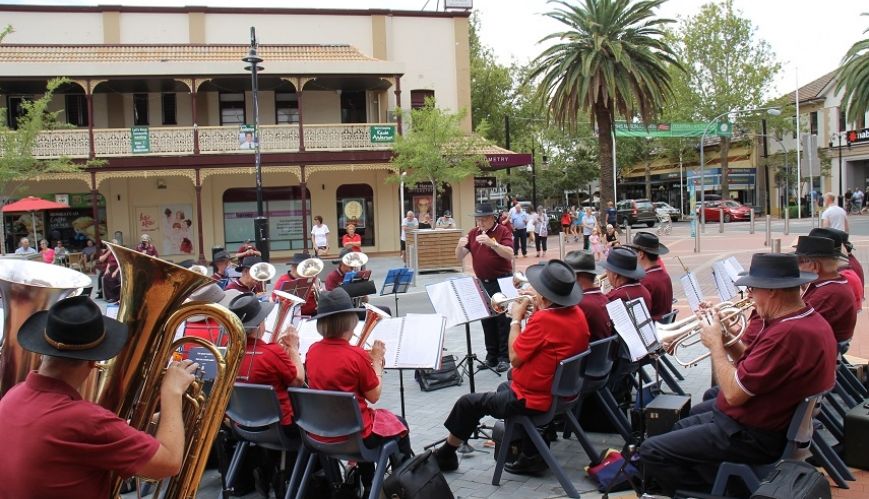 Breaking drought heartache through music
4 April 2019
The mobile mission band gives a concert in Tamworth's city centre as part of its 'tour' to encourage drought-affected communities in north-west NSW.
By Kevin Elsley
A group of 50 musicians recently undertook a Salvation Army-led mobile mission to the north-west NSW towns of Tamworth, Gunnedah, Coonabarabran and Binnaway, to bring hope, encouragement and gifts to farmers and businesses gripped by drought.
'Jesus the Light of Life' was the mission theme, challenging participants and audiences to shine the light, hope, and encouragement of Jesus.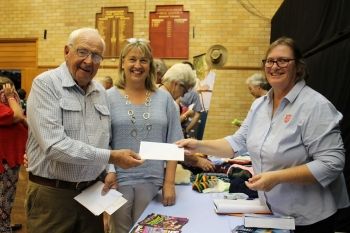 Rural chaplain Major Di Lawson presents gift cards to farmers at Coonabarabran.
At all stops, local residents thanked the mission team for their kindness and encouragement and expressed their gratitude for the Army's ongoing assistance in the face of what many believe is the most severe drought in living memory.
Purchased as the result of donations from congregations represented by some of the mission team members, some gift cards were also given to Salvation Army rural chaplains to hand out on their pastoral visits.
Tuggeranong Corps in Canberra went a step further by donating knitted articles, which were placed on a blessing table and purchased as gifts for drought-affected families during a concert at Coonabarabran.
A report was also received of a generous donation from a person who had been saving up for a pair of shoes but instead thought people in drought was a more important cause.
The Salvation Army Mobile Mission team.
Many Binnaway residents attended a mission concert at the local hotel, including a business operator attracted by the sound of the brass band. As a result, this person was given gift cards to hand out to customers in need.
When the band and timbrels struck up in a park at Gunnedah, a resident live-streamed the performance to contacts in Canada and there were hundreds of 'hits' on Facebook.
And a street outreach in Tamworth attracted the attention of a television station.
The 10-day tour was bathed in prayer for rain, which fell during a fervent prayer session at Tamworth. Tamworth has had a further 75mm of rain, and 100mm has fallen at Coonabarabran.
A highlight of Sunday worship at Coonabarabran was an invitation to the congregation to light a candle from the flame of a central candle that represented Jesus as 'The Light'.
The Mobile Mission team is made up of mostly retired Salvos – soldiers, officers and adherents (with occasional guests) – who travel, at their own expense, to areas in need of encouragement and hope. 
The team usually makes two to three trips each year, either independently or in support of a Salvation Army event.  There are approximately 100 registered members in the team, with around 50 being available for each trip.
If you'd like more information, please contact one of the following people:
Ken Druery at daleken@bigpond.com
Robyn Earnshaw at earnshawrobyn@gmail.com
Phil Gutteridge at phildenty2@bigpond.com
Kevin Elsley is a senior soldier from Lismore Corps, Northern NSW, and a member of the mobile mission team.