That's a wrap for Australia One!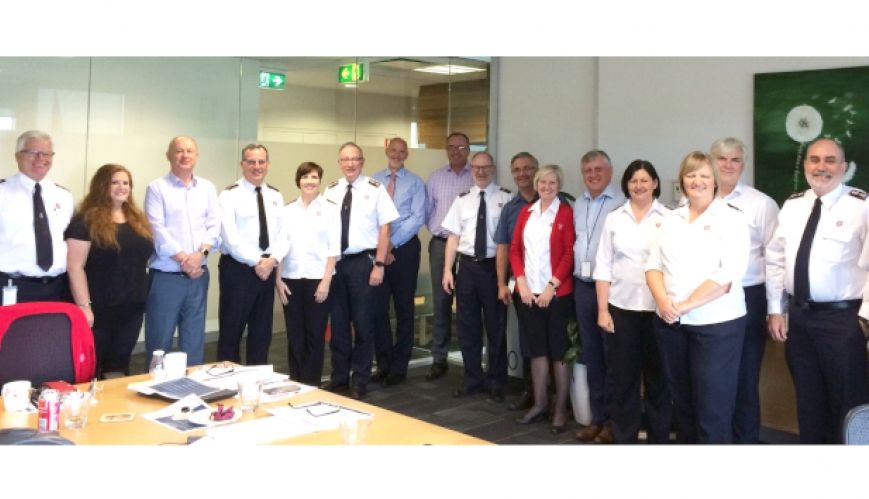 That's a wrap for Australia One!
5 April 2019
The Australia One Steering Committee held its final meeting in March.
By Lauren Martin
After more than two years of helping to transition The Salvation Army in Australia to one territory, the Australia One program office has been wound up.
The Australia One Steering Committee held its final meeting on Wednesday 13 March. During The Salvation Army's transition to one territory, the committee was responsible for the governance of the program, monitoring and reviewing risks, status and the delivery of the program against its objectives.
Since it was established in 2016, the committee has included Cabinet leadership of the former Australia Eastern and Australia Southern territories, together with national Cabinet roles, Group Executive Mission Enterprises, Chief Human Resources Officer, Chief Financial Officer, Chief Technology Officer and Chief Property Officer.
Commissioner Floyd Tidd has thanked all current and past members of the Steering Committee for their contributions and for taking the journey with God.
"It has been a challenging journey for us, but it remains the right path for The Salvation Army," he said.
"It's important to note that it was the Steering Committee, made up of Salvos, who made each of the decisions relating to the transitioning to one territory, after thorough research and prayerful consideration. Whilst we are thankful to our team of consultants who helped to give the Steering Committee options to work through for some of the areas we needed to consider, there were no consultants within the decision-making process."
Some decisions, such as those around governance, were also subject to higher review and approval at The Salvation Army's International Headquarters. 
There is still work to be done to embed the Australia Territory, around streamlining processes and systems. Going forward, the Enterprise Project Management Office will be responsible for overseeing these initiatives. 
"We've come a long way since the start of our Australia One journey," said Chief Secretary, Colonel Mark Campbell. "While our movement is now operating as one territory, lots of processes, policies and systems still need to be nationalised and streamlined so that we can be most effective in our ability to give hope to Australians in need.
"Salvos can be assured that we are still working hard to reduce the administrative burden for our people on the front line."
The Australia One team conducted its final Pulse Survey of the organisation in February, with 82 per cent of employees, officers, corps attendees and volunteers who responded saying they felt a personal connection with The Salvation Army's vision. This was an increase from the last survey. Seventy-three per cent said they can see how the transition to one territory will benefit the people we serve and all Salvos. 
"I'm looking forward to the next stage of this journey, as we continue to realise our vision to transform Australia, one life at a time, with the love of Jesus," said Colonel Campbell.