You are here:
Home › News › 2019 › 04 › 26 › Melbourne Staff Songsters Reflect On Easter In Singapore And Myanmar
Melbourne Staff Songsters reflect on Easter in Singapore and Myanmar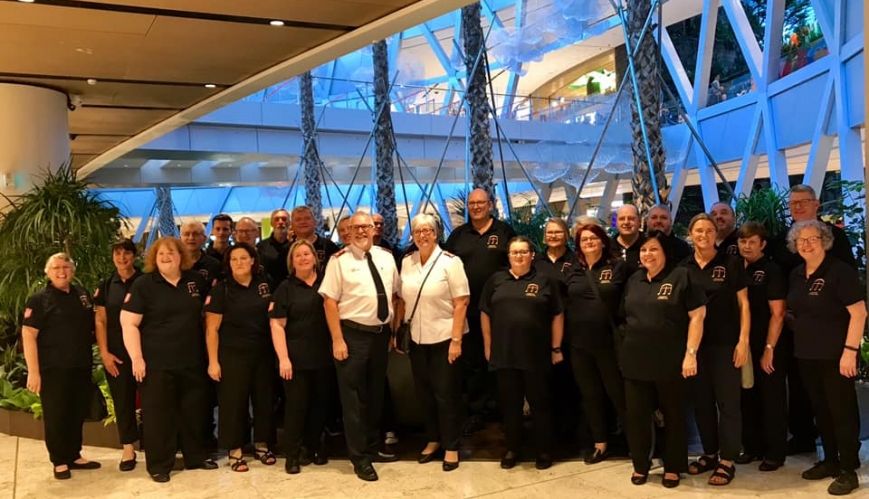 Melbourne Staff Songsters reflect on Easter in Singapore and Myanmar
26 April 2019
Colonels Rodney and Wendy Walters, Singapore, Malaysia and Myanmar Territorial leaders  (front, centre), met the Melbourne Staff Songsters as they arrived in Singapore for the start of their Easter tour.
By Jessica Morris
The Melbourne Staff Songsters (MSS) have embraced Easter with the people of Singapore and Myanmar, travelling across these diverse countries with a song of hope and a message of salvation.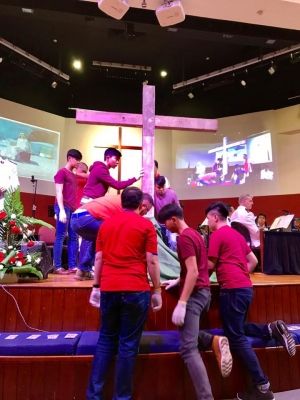 Singapore youth prepare for the Tenebrae service.
Myanmar's territorial leaders, Australian officers Colonels Rodney and Wendy Walters, greeted the songsters in Changi, Singapore. They celebrated the holy weekend under the leadership of Singapore Central Corps Officer, Major Mark Hall, before travelling to Myanmar for a music camp with young Salvationists.
Joined by the Australia Territory's Colonel Mark Campbell (Chief Secretary) and Colonel Julie Campbell (Gender Equity Advocate), the songsters ministered and learned more about the corps and their migrant services in the regions.
Others magazine asked three members of the MSS to reflect on their journey across Asia. From the perspective the longest-serving member, the newest member, and the youngest vocalist, here are their thoughts on what they have experienced and how God has moved in their midst.
Merryn Steel, Brimbank Corps
Leader, longest-serving member of MSS, 21 years
"In the Christian calendar this is one of the most important times of the year. To share that with people of a different culture is actually quite special because it comes to us ... through the eyes of people we don't normally share these with.
"On the Saturday night, the youth of Singapore Corps held a Tenebrae service [where candles lighting the service are gradually extinguished]. Seeing them growing in their faith and learning – it really touches our heart.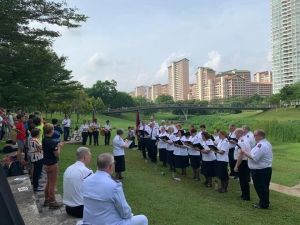 The Easter sunrise service in Singapore.
"When you put something together as a leader and you present it to people hoping to share a story, hoping to share God's Word; to see people respond to that is really quite a blessing. That's something that has impacted me. I'm thankful to God that what I've put down on paper – even though that has changed since we got here – [that] you can see God working through that."
Captain Paul Lorimer, Ringwood Corps
Newest member of MSS, eight weeks
"I didn't expect to see some of the work a number of the corps in Singapore [are doing] in regards to migrant mission work. Getting an insight into that and being involved [has] been fantastic.
"I've seen God move in a number of different ways. At the Good Friday meeting at Singapore Central Corps, just seeing the way those there responded to the spirit was very moving for all of us.
"Also the Tenebrae service on Saturday night, [where we saw] all these young people expressing the gospel and the experience of Jesus moving through to the crucifixion was an incredible thing.
The MSS at Peacehaven Aged Care facility.
"The music camp in Myanmar is a little unknown; I'm looking forward to the electives we're doing ... and seeing how they engage with the youth. Myself and one other will be doing a Bible study with some of the youth, [and] I'm looking forward to ... not so much what we're teaching them, but their response, and what they are going to teach us."
Erin Fanner, Brimbank Corps
Youngest vocalist in MSS, three years
"When I come to different countries ... they worship God in a slightly more [reliant and] different way than the way we do back home. It is refreshing. It always inspires me in my own journey with God.
"[Seeing] everyone at the Singapore Central Corps gathering round and supporting each other in prayer, it touched my heart. There is something really special in that community.
"My experience at music camps [involved] getting to know God that much better and being in community with other young people in The Salvation Army ... I would like to impart that type of community, [where you] want to know more about God and express worship in different ways into young people in Myanmar.
Stay up to date with the Melbourne Staff Songsters journey across Singapore and Myanmar on Facebook at https://www.facebook.com/TheSalvationArmyMSS/.