Red Shield Appeal initiative to inspire corps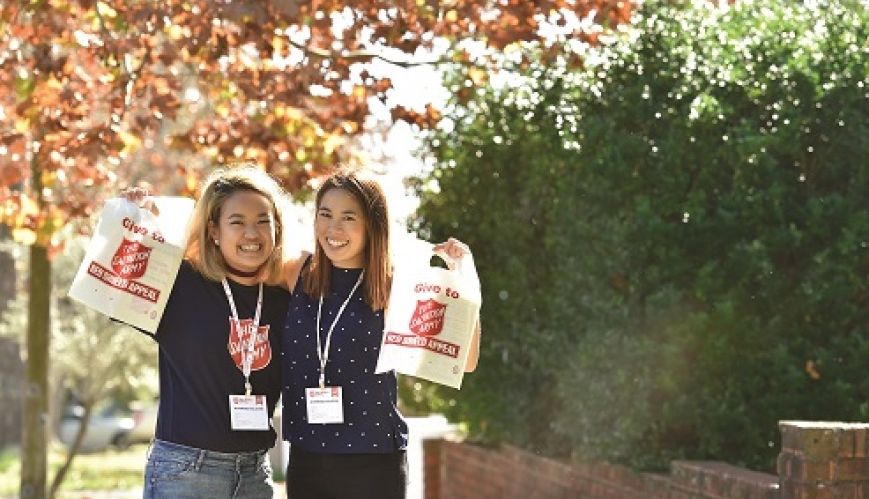 Red Shield Appeal initiative to inspire corps
26 April 2019
A new initiative regarding income from the Red Shield Appeal is designed to help corps achieve a greater missional impact in their local communities.
By Scott Simpson and Lauren Martin
The eagerly anticipated details of a groundbreaking initiative focusing on the way income from the Red Shield Appeal weekend (25-26 May this year) will be distributed have now been released.
The initiative, announced by Australia Territory leaders Commissioners Floyd and Tracey Tidd at the Still Others conference late last year, is designed to help corps to achieve a greater missional impact in their communities.
"I am pleased to be able to announce that the recommendations of a working party created to consider how this initiative should be delivered and enacted for the 2019 Red Shield Appeal, have been formally approved," said Commissioner Floyd Tidd.  
"As a call to action for mission, I believe this initiative is a great rallying point to inspire corps to increase their involvement in, responsibility for, and engagement with the community fundraising campaign.
"The detail of how the new income model will operate is being distributed to divisional commanders, area officers, and corps officers, with the intention that it will be shared at a corps level in the weeks leading up to the Red Shield Appeal weekend."
Eighty per cent of money raised in local communities during the Red Shield Appeal (between 13 May and 2 June this year) will be allocated back to corps and ministry expressions to fund corps community engagement in their local area. The other 20 per cent will help cover Red Shield Appeal marketing and resource expenses, with any remainder allocated to social services.
 
"In real terms, we anticipate up to about $4.5 million dollars being released directly to corps and local mission expressions to drive local mission in local communities," said Commissioner Tidd.
"The strategic focus of the Australia Territory is about community engagement and we need to make sure that our corps social and mission expressions have the resources that will enable them to deliver on services in a much more intentional way.
 
"I believe that Salvationists and our community supporters will now have greater incentive to take responsibility for and engage with the Red Shield Appeal in their area, because they will have a sense of direct ownership and see some result for their efforts."
Donations will be processed as usual throughout the appeal, with the money raised between 13 May and 2 June being redirected back to corps within the first quarter of the new financial year. Corps and ministry expressions can access these funds by applying through their area officer.
Corps that apply will need to ensure that the relevant community engagement programs/activities are compliant to The Salvation Army's  Deductible Gift Recipient requirements with the Australia Taxation Office, and consistent with our  vision, values and mission.
  
"We've tried not to be too prescriptive about it but provide some parameters," said Commissioner Tidd.
"As long as corps and mission expressions meet those parameters, we are looking for local initiatives to drive the mission of The Salvation Army to fulfil the vision: 'Wherever there is hardship or injustice, Salvos will live, love and fight, alongside others, to transform Australia one life at a time with the love of Jesus'."
 
Salvation Army services and centres that rely on Red Shield Appeal funding will remain supported through direct-mail campaigns, regular givers, major donors, and online and digital marketing campaigns. 
 
For more information about the Red Shield Appeal, go to: salvationarmy.org.au/redshieldappeal