Embracing the Appeal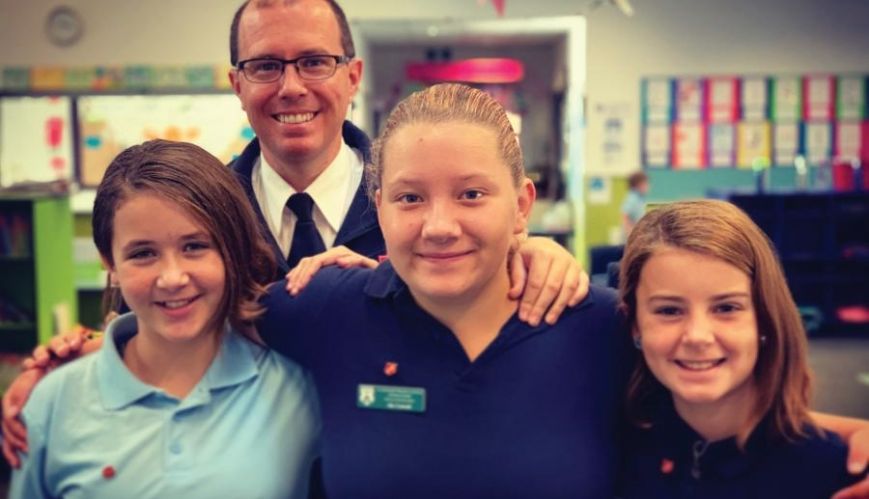 Embracing the Appeal
5 May 2019
Captain Peter Hobbs with some of the students on the Bellarine Peninsula who are involved in the Youth Ambassador Program.
By Jessica Morris and Simone Worthing
Collecting for the Red Shield Appeal in Atherton, a small town in Far North Queensland, is definitely a community affair.
Family Store volunteers collect in their streets as well as in the store, and corps and community members assist at static collection points.
The two supermarkets in town are also very supportive and provide collection areas as well as other forms of assistance. "We have a great rapport with the community here, and in the regional areas, and people want to help," said Atherton Corps Leader, Miriam Newton-Gentle.
"For example, last year in the little town of Ravenshoe, 50km south of Atherton, the local bakery wanted to help The Salvation Army, more than just letting us sit outside collecting for two days. So now they supply all the bread for our community activities, food care packages and other needs as they come up."
In Herberton, south-west of Atherton, Family Store volunteers collect in the town of approximately 850 people, while the annual Field Day at Mareeba, 35km north of Atherton, held just after the Red Shield Appeal, is also a popular collection site.
"We work hard and although we don't raise a huge amount of money the goodwill and deeper community connections and support that come from it is worth so much more," said Miriam. "It's definitely more than the finances that go into the collecting bucket; it's those community connections."
On the Bellarine Peninsula, south-west of Melbourne, school students are being encouraged to engage with the Red Shield Appeal through a pioneering program initiated by The Salvation Army.
Under the guidance of Captains Peter and Diane Hobbs, students at three schools are involved in a 10-week leadership development program that operates in conjunction with the Red Shield Appeal, called the Salvo Youth Ambassador Program.
The program raises awareness about social issues affecting Australians and educates the young people about The Salvation Army's work in the area.
The AFLW's Renee Garing, of the Geelong Cats, has joined the Salvos as a patron for the Youth Ambassador Program, and will lead the students in a leadership development day. She will also doorknock with other youth ambassadors on Red Shield Appeal weekend.
These connections, says Captain Peter Hobbs, help strengthen the bond between the corps, schools, sporting clubs and corporate partners in the area.
RSA Video Series
In the lead-up to the Red Shield Appeal weekend, Salvation Army corps across Australia will be showing a video series that tells the 'story behind the story' of this year's Red Shield Appeal television commercials. The TV campaign is based on the real stories of people who have been helped by The Salvation Army.
Watch this week's video.