Youth camp changes lives with Christ's love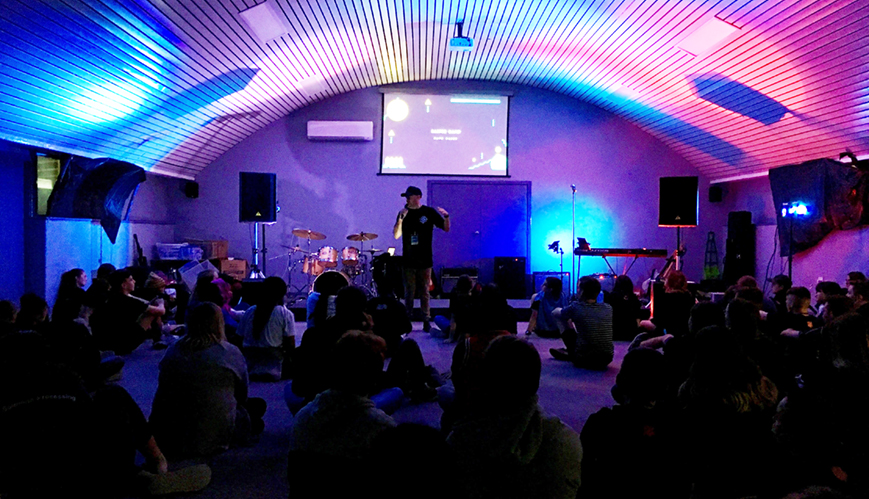 Youth camp changes lives with Christ's love
6 May 2019
Western Australia youth listen to one of the guest speakers at the annual Divisional Youth Camp over the Easter long weekend.
By Jessica Morris
What does it mean to love your neighbour? This question was a central focus of the annual Western Australia Divisional Youth Camp held over the Easter long weekend in Perth.
One hundred youth, young adults and leaders from Mandurah to Kalgoorlie came together at the Baldivis Christian Youth Camp near Rockingham to learn what it means to love others because 'Christ first loved us'.
"This year at Summer Carnival [the national youth camp], the theme was Loved Right Now, reminding young people they are loved whatever situation they are in," said Captain Daniel Templeman Twells, the Divisional Youth and Young Adults Secretary.
"Our divisional theme of First Loved was a play on that, encouraging young people to realise that the motivation behind why we show love for our friends, our families and our communities is because we've already been shown that love by God."
The guest speakers were Nathan Casey and Sam Hateley, who both travelled from Adelaide for the event. They taught on 1 John 4:19, "We love because he first loved us", and discussed how Christ's acts of love towards others created ripple effects in the community. Partnered with worship, small groups and fun at Adventure World, it facilitated an environment of emotional healing over the weekend.
"For young people there's something about gathering together in a way they had never experienced before, and possibly experiencing the Easter story in a way they've never heard before," said Captain Templeman Twells.
Good Friday was used to meditate on Christ's love over communion; Saturday explored what it means to healthily love ourselves; and Sunday took an outward focus. More than 20 people responded to teaching over the weekend, and three youth from one corps shared their testimony the following week at their corps.
Captain Templeman Twells, who has been in his appointment for a year, said he is beginning to see the long-term impact of the division's mission to engage and disciple youth on a local level.
"From last year's camp to this year's camp, [we've] seen a couple of campers' whole persona [change]," he said. "Last year they were very withdrawn and sat around the back of the room. This year they're engaged and right in amongst it – even sharing about their experiences the following week."
Staff and volunteers from across the state will use the camp as a stepping-stone to future events and local ministry to continue the youth's spiritual growth.
"There was a natural rhythm to the camp, and people stepped up when they needed too," said Captain Templeman Twells. "It's a real testament to [our leaders'] commitment to their local expressions that it went as well as it did."