Salvos there in Melbourne's time of need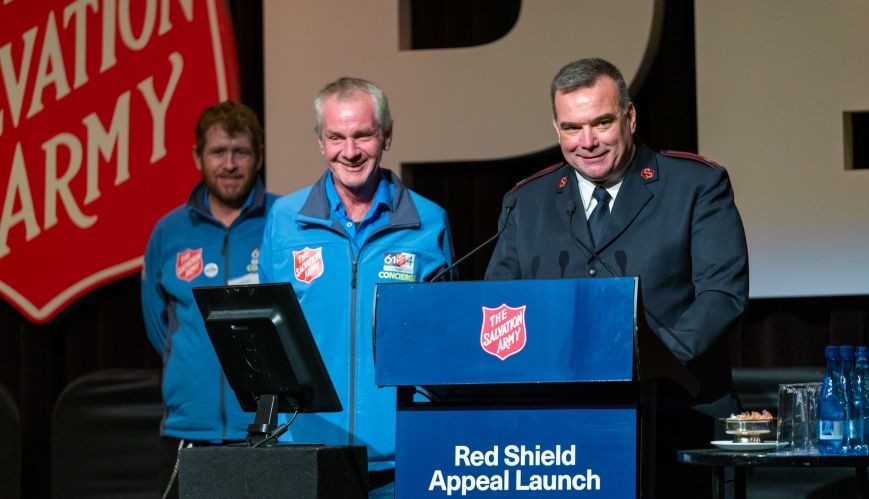 Salvos there in Melbourne's time of need
10 May 2019
Major Brendan Nottle interviews Rob Bothwell while his 614 workmate James Hamilton looks on. Rob and James are former 614 clients and gave stirring testimonies at the Red Shield Appeal Melbourne launch of how their lives have been transformed. Photo: Jacob Dyer
By Jessica Morris
"The Salvation Army is constantly here to help in the city's time of need," said Acting Melbourne Lord Mayor Arron Wood when he addressed business leaders at the Red Shield Appeal launch in the Victorian capital yesterday.
He animatedly acknowledged The Salvation Army's work in providing shelter every night at 614 had more than halved the number of people sleeping on the inner-city streets. He also made particular mention of the Army's quick and caring response to the Bourke Street and Flinders Street tragedies where pedestrians were deliberately run down by cars.
Echoing the Acting Lord Mayor's sentiments, Major Brendan Nottle, leader of the Army's 614 Corps in Melbourne's inner-city, later spoke candidly about the city's need to come together in times of crisis.
"Hear the need and hear the issues," Major Nottle said. "Melbourne and Victoria is at its very best when we work together, when we connect into our networks, we share ideas and then we execute – that's when we see profound change happening."
In front of 600 people gathered at the Sofitel on Collins hotel, Major Nottle backed up his statement by interviewing two people who have had their lives transformed through their contact with The Salvation Army. Former 614 clients Rob Bothwell and James Hamilton gave a face to the funds that help the 'down and out'.
With humour and sincerity, Rob and James, who are both now on staff at 614, shared their change stories. Rob told of his traumatic journey for many years after a work accident in his late teens caused him severe disability and James told of his fight with drug addiction. The comprehensive wraparound services of The Salvation Army has given them a new life. 
So far, more than $350,448 has been raised from the Melbourne launch - with more donations still to come - which goes towards the national appeal target of $79 million. The Victorian State Government donated $150,000. In presenting the donation Luke Donnellan, Minister for Child Protection, Disability, Ageing and Carers, spoke warmly of the wide range of help to the most vulnerable through Victoria.
Ritchies supermarket CEO Fred Harrison received The Salvation Army's Others Award in recognition of the firm's 25 years of partnering with The Salvation Army, raising $1.4 million through Ritchies Community Benefit Card.
Hobart launch
Tasmania also held its Red Shield Appeal launch with more than 100 business leaders attending a breakfast in Hobart.
Jacqui Petrusma MP set the tone by announcing a $30,000 donation, with Helen Burnet, the Deputy Lord Mayor of Hobart, then asking people to dig deep. 
Tasmania Coordinator-General John Perry, a new government appointee responsible for economic and business development in the state, spoke about the ongoing need for business and organisations such as The Salvation Army to partner for the best community outcomes.
Captain Kim Haworth (Divisional Commander – Tasmania) asked attendees to imagine what they would do if they needed a helping hand and had nowhere to turn.
"For thousands of Tasmanians each year, they turn to the Salvos," Captain Haworth said. "We are aware of 1600 Tasmanians that are homeless, according to census data. Most of these are unseen people, many living in overcrowded dwellings; many couch surfing, and around a third living in supported accommodation. Perhaps 10 per cent are on the streets. It doesn't take long for homelessness to spiral into hopelessness."
Donate to the 2019 Red Shield appeal HERE.