Innovation grants to boost mission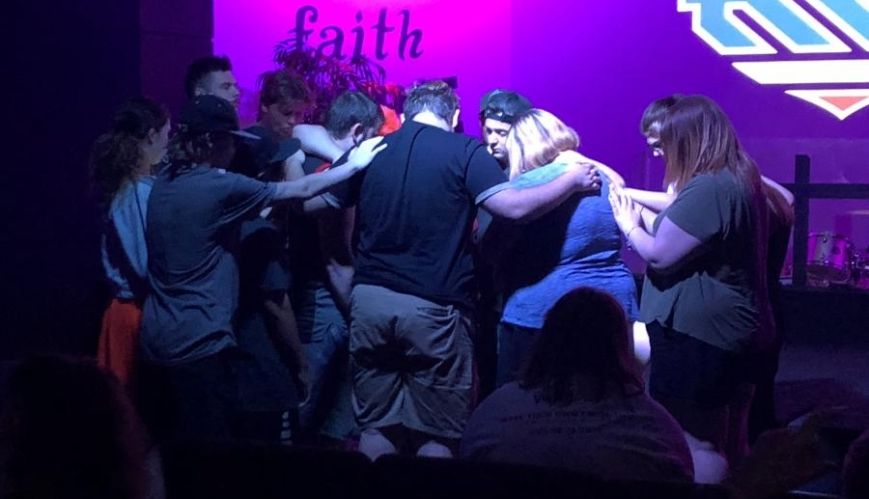 Innovation grants to boost mission
17 May 2019
South Australia's Ingle Farm Corps received an innovation grant to purchase sensory tools for its youth ministries that connect with young people who have special needs.
By Lauren Martin
The Salvation Army has awarded 'innovation grants' to more than 70 corps and mission expressions across Australia.
The grants are part of the Innovation Funding initiative that was announced by Commissioners Floyd and Tracey Tidd at Still Others late last year.
Greig Whittaker, Australia Territory Innovation Executive Manager, says it's exciting to see new initiatives being funded across Australia. (The full list of successful innovation grant projects can be viewed at the end of this story.)
"Through this innovation grants process, we've given front-line mission the opportunity to trial some new initiatives, and innovative approaches to make a difference to the people we serve.
"We are excited to see front-line Salvos being engaged in mission and we are looking forward to seeing some good results!"
Several innovation grant proposals focused on the inclusivity of God's Kingdom and on developing approaches that would better include and cater to people with special needs.
Raymond Terrace Corps (NSW) will use its funding to develop a 'Hope Sensory Playground'. Manningham Corps (Vic) will develop a Salvation Army Asperger Fellowship to offer spiritual, emotional and social support to Christians with Asperger syndrome. And Project CSC Plant (NSW) will use its grant to develop 'accessABLE church' environments and practices.
Ingle Farm Corps (SA) received a grant to purchase sensory tools to assist its youth ministries to connect in a more meaningful way. Corps ministry assistant Sarah Green said the grant would increase the corps' existing engagement with young people who have additional needs.
"For us in the youth space, we've always connected with young people with additional needs. We feel that we're called to serve young people who are vulnerable – and often with vulnerability comes disability or additional needs.
"When the innovation grant came up, we thought it was a great way to obtain resources to provide different ways for these young people to be included."
The corps will purchase motor-skill resources that can be used in its children and youth ministries, as well as its school programs and in the nearby Salvation Army youth services the corps is connected with. 
Other ideas that were funded were about developing mission through technology. Ryde Corps (NSW) received funding for the development of an online faith community, and the Bellarine Peninsula Corps Plant (Vic) will use its innovation grant to kick-start "Ask Lisa" – a wellbeing/chaplaincy support online coaching and mentoring program. 
The Salvation Army Enterprise Project Management Office facilitated the innovation grants and is now working with Greig Whittaker to develop a clear and simplified process for innovative ideas to be shared.
"At the moment there is no 'front door' for innovation," said Greig. "If you've got a great idea, where (or who) do you take it to? Nobody really knows and it's really difficult. We are creating a 'front-door' platform so that innovating ideas can be shared and discussed. 
"We hope that hearing about each other's ideas and having a place to share those ideas will inspire innovation."
Salvation Army innovation grant recipients
ACT
"#salvospop-upCBR" – Canberra City Corps, ACT
Queensland
"Salvos Connect Café" – Toowoomba Corps, QLD
"A Light in the Dark" – Mt Isa Corps & QLD Outback Flying Chaplains, QLD
"Streetlevel Re-Cycling" – Brisbane Streetlevel Mission, QLD
"Community Centre Warwick" – Warwick Corps, QLD
"Social Media Wall" – Nambucca River Corps, NSW
"Sound Lounge (Music & Art Therapy)" – Forest Lake Corps, QLD
"Intentional Parenting Coaching and Workshops" – Forest Lake Corps, QLD
"Cape for Christ" – Cairns Corps, QLD
"Hangar Night" – Outback Flying Service, QLD
"Just Brass – Cairns" – Cairns Corps, QLD
New South Wales
"Kingdom Community Solutions" – New Expressions Central Coast, NSW
"Youth Disco and Family Movie Nights" – Westlakes Corps, NSW 
"The Thirsty Camel Tent" – New Expressions Newcastle, NSW
"Young Adults Café Church – New Expressions Newcastle, NSW
"Woodberry Community of Hope" – Woodberry Corps, NSW
"Second Chance" – Sydney Streetlevel Mission & Auburn Corps, NSW
"Cycling Without Age" – Club Chaplaincy, Tweed Heads, NSW
"Creating a Welcoming Connect Space" – Grafton Corps, NSW
"Faith Pathway of Short Courses" – Nambucca River Corps, NSW
"GEN XYZ CHURCH" – Shellharbour, NSW
"Wearing Freedom" – Ryde Corps, NSW
"Tower Ministry Research Project" – Ryde Corps, NSW
"Foundery Family Centre" – First Floor Program, NSW
"Hope Sensory Playground" – Port Stephens Corps, NSW
"Build a deck on the back of the Hall" – Tarrawanna, NSW
"City Salvos Café: Campbelltown" – Community of Hope Macarthur, NSW
"Space for Connections" – Greater Liverpool Corps, NSW
"accessABLE Church" – Project CSC Plant, NSW
"Activate Outdoors at Letho (AOL)" – Lethbridge Park, NSW
"Salvos Schools Connection Hub" – Oran Park Mission, NSW
"Outdoor Refurbishment" – Catherine Haven, NSW
"Equine Connections" – New Expressions Central Coast, NSW
Northern Territory
"Towards Independence Program Top End Workshops" – Alice Springs, NT
"Darwin Youth Connect" – Darwin Corps, NT
"Palmerston Salvos Coffee Trailer" – Palmerston Corps, NT
South Australia
"Youth Hub/Café" – Gawler Corps, SA
"The YP Drop-In Centre" – Copper Coast Corps, SA
"Shower, Soap, Salvation" – Tea Tree Gully Corps & Community Support Services, SA
"Mobile Occupational Therapy Room" – Ingle Farm Corps, SA
"Teacher Chaplaincy Project" – Ingle Farm Youth Homelessness Program, SA
"Drive By Faith" – Ingle Farm Youth Homelessness Program, SA
"Lead Tenant Program" – Ingle Farm Youth Homelessness Program, SA
"Songs for the next Generations" – Ingle Farm Corps, SA
 Victoria
 "Salvation Army Asperger Fellowship (SAAF)" – Manningham, VIC
 "The Coffee Booth" – Ferntree Gully Corps, VIC
 "Just Game" – Box Hill, VIC
"The Kitchen Cupboard" – Inala Village Corps, VIC
 "Messy Church (new congregation plant)" – Brimbank Corps, VIC
"Integration of Services and Corps" – Shepparton Corps, VIC
"Integrated Mission Drop-In Centre" – Benalla Corps, VIC
"Doorways Coffee Chat"  - Delacombe Corps, VIC
"Trash Bash" – South Barwon Corps, VIC
"Consumer Feedback and Evaluation" – Salvos Connect Western, Ballarat, VIC
"Rural Mobile Mission Vehicle" – The Salvation Army north-west, VIC
"Friday Munchies" – South Barwon Corps, VIC
"Caravan Park Outreach" – South Barwon Corps, VIC
"Project M (Men's Shed/Mentoring)" – Preston Corps, VIC
"'Ask Lisa' Wellbeing/Chaplaincy & Teacher Support" – Bellarine Peninsula Corps Plant, VIC
"Foodshare Retreat" – St Kilda Crisis Centre, VIC
"Waverley Parenting Children Support" – Waverley Corps, VIC
"Waverley Partnering Family Scheme" – Waverley Corps, VIC
"Healthy, Happy Parents" – Boronia Corps, VIC
"Multimedia Song Book – Resource for small corps" – Castlemaine Corps, VIC
"The Nurture of Nature Therapeutic Garden" – Recreation, Activities, Mentoring and Parenting program (RAMP), VIC
 Western Australia
"Pallet Ministry" – Rockingham Corps, WA
"Life Skills Course" – Baldivis Corps, WA