Government grants to boost army of volunteers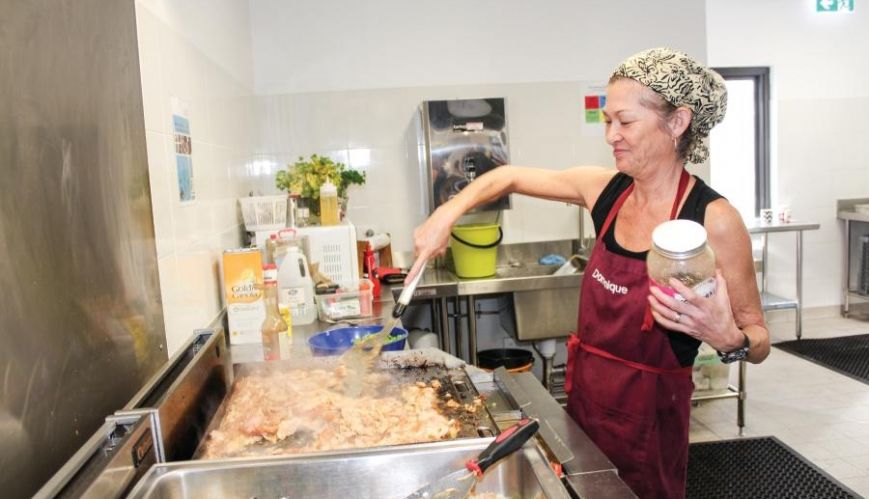 Government grants to boost army of volunteers
20 May 2019
Volunteers such as kitchen team leader Dominica Loong are crucial to the services that Rockingham Corps offers to the community. Photo: Murray Jongeling
By Lauren Martin
More than 50 Salvation Army corps and mission expressions have been awarded Federal Government community grants to support the efforts of volunteers.
The grants have been announced to coincide with National Volunteer Week in Australia that runs from 20–26 May.
Every day across Australia our army of volunteers give up their time to support the work of The Salvation Army. According to The Salvation Army 2018 annual report, volunteers make up 75 per cent of our workforce, with regular volunteers numbering 30,000. (That figure swells to 50,000 during the Red Shield Appeal weekend in May.)
A variety of Salvation Army mission expressions applied for Federal Government funding to support their volunteers and encourage the inclusion of vulnerable people in community life.
Forster-Tuncurry Corps on the NSW mid-north coast will use its grant to replace its coffee machine, used by volunteers during the corps' weekly community lunch.
"Our coffee machine is one of the key components of our community lunch," says Forster-Tuncurry Corps Officer, Lieutenant Phil Sutcliffe. "We find that sharing a cup of coffee helps people open up and is a great connection point.
"The new machine will allow us to train more people on how to make coffee and will make life easier for our baristas to have a coffee machine that works well every time."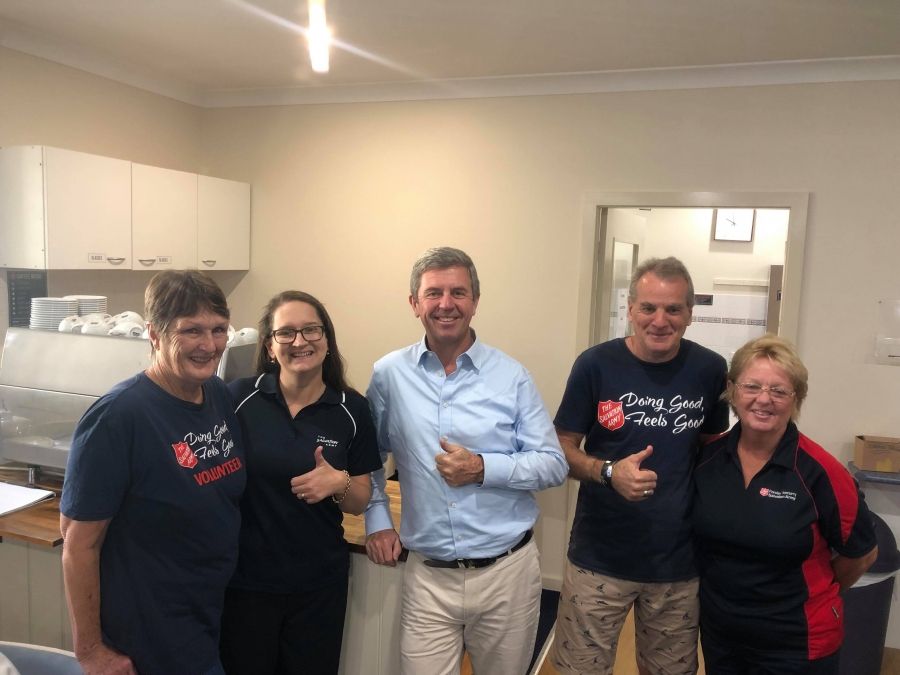 Volunteers are valued and supported at Forster-Tuncurry Salvation Army in NSW. (From left): Janelle Hallam, Lieutenant Donna Sutcliffe, Dr David Gillespie MP, David Hardaker and Donna Tucker.
In Western Australia, Rockingham Corps Officer Captain Darrell Wilson said volunteers were crucial to keeping the doors of the corps open all week for members of the community seeking assistance, companionship and support. 
"There are two officers here – myself and Chelsea – five staff and the rest are volunteers," he said. "We would have about 100 volunteers every week assisting us."
Rockingham Corps was awarded a Federal Government community volunteer grant to purchase a machine that produces name tags, money to go towards mandatory volunteer 'Crimchecks' and also training to equip volunteers to know how to serve and be sensitive to vulnerable people.
"Our volunteers are crucial," said Captain Wilson. "People volunteer for varying reasons but mainly people want to feel like they're part of something valuable and part of something that's meaningful."
The full list of Salvation Army corps and mission expressions that have been awarded volunteer grants can be viewed HERE.