Red Shield Appeal all about the 'one'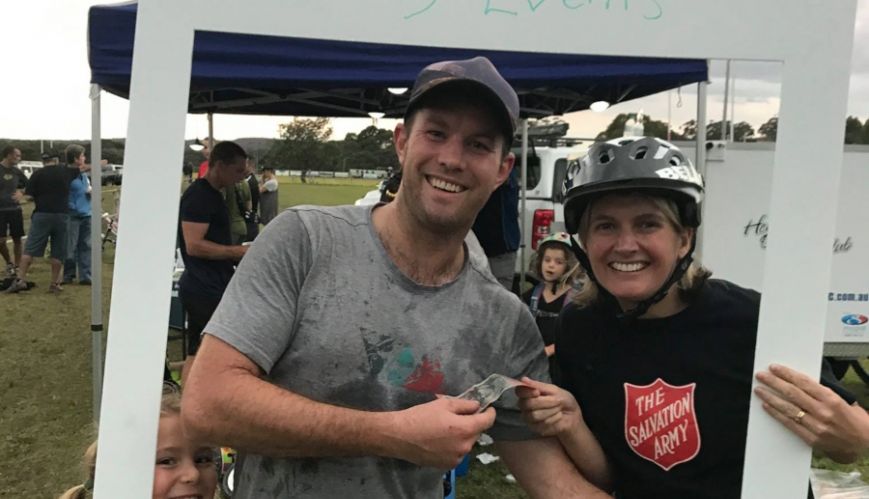 Red Shield Appeal all about the 'one'
22 May 2019
Salvo Lauren Martin organises a number of community events for her local Red Shield Appeal, like this Mountain Bike Club fundraiser.
By Lauren Martin
It's that time of year again. Corps folk rally, volunteer numbers swell and everyone rolls their eyes and jokes about how busy we are. The Salvation Army Red Shield Appeal comes around every year and it's easy to just roll with the familiar machinations of it – filling rosters, collecting, counting, banking etc.
We're aiming to raise $7.5 million across Australia this weekend to keep The Salvation Army's doors open. In the past year alone, The Salvation Army in Australia supported 38,000 people experiencing homelessness, 14,000 people overcoming addiction, provided 50,000 financial counselling sessions, cared for 5000 people experiencing family violence and assisted 150,000 with emergency relief.
If those numbers don't sink in for you, think about the one.
The Red Shield Appeal, for me, is about the elderly man who lives alone on a pension. He told me he doesn't eat meat. When I asked if he was a vegetarian, he said "no". Meat is a luxury that's out of his price range. Shopping in a supermarket is also a luxury that most Australians take for granted. This man, and countless others like him, rely on low-cost food services run by The Salvation Army and other charity organisations.
The Red Shield Appeal, for me, is about the elderly woman who came to the Salvos on Sydney's northern beaches, embarrassed and ashamed that she needed to ask for assistance. Living alone, on a pension in a small flat, her washing machine had broken down and leaked, flooding her kitchen. The repair bill was well outside her ability to pay. For months, she only allowed herself to buy bread, butter and coffee, and allocated the rest of her pension towards her debt, until her situation became overwhelming and she walked into one of our centres in tears.
The Red Shield Appeal, for me, is about the single mother and her teenage daughter who fled a violent home. They took their car and camper trailer, camping on the outskirts of a city, constantly moving locations for safety reasons and to evade prosecution because free camping is not only dangerous, but illegal in most locations. Everything is harder when you're homeless. Laundering clothes is expensive and time-consuming, finding a place to shower and get ready for school and job interviews is a daily struggle.
Despite all this, her daughter continued her studies and when they finally came into contact with The Salvation Army, they were able to access low-cost fresh food and grocery items and assistance to secure a home of their own.
This Red Shield Appeal I urge you to take a moment and reflect on how your actions in volunteering or donating are impacting the one. You probably have your own stories of individuals who come to mind who have been assisted by the Salvos, and it would never have happened if we couldn't keep our doors open through the funds raised by the Red Shield Appeal.
The Salvation Army national vision statement is: "Wherever there is hardship or injustice, Salvos will live, love and fight, alongside others, to transform Australia one life at a time, with the love of Jesus."
Thank you for being the one who is making a difference, enabling the Salvos to impact the one.
To donate to The Salvation Army Red Shield Appeal, or sign up to volunteer, head to salvationarmy.org.au
Lauren Martin is a Salvo based in Sydney and a writer for Others Magazine and others.org.au.